Summer 2011 Overtones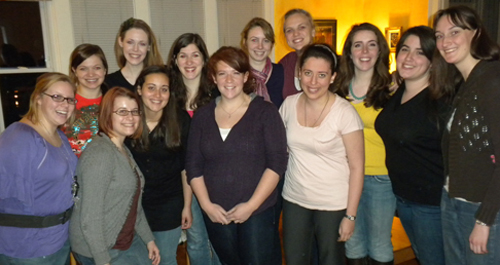 Letter from the Chair
We seem to experience a lifetime of memories every year, and this year was a banner one!
It was a year of classes—history, theory, conducting, lessons, rehearsals, juries, recitals.
It was a year of concerts---band, orchestra, choir, madrigals.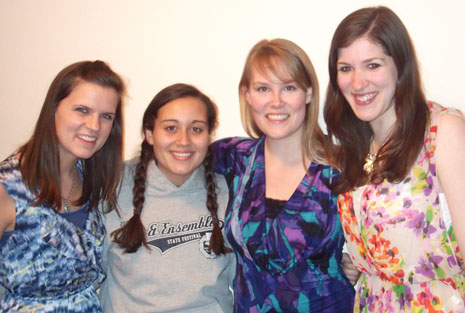 It was a year of productions—Into the Woods, The Old Maid and the Thief, The Telephone.
It was a year of trips— New York, Cocoa Beach, Shanghai, Nanjing, Suzhou, El Paso, Sao Paulo.
This has also been a year of self-evaluation as we consider ways to improve our degrees and our students' preparation for the future, especially regarding their careers as educators.
How can four years have flown by so quickly? We sadly say "goodbye" to Anna Bax, Nora Collins, Amanda Garrett and Jessica Gorski, wishing them success and happiness in grad school, teaching careers, and all new avenues of endeavor. Don't forget to write on our Facebook wall (see Music Department at Saint Mary's) and tell us how you're doing!
If you are planning to return to campus for reunion, please let us know. Last summer Nancy Menk and I were looking for music alums, so let us know you're coming so that we can arrange to get together.
Wishing present and past generations of music students and faculty a restful, fulfilling summer, and lives full of beautiful music. See you in the Fall!
XXXXX Laurel Thomas, Chair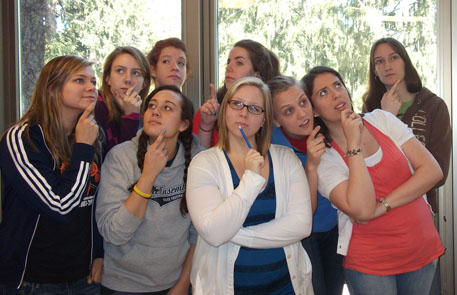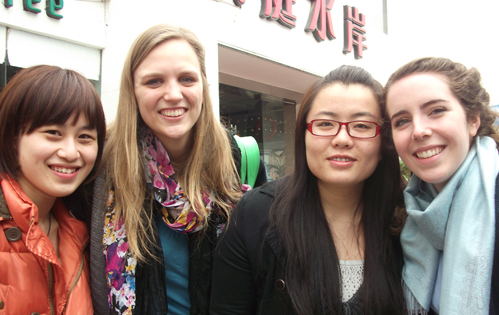 ---

Tango Trio Visits Campus
This year's mini-festival featured the Tami Tango Trio from Buenos Aires, Argentina. The group (a trio of flute, guitar and piano plus two tango dancers) spent two days with us in early October. On the first day they taught us the history of Argentinean tango and later showed us how to dance it! The next day the Tami Trio led a wonderful hands-on class on how to play the tango. Students and faculty had a blast playing together the tango classic "La Cumparsita." The mini-festival culminated with a "Noche de Tango," a great concert and dance performance structured as a history of the tango, from European waltzes and Argentine folk songs to classic tango and beyond.
26th Anniversary High School Women's Choir Festival
Saint Mary's College hosted the 26th annual High School Women's Choir Festival on Thursday, November 18 and Friday, November 19, 2010.
This year's commentators were the well-known composing team of Paul Caldwell from Chicago, IL and Sean Ivory from Grand Rapids, MI along with Barbara Tagg from Syracuse, NY. 20 choirs from 3 states performed for each other during the morning and afternoon sessions. The Saint Mary's College Department of Music provided lunch for all performers. Each day also included a tour of the campus and a performance by the Saint Mary's College Women's Choir. The Women's Choir also had the opportunity to work with Caldwell and Ivory on their composition "Joshua," which the choir performed throughout the year with student trumpeter Bethany Ledyard.
Next year's festival takes place on November 17 and 18, 2011. The commentators will be Scott Dorsey, Director of Education and Communication for the American Choral Directors Association, Laura Lane, Professor of Music and Director of Choral Activities at Knox College in Galesburg, Illinois and Music Director of the Nova Singers, and Phillip Swan, Associate Professor of Music and Co-Director of Choral Studies at Lawrence University in Appleton, Wisconsin.

Madrigal Dinners
The 38th annual Madrigal Dinners took place December 3, 4, & 5. The Madrigal Singers were once again accompanied by members of the Andrews University Early Music Ensemble led by Sandy Rhein. Michael Kramer from the Department of Communication and Performance Studies served as the Master of the House, and theatre students provided the tomfoolery and general nonsense with juggling by Richard Biggs and John Hanlon. Next year's dinners will be held on December 2, 3, & 4. Get your tickets early!

Women's Choir Tours China
The Saint Mary's College Women's Choir had a fantastic tour to China over spring break, March 12-20. They visited Shanghai, Nanjing, and Suzhou and performed for standing-room-only crowds at Shanghai Normal University, Nanjing University of the Arts, and Suzhou University. They also gave a concert for a conference of choral directors in Nanjing and sang for a packed English mass at Shanghai's only Catholic cathedral, St. Ignatius.
The trip also included many great sight-seeing opportunities and lots of fun interaction with Chinese students for Nanjing University of the Arts. Dixian Teng, conductor of the Meng Girls' Choir from the University, made most of the arrangements for the trip. The choir members were each assigned a pen pal from the Meng Choir and they had been e-mailing for several weeks before the trip. It was great when we finally got the chance to meet in person, and the girls became fast friends.
Choir member Joy Viceroy wrote a fantastic blog chronicling the Choir's adventures abroad. Please feel free to check it out at http://smcwocho.livejournal.com/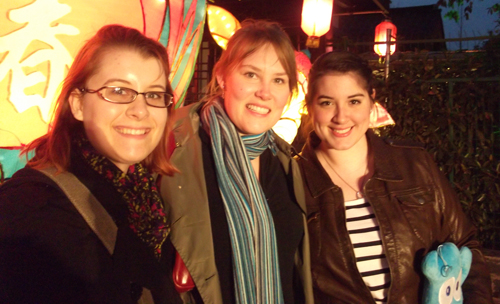 ---
Faculty Activities
Laurel Thomas participated for the third summer in the Cross Currents summer advising program which involves advising incoming First Year students in the summer, meeting with them during summer orientation, and following them throughout their first year. With peer mentor Anna Bax she organized several fun events for the group.
Her college-wide work included being a member of the Dean's Council of Chairs, the Assessment Committee, and the General Education Oversight Committee. Thomas designed a new Critical Thinking Seminar, Voices in Time, which focuses on music created and performed by women. This course will be taught at the inception of the new General Education program in Fall 2012.
In preparation for the choir's trip to China in the spring, Thomas took Chinese at Saint Mary's (Alice Yang, instructor) for the entire academic year. She went on tour with the choir, singing the solo in Debussy's Salut Printemps. While in China Thomas offered a vocal masterclass for music students at the Nanjing Arts Institute.
With Zae Munn on sabbatical in the spring, Thomas assisted in teaching the theory labs, with Dr. Jacob.
Several vocal students participated in the NATS auditions in the fall. In April, Thomas attended the Bach Festival voice competition in Kalamazoo with five voice students.
Both semesters this last year involved productions; Into the Woods in the fall, followed by the spring opera performances of Old Maid and the Thief and The Telephone. Thomas was musical director for both, and producer/director for the spring operas.
Nancy Menk, Mary Lou and Judd Leighton Chair in Music, conducted the 120-voice Northwest Indiana Symphony Chorus and members of the orchestra in Handel's Messiah in November. She also prepared the Chorus for the opening gala concert featuring favorite opera choruses, America's Soundtrack: A Salute to Veterans in November, the Holiday Pops concert, and Carl Orff's Carmina Burana in April. Menk led the South Bend Chamber Singers in their 22nd season of concerts as an ensemble-in-residence at Saint Mary's College. You may read more about the SBCS in this edition of Overtones.
In October she was invited to speak at the 80th birthday celebration and concert in honor of Dr. Elmer Thomas, professor emeritus of conducting at the University of Cincinnati College-Conservatory of Music.
In February, Menk conducted the Colorado All-State Women's Choir at the Wells Fargo Theatre in Denver. While there she had the chance to spend some time with SMC music alum, Jennifer Chester Ferguson.
Menk continued teaching graduate conducting this year for the Master of Sacred Music degree program at the University of Notre Dame. In April she served as choral clinician at Concord and LaPorte High Schools.
This summer she will attend the annual Chorus America conference in San Francisco in June, and will travel to Hong Kong in August to conduct the Hong Kong Youth Music Camp Chorus. In July she will teach conducting for the University of Notre Dame's SummerSong program for church musicians.
She received a Saint Mary's College Faculty Research Grant to support the writing of a book chapter entitled "Writing for Women's Voices: A Conversation with Composers."
Jeffrey Jacob's Symphony No. 3, recorded by the London Symphony Orchestra conducted by Daniel Spalding was the featured work on "New Music Today, " broadcast by Princeton Radio.

The Philadelphia Virtuosi Chamber Orchestra recently premiered and recorded two of Jacob's works for piano and chamber orchestra: Remembrance of Things Past and Music for Haiti.

A CD of Jacob's most recent orchestral works was released in April on the New Ariel Recordings label. Titled, "Music for Haiti," the CD was inspired by the earthquake that devastated the island one year ago. The music is a compilation of recent compositions that explore themes of tragedy, death, and redemption, and new works directly inspired by the disaster. Each work acknowledges the tragedy, but also offers moments of hope, evokes the dignity of life, and provides resolution in both sense of the word. Seventy-five per cent of the proceeds from the sale of the CD will go directly to the Clinton-Bush Fund for Haiti. The compositions on the CD include Death and Transfiguration, recorded by the London Symphony, Elegy for two pianos and orchestra recorded by the Hradac Kralove Symphony, and the above mentioned Remembrance of Things Past and Music for Haiti.

Radio Arts Indonesia has devoted an entire 90 minute program to the music of Jacob. The works, performed with commentary by the host of the program, Christopher Conrad, include Jacob's Symphony: Winter Lightning performed by the Moravian Philharmonic, In Memoriam recorded by the Royal Queenstown Philharmonic, the Piano Concerto No. 2, recorded by the Moscow Symphony with the composer as pianist, and Carol of the Bells also recorded by the Moravian Philharmonic.

In June, the second volume of Jacob's Major Piano Works of Vincent Persichetti will be released. This CD includes Persichetti's Piano Sonatas 5, 6, 7, 8, and 9 as well as his Sonatinas 4, 5, and 6. The series will eventually include all of Persichetti's Sonatas, Sonatinas, and various shorter works, the first time all of these compositions have been recorded on a single label. Persichetti was one of the most important of 20th-century American composers, and was for 30 years Chair of the Composition and Theory Department at the Juilliard School.

In the fall, Jacob performed an all-Chopin-Schumann concert at Saint Mary's College in celebration of the 200th anniversary of the composers' births. He performed a similar program which also included the premiere of his most recent piano work, "For the Children" at the Liberty Theater Concert Association in Astoria, Oregon.

Jacob has received a commission from the Washington DC National Youth Orchestra for a 20 minute work for piano and large orchestra (with the composer as soloist) to be premiered in November.

Next fall and spring Jacob will make concert tours of Florida and Caliornia. He is currently completing the 12th CD in his series "Contemporary Eclectic Music for the Piano" for New Ariel Recordings.

He has also given masterclasses for the Astoria, Oregon Piano Teachers' Association, the Zanesville, Ohio Piano Teachers' Guild, and the South Bend Music Teachers' Association, and has coached many area piano students preparing for various competitions.

He attended the Assessment Workshop and National Convention of the National Association of Schools of Music in November.
Dr. Daniel Party, assistant professor of music, spent last summer working on several research and writing projects. He completed his contribution to the new college textbook Musics of Latin America (W.W. Norton, forthcoming in September 2011), a chapter titled "Twenty-first-century Latin American and Latino Popular Music." He also wrote a dozen encyclopedia entries for the new edition of The Grove Dictionary of American Music. Thanks to a course development grant from Saint Mary's, Dr. Party developed a new course titled "Popular Music, Gender & Sexuality," which he will teach for the first time in fall 2011. The course will fulfill the Women's Voices requirement of the new General Education curriculum and will count as an elective for the program in Women's Studies.
This academic year was a momentous one in Dr. Party's career at Saint Mary's because in the fall he applied for tenure, promotion to the rank of associate professor, and sabbatical leave. In the spring semester the wonderful news arrived that the college had awarded all three. This means that Dr. Party is now a permanent member of the Saint Mary's faculty.
In October Dr. Party attended the Latin American Studies Association conference in Toronto, where he served as discussant on a panel titled "Youth, Counterculture, and Cultural Politics in Post-Dictatorship Latin America." In January, Dr. Party presented a paper titled "Flujos Migratorios y Tendencias Recientes en la Música Latina de los Estados Unidos" at the congress of the Chilean Musicological Society in Santiago, Chile. In March, Dr. Party introduced and led a discussion on a Chilean film as part of the World Cinema Festival at Saint Mary's. In April, he was invited to participate in the biennial conference/workshop on Latin American Cultural Studies at Washington University at St. Louis. This year's theme was sentimentalism and the representation of affect in Latin America, and Dr. Party presented a paper titled "Sound and sentimentalism in mid-twentieth century bolero."
During the summer Dr. Party will collaborate with Rachel Thiel, a double major in Spanish and Latin American Studies (self-designed major), on two related research projects on Argentinean and Chilean popular music of the mid twentieth century. Their joint research projects will be supported by a Student Independent Study and Research (SISTAR) Grant.
---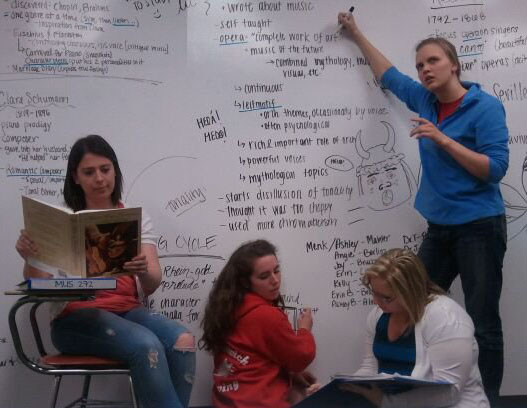 Department News and Events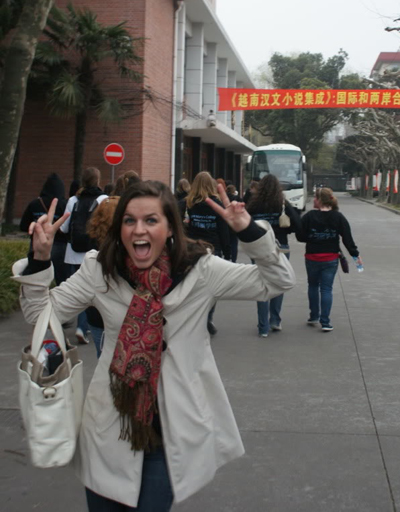 Music Graduates
Wishing our graduating seniors happiness and success as they leave us and go out into the world!
Anna Bax, BM in Music Education
Nora Collins, BM in Music Education
Amanda Garrett, BA in Music, BS in Biology
Jessica Gorski, BM in performance
Music Award
This year's Music Award, given for musical and academic achievement and service to the Music Department, was given to senior Anna Bax at the Awards Convocation in May. Congratulations, Anna!

Senior Recitals
The following seniors gave recitals this year:
"Dreaming," Anna Bax, soprano with Sherry Klinedinst, piano
"Love Notes," Jessica Gorski, soprano with Sherry Klinedinst, piano
Chicago Lyric Opera Trip
In October the music majors went to Chicago for Bizet's Carmen at the Chicago Lyric Opera. Costumes, sets, and singing were all stunning! Daniel Party, Betty Woodland, and Laurel Thomas accompanied the group.
Into the Woods
A major focus for this fall was our joint production, with the Theatre Department, of Into the Woods by Stephen Sondheim. Mark Abram-Copenhaver was stage director, Laurel Thomas, musical director, with Sherry Klinedinst as pianist/orchestra leader. Many music majors were involved.
Toni Marsteller, The Witch
Erin Marks, The Baker's Wife
Angie Schott, Jack
Ashley Biehl, Jack's Mother
Anna Bax, Rapunzel
Joy Viceroy, Stepmother
Ashley Stopczynski, Cinderella's Mother
Playing in the orchestra: First Years Katie Sanders (flute) and Jessica Carter (violin)
Spring Opera
To commemorate the centenary of Menotti's birth this spring, the Music Department presented workshop productions of The Old Maid and the Thief and The Telephone. The role of Leticia was double cast, sung by Ashley Stopczynski and Erin Marks; the old maid, Miss Todd, was sung by Angie Schott, and Joy Viceroy played the trouble-making Miss Pinkerton. We were delighted to work with baritone Stephen Lancaster (Notre Dame voice faculty) as Bob.
Ashley Biehl and Lucas Miner starred in the two-person cast of The Telephone.
Sherry Klinedinst accompanied in her usual brilliant style.
South Bend Chamber Singers Premiere Oratorio
by Krystina Harcourt

The name Howard Terrell might not be familiar in the world of music, but it is definitely not for lack of passion. The 90-year-old composer from Howe, Ind. has been composing for decades, knowing full well that most of his music would likely never be played for an audience. Not so! Terrell has wrangled a performance for his oratorio, Sing a New Song, composed in 1987, which will be performed by the South Bend Chamber Singers (SBCS) and the Heartland Chamber Chorale (HCC) from Fort Wayne for the first time ever.

"An oratorio is a major choral and orchestral work with soloists, usually based on a Biblical subject," said South Bend Chamber Singers director and founder Nancy Menk, professor of music at Saint Mary's College. She became involved with the work when Terrell came to her 10 years ago in an attempt to produce the oratorio. Menk did not have the resources and it was such a big work that she had no way to produce it. Two summers ago, Terrell called and met with Menk for over three hours, telling her all about his life and his music.

"By the time he left, I just felt like I had to do this," Menk said. "I had to figure out a way to do this piece for him. I just couldn't imagine having written all the music he had and not having the chance to hear it."

Menk went home, played through the piece and decided it was really good music and deserved to be heard. Still, she had to figure out how exactly to go about performing it. Menk called up Robert Nance, director of the Heartland Chamber Chorale, since the HCC and the SBCS had collaborated in the past, and they decided to put the work on together. Both groups made the oratorio part of their 2010-11 concert seasons.

"Howard is so excited he can hardly stand it," Menk said. "I'm so excited to give him this opportunity to hear his music. He finally gets to hear it at ninety years old. I admire all the work, time and dedication he put into it. A lot of composers today won't even write a piece unless they know they're going to have a performance of it."

In addition to being a composer, Terrell enjoys playing instruments too. The tuba, baritone horn, French horn, trombone and upright string bass are among the many instruments he can play. Terrell used to play in the Army Air Corps Band and a few Air Force Bands back in the day. He was a music teacher for over 30 years at a private military school in New York and the Howe School (formerly Howe Military Academy) in Howe, Indiana, one of the locations set to perform the oratorio in June.

The oratorio, which focuses on the New Testament and the life of Christ, birth to crucifixion, will last about an hour and half. Terrell made an orchestral reduction to make the production less expensive and more doable for Menk and Nance. The orchestra will consist of two pianos, an organ, a harp, and percussion. Both Menk and Nance will conduct the oratorio, which consists of arias, choruses, and instrumental numbers.

Sing a New Song will be premiered three times, in Fort Wayne on June 3, at the Howe School on June 4, and at Saint Mary's College in O'Laughlin Auditorium on June 5.