Summer 2012 Overtones
Jump to:
Department News & Events
Faculty Activities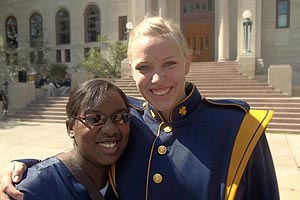 Jessica and Ellen
---
Letter from the Chair
May 10—it is one of those exquisitely bright days in South Bend when the sun hurts your eyes, the breeze makes a Debussy "frisson," and the whole world is new and in bloom. The final for Theory II behind them, First Years are packing up with the whole summer looming ahead. Seniors are busy, busy, squeezing the last fun out of their time at Saint Mary's. And who knows where Katie and the juniors are! I'm imagining wine on the Rhine or tasty breakfast croissants…
But is it true—can another year be over? Like a perfect piece of music this year held moments of laughter and tears, times of harmony and dissonance, and today after finals, resolution. If we have lived it correctly the year has changed us, perhaps in ways we have yet to understand. We should be different people after this year of friendships, classes, rehearsals, and above all, living together in music.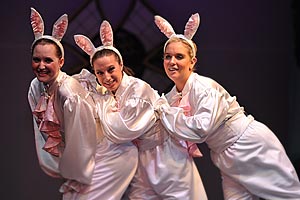 Tabbie, Taylor, and Hannah
Each year at this time the faculty experiences this moment on the cusp, eagerly anticipating new faces in the fall while feeling the bittersweet pangs of saying goodbye. When this moment comes we remember all of you from graduations past with love and pride. Blessings on each one of you: past, present, and future members of our musical sisterhood. Have a relaxing summer, and please stay in touch!
XXXX Laurel Thomas, Chair
---
Department News and Activities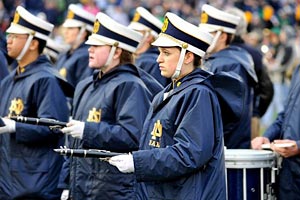 Elizabeth in band
Music Graduates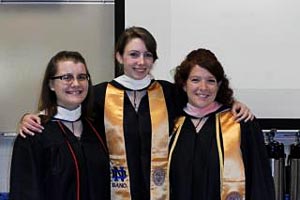 Wishing our graduating seniors happiness and success as they leave us and go out into the world!
Ashley Biehl, BA in Music
Attending University of Washington for a Master's Degree in Vocal Performance
Megan Dillon, BA in Music
Attending Western Michigan University for a Master's Degree in Music Therapy
Alexis Hiner, BM in Music Education
Traveling to Samoa to teach in the Notre Dame band program, pursuing a career in Music Education
---
Music Award
This year's Music Award, given for musical and academic achievement and service to the Music Department, was given to senior Alexis Hiner at the Awards Convocation in May. Congratulations, Alexis!
---
Recital Forum brings interesting guests to campus
The Fall 2011 Recital Forum series began with our own Music History students presenting synopses of their research papers prepared for their Music History classes. Next Professor Max Westler from the English Department spoke about writing about music, followed by Heather Pechin from J.W. Pepper who spoke about the important topic of copyright issues related to music. In October we welcomed Dr. Nadine Hubbs, Professor of Music Theory and Women's Studies at the University of Michigan. Professor Hubbs was our resident guest in the fall, lecturing on "The Musical Solution to a Gender-Class Predicament: Gretchen Wilson's 'Redneck Woman.'" She also gave an evening presentation entitled "Anything but Country." Also in the fall, Saint Mary's College costume designer Melissa Bialko presented a talk entitled "Preparing for a Career in the Performing Arts,"
Spring semester began with three senor comp presentations by music majors Ashley Biehl, Megan Dillon, and Alexis Hiner, and one by nursing major and music minor Christine Hendershot. Adjunct faculty members Korin Schilling, flute, Jae Sung Lee, violin, and Lara Turner, viola da gamba, each discussed their instruments and performed for us. Saint Mary's Music alumna Kelli Finn came to campus to discuss the Chicago-based opera company, Da Corneto, that she founded with her husband Alvaro Ramirez.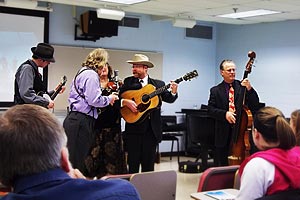 In March we welcomed the great Minnesota-based bluegrass band Monroe Crossing, who gave a short history of bluegrass music, discussed their instruments, and performed for us. In April, faculty pianist Jeffrey Jacob presented a lecture-recital on piano music of Beethoven.
In addition, out students had the opportunity to attend several visiting artist performances at Notre Dame's DeBartolo Center for the Performing Arts, including Iranian Singer Mamak Khadem in October, the Merce Cunningham Dance Company in November, and the Australian Chamber Orchestra in April.
---
Recitals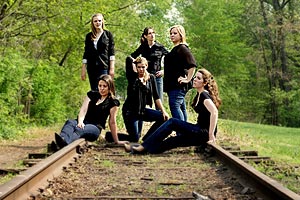 Junior Recital, November 2011 featuring
Erin Brown, Kelly Clune, Erin Marks,
Angie Schott, Ashley Stopczynski, and
Joy Viceroy with Sherry Klinedinst, pianist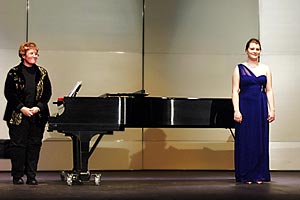 Senior Recital, Soprano Ashley Biehl and
Sherry Klinedinst, pianist, April 2012.
---
Madrigal Dinners
The 39th annual Madrigal Dinners took place December 2, 3, & 4. The Madrigal Singers were once again accompanied by members of the Andrews University Early Music Ensemble led by Sandy Rhein. Michael Kramer from the Department of Communication and Performance Studies served as the Master of the House, and theatre students provided the tomfoolery and general nonsense with juggling by Richard Biggs and John and Joshua Hanlon. Next year we will celebrate the 40th anniversary of the Saint Mary's Madrigal Dinners on November 30, December 1 & 2. Get your tickets early!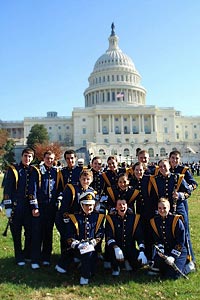 Elizabeth and members of the
Notre Dame band
---
Choir Festival
Dr. Menk coordinated the 27th annual Saint Mary's College High School Women's Choir Festival, with guest commentators Scott Dorsey, Director of Education and Communication for the American Choral Directors Association, Laura Lane, Professor of Music and Director of Choral Activities at Knox College in Galesburg, Illinois and Music Director of the Nova Singers, and Phillip Swan, Associate Professor of Music and Co-Director of Choral Studies at Lawrence University in Appleton, Wisconsin.
Next year's festival takes place on November 15 and 16, 2012. The commentators will be Dr. J. Scott Ferguson from Illinois Wesleyan University in Bloomington, IL; Dr. Lee Nelson from Wartburg College in Waverly, Iowa; and Dr. Julie Skadsem from the University of Michigan in Ann Arbor.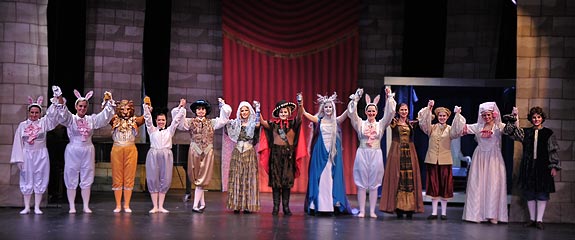 El Gato con Botas!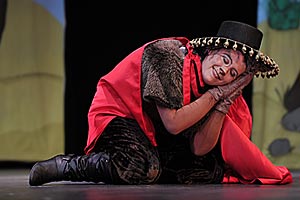 This spring, in commemoration of the birth centenary of Catalonian composer Xavier Montsalvatge, the Music Department presented his children's opera, El Gato con Botas (Puss in Boots).
The production starred senior Ashley Biehl as the Cat with first year vocalists in all other roles.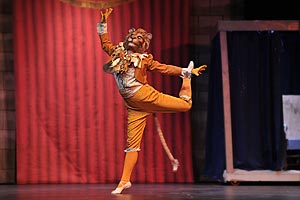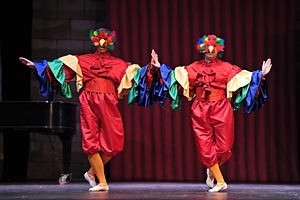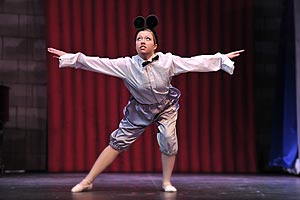 Music majors Sarah Miller and Maddie Helman sang together as parrots and danced all the animal roles. We were amazed by the number of families with small children who attended our performances!
---
Opera Photo Gallery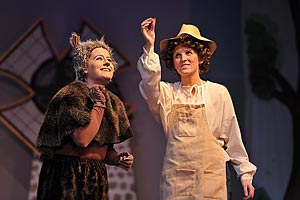 Puss with Jena as the Miller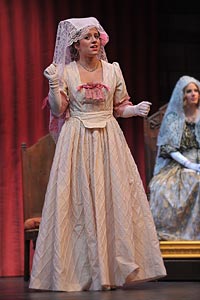 Princess Victoria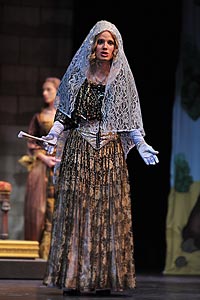 Queen Isabel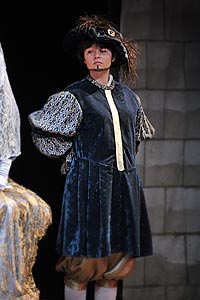 Chamberlain Bunny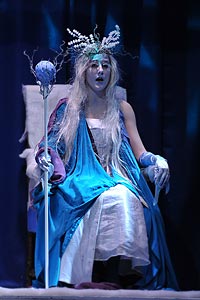 Ogre Blaithe
---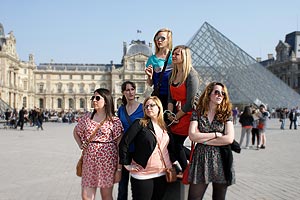 Juniors abroad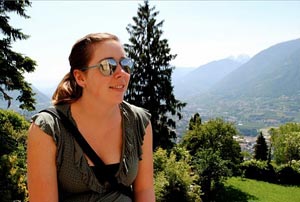 Katie in AustriaWhat a quiet spring we had around here, with all the juniors and one sophomore abroad—and the juniors met for a weekend in gay Paris to celebrate Angie's birthday!
Erin Marks and Katie Sanders were in Innsbruck.
Erin Brown went to Ireland.
Joy Viceroy and Angie Schott studied in Dijon. Ashley Stopcznski and Kelly Clune took Rome by storm.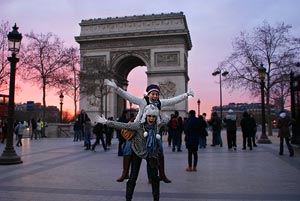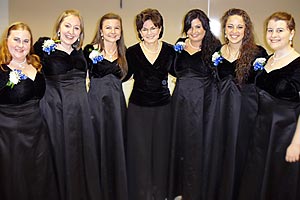 Graduating Choir Seniors Ariel Terpstra, Angela Willson,
Christine Hendershot, Angela Berra, Caitlin Ascherl, and
Ashley Biehl with Dr. Nancy Menk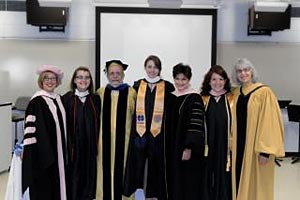 ---
Faculty Activities
Jeffrey Jacob recently completed the 11th CD in his series "Contemporary American Eclectic Music for the Piano" for New Ariel Recordings. The CD includes works by American composers, Douglas Davis, Mark Saya, Christopher Coleman, Alexadra Pierce, Patricia Morehead, and James Park. In March, Jacob completed a two-day residency at Brigham Young University. He performed a performed a solo recital and gave masterclass for pianists and a lecture about his music for composers. The Washington, DC American Youth Philharmonic Orchestra commissioned and premiered Jacob's "Fantasy for Piano and Large Orchestra." The performance took place at the Regenstern Auditorium in Alexandria, VA with the composer as piano soloist. Jacob also performed an all-Beethoven recital with commentary at Saint Mary's College. Fanfare Magazine recently published an article-interview with Jacob about his recent "Music for Haiti" CD. Fanfare also printed reviews of the CD by two different critics.
---
Nancy Menk, Mary Lou and Judd Leighton Chair in Music, conducted the South Bend Chamber Singers in their 23rd season of concerts as an ensemble-in-residence at Saint Mary's College. Christmas at Loretto featured the premiere of a wonderful new work by John Muehleisen. In March, the Singers performed Carol Barnett's The World Beloved: A Bluegrass Mass with the great Minnesota-based bluegrass band Monroe Crossing, and then repeated the performance for the Central Division Conference of the American Choral Directors Association in Ft. Wayne, Indiana. In May the Singers performed a concert of sacred music featuring Handel's Dixit Dominus, James MacMillan's Magnificat, and Petr Eben's Prague Te Deum.
Menk also prepared the120-voice Northwest Indiana Symphony Chorus for performances with the Symphony including the Faure Requiem and Beethoven's 9th Symphony, along with several Pops concerts.
In October she served as guest conductor and clinician for the Syracuse University Women's Choir Festival, and in November she attended the National Collegiate Choral Organization Conference at Colorado State University.
She prepared the Saint Mary's College Women's Choir for a performance of William Walton's Music from Henry V with the South Bend Symphony Orchestra in March.
Menk completed a chapter entitled "Writing for Women's Voices: A Conversation with Composers" for the forthcoming book Working with Women's Choirs: Strategies for Success, published by GIA.
Menk continued teaching graduate conducting this year for the Master of Sacred Music degree program at the University of Notre Dame. In April she served as choral clinician at LaPorte High School.
In June she will attend the annual Chorus America conference in Minneapolis, and will travel to Washington DC with the Saint Mary's College Women's Choir to present a concert of music by American women composers for the ACDA National Symposium on American Choral Music: The Search for an American Style.
---
Zae Munn was on sabbatical in the spring of 2011 and completed a number of new compositions. Three have since been premiered by the Composers' Orchestra at Butler University, where she was a guest composer March 8-9, 2012: Cascade (clarinet, alto sax, trombone), Music: A Love Story (violin, alto sax, piano), and Nature's Chopsticks (large flex instrumentation). Also completed was Quantum Stew Anew, a major revision of an earlier piece for wind ensemble.
Zae's most recent completed project is Night of Blue Magic, a chamber opera setting of 22 haiku by famed writer Karen Hesse. It is scheduled for two concert performances in the Portland, OR area next October. Lauber Lieder, a cycle of four songs, written by Zae in 1994, will also be included in those concerts.
Some notable performances of Zae's works occurred in the last year: Lyrical Limericks had several California performances, and will be included in a Washington, D.C. concert in June by our own Women's Choir; A Fraction of Your Grace had its British premiere last summer; and Trumpet Calls, for 20 trumpets, was premiered in June 2011 at the International Trumpet Festival at Chosen Vale, with Markus Stockhausen conducting.
Zae is developing a new course called Digital Media in Music, to be taught next spring in what will be our new, upgraded Music Lab. She will be teaching an online Music Appreciation class for the second summer.
---
Daniel Party, Associate Professor of Music, spent last summer working on several research and writing projects. Thanks to a Student Independent Study and Research (SISTAR) Grant, Dr. Party and Rachel Thiel, a double major in Spanish and Latin American Studies (self-designed major), collaborated for two summer months on a research project on music and politics in Argentina and Chile.
In fall 2011, Dr. Party taught for the first time "Popular Music, Gender & Sexuality," a course he developed thanks to a CFAI grant. The course was enhanced by a two-day visit by University of Michigan professor Nadine Hubbs, who gave two presentations and graciously sat in the class to discuss her work. In November, at the annual meeting of the Society for Ethnomusicology, Dr. Party was elected chair of the Latin American and Caribbean Music Section.
In Spring 2012 he published book chapters in two collections: "'Un pequeño defecto': El bolero de Lucho Gatica entre sus fans y la crítica" in the book El Lenguaje de las Emociones: Afecto y Cultura en América Latina, edited by Mabel Moraña and Ignacio Sánchez Prado (Vervuert Iberoamericana) and "Twenty-First Century Latin American and Latino Popular Music" in the textbook The Musics of Latin America, edited by Robin D. Moore (W. W. Norton). Dr. Party is particularly excited about the latter, since the book promises to become the standard textbook on music of Latin America.
Thanks to a CWIL Grant, in March Dr. Party attended the joint conference of the International Association for the Study of Popular Music and the Experience Music Project's Pop Conference, where he presented a paper titled "Chile's Revolution: Girl Style Now!" In May, he delivered a paper titled "Listening to male femininity in Lucho Gatica's boleros" at the annual conference of the Latin American Studies Association, as part of a panel he organized and chaired.
During the summer Dr. Party will be doing research for a project on the indie pop scene in Chile, focusing particularly on young women singer-songwriters. The project, titled "A new paradise: women in the Chilean indie pop scene (2006-2011)" has been generously founded by a CFAI Faculty Research grant, and will be published in a book on music scenes in Latin America in 2013.
---
Laurel Thomas participated for the fourth summer in the Cross Currents advising program. With the help of peer mentor Ashley Biehl she advised twelve First Year music majors. Her college-wide work included being a member of the Dean's Council of Chairs, the subcommittee for Faculty Load, and the General Education Oversight Committee. She also contributed to the school's pilot HLC assessment project. In June she will attend the Association of American Colleges and Universities Institute on General Education and Assessment in Maryland.
Several vocal students participated in the NATS auditions in the fall. Thomas coached junior voice students in their November recital, and worked with senior Ashley Biehl for preparation of her senior recital. She directed El Gato con Botas (Montsalvage) and will join the Women's Choir in their performance at the ACDA symposium, singing the soprano solo in The Lonely Rose by Margaret Ruthven Lang.