Overtones Summer 2010
Making Music at Saint Mary's: A Dynamic Year!
From the Chair
We've had a wonderful year in the Music Department. I'm happy to be able to brag about the fine work faculty and students are doing!
First Year Theory was bulging at the seams--to close the year, students rewrote KeSha's Tik-Tok for a good natured roast of Dr. Zae Munn!
Walking through the halls you might hear sounds of a cello, harp, clarinet, trumpet, flute, piano, or voice stealing from the practice rooms.

Under the leadership of Dr. Nancy Menk, both of our choirs joined choral groups at Notre Dame for a beautiful performance of the Brahms Requiem at the Morris with Maestro Tsung Yeh conducting the South Bend Symphony Orchestra.

In addition to his many off campus performances, Dr. Jeffrey Jacob gave a lecture on George Crumb at Harvard University.

An historical first occurred: both of the senior comprehensive projects received honors—signs that our senior seminar is proving valuable, and that we have excellent students! Kate McKenna discussed societal implications of music in the Bambut Pygmy culture. Rachel Raska explicated the drowning scene in Berg's Wozzeck. Both projects were thoroughly researched, well written, and demonstrated excellence in originality of thinking.

Dr. Party was invited to lecture at the University of Illinois (where he visited with alum Megan (Bolander) Woller and at the University of Notre Dame. He also led a roundtable discussion in Mexico City at the Society for Ethnomusicology.

Three of our students went abroad, two in Ireland, one in Rome.

Throughout the year, the quality of music making was at a high level, from student recitals, choral concerts, madrigal dinners, Chamber singers concerts, to instrumentalists in many ensembles across the street, and opera scenes performances of Fairy Tale Tunes.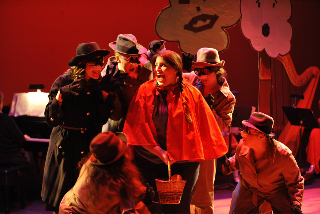 In January the music faculty attended two half-day retreats to define learning outcomes for the music major, and then in March participated in an external review, a program initiated by our Dean, Dr. Patricia Fleming, for all departments. Our external review team had a number of suggestions for us, to be discussed in the next year, and dealing in large part with the Bachelor of Music Education degree.

In the final week of classes our traditional nonmajor recital was transformed into a multicultural event. With minor Jingqiu Guan as translator we hosted guest artists from Nanjing Art Institute, Nanjing, China. Our majors joined the program, which was publicized in the evening news. The Nanjing artists, both graduate students in music, performed on the Chinese Lute and the Erhu. It was a fantastic musical experience leading to the creation of friends that will we see again next year when the Women's Choir travels to Nanjing on their spring tour!

Over the summer the Music Seminar Room will be repurposed for a flexible classroom/rehearsal space.

The year has been full with music, classes, and camaraderie. We sadly say "goodbye" to Kate McKenna and Rachel Raska, wishing them success and happiness in the years to come. Because of our new presence on Facebook (see Music Department at Saint Mary's) we can all keep in touch more easily---don't forget to write in on our Wall and tell us how you're doing!

Wishing present and past generations of music students and faculty a restful, fulfilling summer. I can't wait to see many of you in the Fall!

XXXXX
Laurel Thomas, Chair
---
Faculty Activities
Jeffrey Jacob's Symphony No. 3 in three movements was recorded by the London Symphony conducted by Daniel Spalding at the London Abbey Road Studios and was released on the Vienna Modern Masters label. The CD is available from the New Ariel Recordings website at NewArielRecordings.org.
Jacob's 30-page article, "The Piano Music of George Crumb—a Performer's Guide" is currently under consideration for publication by Oxford University Press. The article, which will be the final chapter of a book on pedagogical piano techniques, also contains a DVD of Jacob performing excerpts from Crumb's piano music.
In the spring, Jacob gave an invited lecture-recital on the piano music of George Crumb at Harvard University as part of the Harvard Music Department's Guest Artist Series. He also performed recitals at DePaul University and at Denison University (Granville, Ohio), where he also gave a masterclass for composition students. He performed George Crumb's Gnomic Variations at the Green Mill Contemporary Music Series in Chicago.
During the fall, Jacob performed a recital of 20th and 21st-century music at the University of Rhode Island where he also gave a masterclass for pianists. He also completed a three-day residency at the Lamont School of Music at the University of Denver performing a solo recital, giving a lecture on contemporary piano music, and a lecture-demonstration on extended piano techniques for composers.
In May, Jacob performed the Beethoven Piano Concerto No. 2 with the South Bend Symphony conducted by Tsung Yeh at the Notre Dame DiBartolo Center. Jacob's Symphony, No. 2 was performed by the Orquesta de Baja California conducted by Eduardo Barrios at the Civic Cultural Center in Tijuana, Mexico. His Nocturne for soprano and piano was performed by Laurel Thomas and Jacob at the Indiana University at South Bend Festival of Contemporary Music. He also took part in a panel discussion on the future of art music with area composers and guest composers from the Asturias Conservatory of Music, Spain.
In January, Jacob performed a duo-recital with the distinguished Ecuadoran violinist, Felipe Luzuriaga at the Teatro Mexico in Quito, Ecuador. The program included the premiere of Jacob's most recent composition, Meditaciones for Violin and Piano, commissioned by and written for Felipe Luzuriaga, as well as the Aaron Copland Sonata for Violin and Piano, the Phillip Glass Violin Concerto, and solo piano works by Claude Debussy and Bela Bartok.
He recently completed his 10th CD of music by American composers for New Ariel recordings. The CD contains previously unrecorded works by Paul Reale (UCLA), Amy Williams (University of Pittsburg), Jonathan Pieslak, (City University of New York), Roger Briggs (Western Washington University), and Jianjun He (Jacksonville University), and Jonathan Russell (Princeton University).
He performed the piano part of George Crumb's ANCIENT VOICES OF CHILDREN for soprano solo and chamber ensemble. The performance was organized by soprano, Laurel Thomas and took place in the Little Theater.
Jacob was the judge of this year's Northern Indiana Frederic Chopin Competition. In addition to judging the competition, he also gave a masterclass for the winners in the three divisions of elementary, middle school, and high school. He also coached high school students preparing for this year's Stickley Piano Competition sponsored by the South Bend Piano Teachers Association.
Jacob has been named to the Board of Directors of the Foundation for Music and Healing, Inc., a non-profit organization offering music lessons to severely handicapped children and adults.
He is currently writing a composition for piano and chamber orchestra for the Philadelphia Virtuosi Chamber Orchestra which will perform and record the work in the fall. He is also completing the second volume of his series of CD recordings of the Major Piano Works of Vincent Persichetti, for 30 years, Chair of the Composition and Theory Departments at the Juilliard School.
---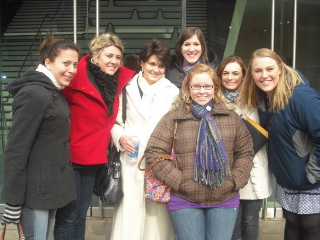 Nancy Menk, Mary Lou and Judd Leighton Chair in Music, conducted the 120-voice Northwest Indiana Symphony Chorus and members of the orchestra in 2 performances of Handel's Messiah this season. She also prepared the Chorus for the Holiday Pops concert, a concert version of Puccini's Turandot with DuPage Opera, Karl Jenkins' The Armed Man, and a concert of the music of Cole Porter.
Menk led the South Bend Chamber Singers in their 21st season of concerts as an ensemble-in-residence at Saint Mary's College. You may read more about the SBCS in this edition of Overtones.
On Valentine's Day, Dr. Menk conducted over 175 singers and orchestra in a sold-out performance of Morten Lauridsen's Lux Aeterna at Carnegie Hall. Members of the Saint Mary's College Women's Choir, the South Bend Chamber Singers, and the Northwest Indiana Symphony Chorus participated, along with the LaPorte High School Treble and Mixed Chorales (Tom Coe, director), the Northwood High School Choir (Jeff Cramer, director), and the El Segundo High School Choir from California.
In October, Menk gave a talk to the Michiana Music Teachers Association on working with an accompanist. Menk attended the American Choral Directors Association Central Division conference in Cincinnati in February. She conducted a reading session on medium-advanced repertoire for women's choirs. In the spring semester she served as choral clinician at Culver Academy and LaPorte High School, and she served as an adjudicator for the Michigan School Vocal Music Association's state choral contest at Holt, MI.
---
Zae Munn teaches the department's courses in the theory sequence, composition, and orchestration/arranging. She collaborates with Daniel Party in teaching the Senior Seminar, and she maintains the Music Department website.
Print and CD releases this year include:
• Quartet Ablaze, piano trio and clarinet, Jomar Press
• To Be Like Music, SATB a cappella, Earthsongs
• Centaur Records CD 3013, Arbitrio: includes two works by Zae: Libero Arbitrio and Seven Short Rhapsodies.
Three composition projects were completed or are in progress:
• The Old Songs, soprano, clarinet, alto saxophone, bass
• Unfolding Into Favored Song, SATB and piano
• Lyrical Limericks, a cappella women's choir, using newly commissioned texts by Marilyn L. Taylor, Peg Lauber, and Paul Munn. This is a consortium commission anchored by the Piedmont East Bay Children's Choirs, conducted by Robert Geary.
Composition projects in the planning stages:
• Sabbatical project (Spring 2011): large wind ensemble piece in association with conductor Jerry Junkin, University of Texas-Austin
• A work for large trumpet ensemble, for the Chose Vale International Trumpet Seminar in New Hampshire, Edward Carroll, director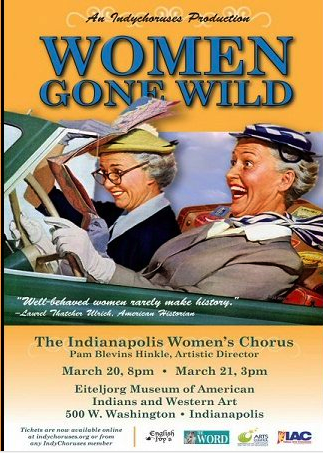 Some noteworthy performances include:
• It's the Soup That Animates the Noodles, Mission Chamber Orchestra, May 26, 2010, California
• Grandma's Alleluia and The Stove, Cantilena, May 9, 2010, Boston
• Interface, viola and marimba, Mar. 21, 2010, I-Jen Fang, percussion, Ayn Balija, viola, University of Virginia Chamber Music Series
• The Stove, Indianapolis Women's Choir, March 20, 2010, Indianapolis
• Quartet Ablaze (piano trio and clarinet), premiered at Interlochen Arts Camp last summer
Awards, presentations, summer activity
• Zae is serving as a member of the College Music Society 2010 Program Committee, in preparation for the national conference in Minneapolis next September. The Program Committee met in Minneapolis in early February. Zae is also serving on the CMS Composition Advisory Board.
• Zae received a ninth ASCAPlus Award from the American Society of Composers, Authors and Publishers, for noteworthy compositional activity in the previous year.
• My Secret Life as a Composer (2009) Saint Mary's College Recital-Forum presentation to all music majors and faculty, Fall 2009
• Zae will return to Interlochen Arts this summer to teach high school students in the 6-week summer session. Duties this year will include teaching the Composition Seminar for composition majors, the Advanced Composition class for instrumental and vocal performers, a section of Beginning Composition, one upper level theory class, and 2 Composition Major private lessons.
---
Daniel Party, assistant professor of music, spent the summer working on several research and writing projects. Thanks to a Student Independent Study and Research (SISTAR) Grant, Dr. Party and Stephanie Mitchell, a double major in Economics and Spanish, collaborated for two summer months on a research project on contemporary trends in the Latin American Music Industry. Following Michael Jackson's passing in June, Dr. Party was interviewed by WSBT-TV evening news on Jackson's legacy. The following week the Japanese edition of Newsweek magazine asked Dr. Party to write a musicological appraisal of Jackson's musical contributions. The piece, titled "The Multimedia Artist," appeared in the magazine's July 22 issue. Also during the summer, Dr. Party wrote an invited chapter titled "Beyond Protest Song: Popular Music in Pinochet's Chile (1973-1990)" for the book Music and Dictatorship in Europe and Latin America, which was published in Belgium by Brepols in March of 2010.
In September Dr. Party participated in Dr. Laurel Thomas's recital playing guitar and singing songs by Federico García Lorca and Leonard Cohen. For most of the academic year Dr. Party was at work with nine other musicologists and ethnomusicologists from around the country co-authoring a new textbook for teaching Latin American music at the undergraduate level. Dr. Party is in charge of the textbook's final chapter, titled "Latin American and Latino Popular Music in the 21st Century." With the goal of bringing all collaborators face to face, he organized a roundtable for the annual conference of the Society for Ethnomusicology held in Mexico City in November. The roundtable, in which Dr. Party presented on the methodological challenges inherent in teaching recent trends in popular music, was a great success in terms of attendance and critical reception. The textbook is expected for publication by W.W. Norton & Company in early fall 2010.
In the spring semester Dr. Party gave two invited lectures. In February, the Center for Latin American & Caribbean Studies at the University of Illinois at Urbana-Champaign invited Dr. Party to give a presentation titled "Popular Music and Dictatorship in Chile and Spain." In March, Dr. Party gave a lecture on Michael Jackson at the University of Notre Dame's Department of Africana Studies. It was a wonderful opportunity to meet and mentor Africana Studies' doctoral fellows as they prepared for a symposium on Michael Jackson. In April, at the annual conference of the Midwest Chapter of the Society for Ethnomusicology, Dr. Party presented a paper titled "Digan lo que Digan: Queering Popular Music in 1960s Spain." He is particularly proud about this paper because it was his first formal foray into the academic disciplines of Gender and Queer Studies. On a related note, Dr. Party received a grant from Saint Mary's to develop a new course on Popular Music & Gender. This new course will fulfill two requirements of Saint Mary's brand new General Education curriculum and will be cross-listed with the program in Women's Studies.
---
Laurel Thomas participated for the second time in the Cross Currents summer advising program, advising incoming First Year students in the summer, meeting with them during summer orientation, and then following them throughout their first year. With peer mentor Kate McKenna she organized several fun events including a dinner in the fall, Christmas cookie decorating on study day, and dinner at Hacienda in the spring.
Thomas joined the General Education Ad Hoc committee last summer for the third year of the committee's work, a charge to revitalize the general education component of a Saint Mary's education. The final draft of the new General Education curriculum was presented to Faculty Assembly and passed by the Board of Trustees at the end of April.


Thomas began the academic year giving a faculty recital with Jeff Jacob and Daniel Party focusing on Ancient Voices of Children by George Crumb. Dr. Jacob, who specializes in music by George Crumb, talked about the composer and his work, and played electric and toy piano. Faculty members Dawn Barrier (oboe), Darrel Tidaback (electric saw and conductor) and Sam Sanchez (percussion instructor) joined with guitarist-turned-mandoline-player Michael Nolan to form the orchestra, which also included students Kristen Vokt (harp), percussionists Sarah Chidester, Natasha Flores and Ryan Belock (Notre Dame). Sophomore Ashley Biehl sang the part of the boy soprano. Michele Krider danced two movements of the work. Party and Thomas performed an original song of Federico Garcia Lorca, the poet of Ancient Voices of Children, a Leonard Cohen song (Take This Waltz) which was written to an English translation of Garcia Lorca's poetry, and several other Leonard Cohen songs.
Also in September, Thomas took voice students to a master class by Nathan Gunn at Notre Dame.
Thomas led departmental assessment retreats in January.
In March Thomas directed Fairy Tale Tunes in which eight of our majors were involved.
In April Thomas took three voice students to the Bach Festival voice competition in Kalamazoo. Also in April Thomas was one of four artists-in-residence at Texas Lutheran University for a festival of music by composer Ricky Ian Gordon. She sang a group of art songs with the composer accompanying.
Adjunct Faculty News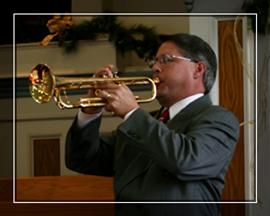 Steve Allen (trumpet) stays busy performing as Associate Principal Trumpet with the Elkhart Municipal Band and as Lead Trumpet with the Elkhart Truth in Jazz. In 2009 he was appointed as the Associate Conductor of the Elkhart Municipal Band, and conducted the well known Tuba Christmas program. He also directs the choir and hand bells at Elkhart First United Methodist Church. In December his choir joined with two other churches, Hillcrest Methodist and Jamestown Methodist to perform Tom Fettke's "One Incredible Moment", a Christmas Story of the Birth of Jesus by Max Lucado. Steve conducted all three performances with full orchestra to completely full houses. In January Steve went to Central Presbyterian Church in Terre Haute and performed for a Sunday Service. There he performed with organist Gary Jenkins, the Hornpipe by Handel and Prayer of St Gregory by Hovahness. Just recently he and his wife performed a concert of sacred music at Santa Anna Methodist Church in Argos, Indiana. In June 2010 Steve will perform with the Elkhart Truth in Jazz as they open the 2010 Elkhart Jazz Festival.
Beverly Butler (piano and accompanist), had a busy and musically varied Spring semester. In February she accompanied Vesper Chorale's annual fundraiser. The concert was held at Studebaker Museum (South Bend) and was titled Valentine Vocals. Music of the 30's and 40's was featured.
In March Beverly accompanied a Concert of American Choral Music at First Presbyterian Church in South Bend. Grand Valley State University Choir and Vesper Chorale performed.
In April Beverly accompanied several of St. Mary's voice students at the Young Vocalist Competition at Kalamazoo College in Kalamazoo, Michigan. She also played for the St. Mary's Women's Choir's Spring Concert.
In May, Beverly played with the Morrow Trio for the Holy Cross College Commencement. And in June she accompanied a concert of all-Jewish music performed by Vesper Chorale at the Jewish Federation of St. Joseph Valley.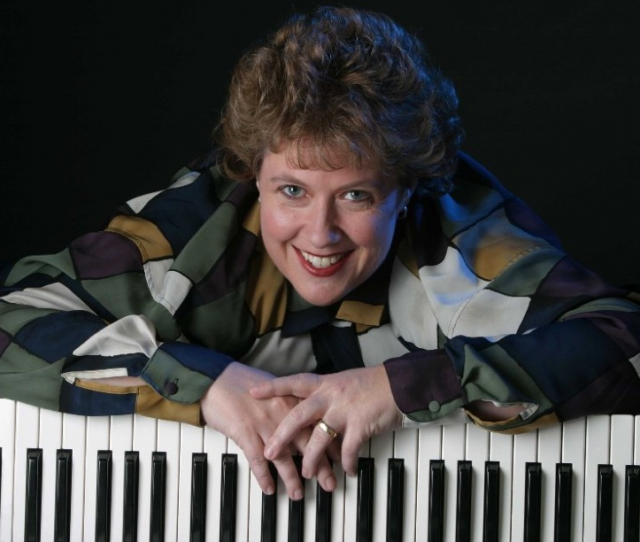 Sherry Klinedienst (piano and accompanist). Last December, Sherry Klinedinst (Sherry K) released her latest piano CD project, entitled, "Have Yourself a Sherry Little Christmas". A CD release concert was held in South Bend, which served as a grand kickoff to a rigorous promotional tour throughout the midwest. In May, Sherry provided music for the Taste of Michiana, where a great deal of money was raised to help fight hunger in Northern Indiana.
Sherry's web page and Sherry on Facebook.


Carol Bullock Russell (cello) is an active orchestral musician and performs regularly with both South Bend and Kalamazoo Symphony Orchestras. She teaches cello privately as well at Saint Mary's College and Bethel College. She recently completed a three-year term as Musician Liaison with the South Bend Symphony Board of Directors. In addition to her musical pursuits, Carol enjoys giving back to her community by volunteering at Memorial Hospital of South Bend, AFS-USA cultural exchange, and the South Bend Community School Corporation's Read to a Child program.
---
Department News and Events
Music Award
This year's Music Award, given for musical and academic achievement and service to the Music Department, was given to senior Katie McKenna at the Awards Convocation in April. Congratulations, Kate!
Chicago Lyric Opera Trip
Last January the music majors went to Chicago for Puccini's Tosca at the Chicago Lyric Opera. Costumes, sets, and singing were all stunning! Daniel Party, Laurel Thomas, Nancy Menk and Carol Russell accompanied the group.
Senior Recitals in February
Rachel Raska, soprano with Sherry Klinedinst, piano
Kate McKenna, piano
Fairy Tale Tunes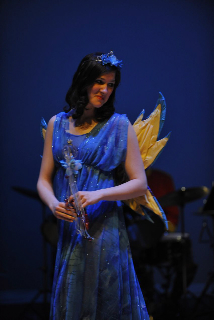 Hansel and Gretel meet the witch.
Cinderella complains about her stepsister.
Red Riding Hood runs from the wolf.
The orchestra members morph into Fairies.
Sets and lights by Michaela Duffy, costumes by Melissa Bialko.
Cookies and milk served before the show.
Fun for all.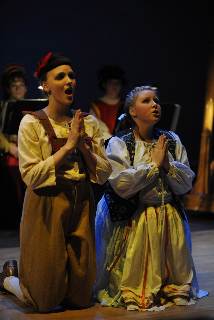 Music Technology in the Department
The SMC Music Lab has been upgraded. There are now 7 workstations, each with a new Mac computer (with Finale '10 notation software and Garage Band) and a Roland FP-7 electronic keyboard. The piano lab/keyboard skills "pod" is equipped with the same Roland FP-7s. These are 88-key, weighted touch keyboards.
Womens' and Collegiate Choirs Perform Brahms' Requiem
The Women's and Collegiate Choirs joined together with the Notre Dame Chorale, the Notre Dame Glee Club, the Notre Dame Liturgical and Women's Liturgical Choirs, and the South Bend Symphony Orchestra to present Johannes Brahms' German Requiem on April 10th. Maestro Tsung Yeh conducted the performance at the Morris Performing Arts Center in South Bend, with guest soloists Sarah Hibbard and Philip Krause
25th Annual High School Women's Choir Festival
The 25th annual High School Women's Choir Festival was held November 19 and 20, with 20 choirs from 4 states participating. This year, in celebration of the 25th anniversary of the festival, all participants premiered a new work by Canadian composer Eleanor Daley, commissioned especially for the occasion. "How the Flowers Came," for SSAA and piano, is published by Alliance Music. Daley rehearsed the massed choir on her new work, and also served as a commentator along with composer-conductors Paul Carey and Lee Kesselman.
Next year's festival will be held on November 18th and 19th with commentators Paul, Caldwell, Sean Ivory, and Barbara Tagg.
Recital Forum Brings Two Guests for Mini-Festivals
During the fall semester, Kurt Alexander Zeller, co-author of the new book "What Every Singers Need to Know About the Body," and an expert on the subject of Body-Mapping, visiting campus for several days. He worked in rehearsal with the South Bend Chamber Singers, gave several public presentations, and worked individually with many of our students on this fascinating topic. Zeller is a member of the music faculty at Clayton State University in Georgia.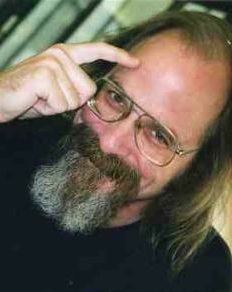 In the spring semester Michael Schelle, a composer and expert on film music and faculty member at Butler University, visited campus to present several lectures on the subject of Music and Film. Schelle's public presentations included "The Legacy of the Golden Age of Film Music (1930's - 1949); Crossover Composers: The Back and Forth of Film and Concert Music, and Where is the Next Bernard Herrmann? or, Has the Theremin Killed Film Music?



Madrigal Dinners
The 37th annual Madrigal Dinners took place December 4, 5, & 6. The Madrigal Singers were once again accompanied by the Andrews University Early Music Ensemble. Michael Kramer from the Department of Communication and Performance Studies served as the Master of the House, and theatre students provided the tomfoolery and general nonsense with juggling by Richard Biggs and John Hanlon. Next year's dinners will be held on December 2, 3, & 4. Get your tickets early!
South Bend Chamber Singers' 21st Concert Season
The South Bend Chamber Singers opened their 21st concert season with Christmas at Loretto on Sunday, December 20th. This popular event featured 2 world premieres of works Chicago composer Stacy Garrop and South Bend composer Frederick Hohman. Quintessence Brass accompanied the Singers in excerpts from Handel's Messiah and works by Stephen Chatman.
In March, the Singers joined with the Jim Pickley Trio to present Jazz Sings! Guests enjoyed drinks and hors d'oeuvres at Saint Mary's Noble Family Dining Hall while listening to Bob Chilcott's great jazz folksong arrangements along with jazz standards sung by soloists from the group.
In May, the Singers presented Completely Copland!, a concert featuring the choral music of American composer Aaron Copland. The Culver Academy Choir, Stacey Warren, director, joined the Singers for 5 of the Old American Songs.
---