Studying Music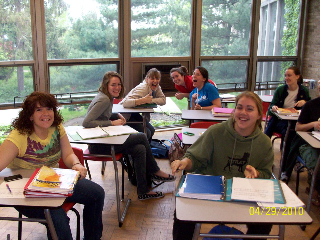 Check out bios of two of our very own music majors! Angie Schott '13 is featured here, and Joy Viceroy '13 is featured here.
Why Study Music?
How many times have you heard the words "Seek your passion!" I believe that finding and developing your passion is what college is all about. If you are able to discover your bliss in the next four years, you will, in a very real way, be able to follow your passion throughout life. For me, music has been one of the most profound, longest abiding sources of joy in my life.
If the perfect art of Music has been your love in high school, you should seriously consider a major or minor. Majoring in music can take two directions at Saint Mary's. If you decide to pursue teaching you can become certified to teach from pre-school through high school. In the ten years I have been at Saint Mary's, every one of our Music Education majors has been employed directly after graduation.
It is also possible to get a B.A. degree in Music while double majoring in another field. This enables you to pursue other interests while keeping your love for music alive and flourishing. One of our graduates this year is on her way to medical school in the fall. Another started a master's degree in communicative disorders. We have several other music/science double majors at the present time. Music and theatre is another popular combination.
A minor in music is less demanding, but an attractive option for students with less time in their curriculum (engineering, chemistry).
Majoring in Music can be profitable and practical as well as energizing and fulfilling. I hope you will consider making Music a significant part of your study at Saint Mary's College.
Laurel Thomas, Chair