Moreau Art Galleries Spring 2014 Exhibits
Art Exhibition: Megan Vossler and Matthew Kluber
This spring exhibitition features the work of two artists: Matthew Kluber, professor of art at Grinnell College, and Megan Vossler, professor of art at Macalester College. The exhibit runs Jan. 24 to March 14. Admission is free and the exhibits are open to the public. Please visit between 10 a.m. and 4 p.m. Monday through Friday.

The public is also invited to a celebration of the spring exhibition on Friday, Jan. 31 from 5 to 7 p.m. (Event was originally scheduled for Friday, Jan. 24 but was postposed due to inclement weather.)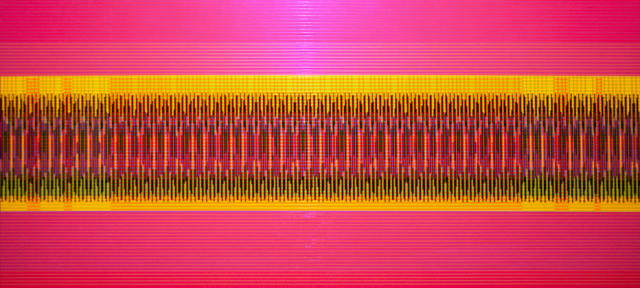 Matthew Kluber's work will be on view in Hammes gallery. He will be exhibiting drawings and paintings on aluminum with digital projection. You can see his work by following this link. Scroll to the bottom for video!
In his statement about his work, which can be found in full on his web site, he explains: "This work investigates the intersection of painting and digital technology, locating itself at the point where the physical world (traditional media) meets the virtual world (new media). At this intersection the ephemeral, un-located space of digital video is attached, by means of projection, to the fixed object of a painting, illuminating it with a new color space, code-derived content, and the element of time to construct a hybrid pictorial space. The paintings are composed of linear, geometric elements that reference the narrow, colorful, horizontal bands of data - signaling a crash - that had frequently filled the screen of my (former) computer. This downside of digital technology, its flaws and defects, provided a unique visual experience and became an unexpected, rich source of imagery. The thin horizontal stripes refer to that imploding data, while the picture plane alludes to the computer screen – resulting in a carefully edited version of a visual phenomenon normally associated with the breakdown of a system."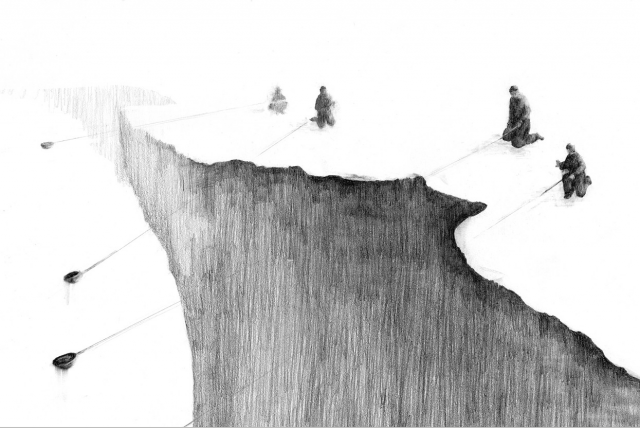 Megan Vossler's work will be on view in Little Theater and Sister Rosaire. She will be exhibiting large drawings, some smaller drawings from a recent series, and two video works. Critic Susannah Schouweiler writes of Vossler's work: "There's something so disciplined, almost devotional, in the way of looking Megan Vossler cultivates ... It's not just her attention to detail — although that's plainly evident. It's that, in her drawings, one senses a determined effort to see natural landscapes fundamentally differently — not as backdrops to human affairs or as symbols for unspoiled beauty (or, conversely, shameful waste). She seems to set those anthropocentric signifiers aside, instead approaching landscapes as vast, ineffable stories written in an alien tongue; these sketches, then, are her attempts to parse those stories on their own terms. Seen through her eyes, the denizens of the natural landscape follow a parallel (albeit occasionally intersecting) narrative arc to ours, driven by stories which turn on plots dictated by the interplay of more elemental benedictions and calamities."