29th Annual Madeleva Lecture Announced
Submitted by

gobrien

on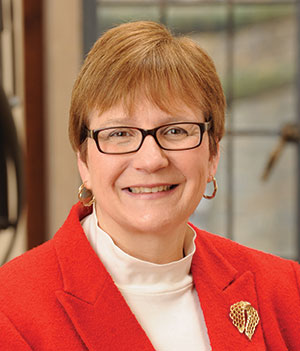 Christine Firer Hinze, 2014 Madeleva LecturerContact:
Gwen O'Brien
Director of Media Relations
Saint Mary's College
(574) 284-4579

April 1, 2014 (Notre Dame, Ind.)—The Saint Mary's College Center for Spirituality is proud to announce that the 29th Annual Madeleva Lecturer is Christine Firer Hinze, professor of theology and director of the Francis and Ann Curran Center for American Catholic Studies at Fordham University. The lecture, which is free and open to the public, will be held at 7:30 p.m. on Thursday, April 24, in Carroll Auditorium of Madeleva Hall. Click for a campus map.
Hinze's lecture is titled "Glass Ceilings and Dirt Floors: Women, Work, Catholic Social Teaching, and the Global Economy."  Drawing on Catholic social thought, social science and gender studies, the lecture will build on data concerning women's market and household work to argue that 21st century economies must pursue, as their overriding aim, sustainable sufficiency for every household and for the "world house."
Hinze's teaching and research interests focus on foundational and applied issues in Christian social ethics with special emphasis on Catholic social thought, work, justice, women, and families. She holds a bachelor's degree in religion, a master's degree in theology from the Catholic University of America, and a doctorate in Christian social ethics from the University of Chicago.
She is the author of Comprehending Power in Christian Social Ethics; a book in preparation entitled, Radical Sufficiency: The Legacy and Future of the Catholic Living Wage Agenda, and numerous scholarly essays in books and in journals such as Theological Studies, The Journal of the Society of Christian Ethics, The Journal of Catholic Social Thought, and Studies in Christian Ethics.
Elizabeth Groppe, director of the Center for Spirituality, is pleased that Hinze accepted the invitation to speak at Saint Mary's College. "Professor Firer Hinze's work in the tradition of Catholic Social Teaching gives special attention to the experience of women and families. Her lecture will bring this experience and the wisdom of the tradition to bear on the challenging economic realities of our time."
The Madeleva Lecture Series is well known both nationally and internationally. Some of the most influential women scholars of the past 25 years are past-Madeleva Lecturers. The Madeleva Lecture Series is named after the legendary Sister Madeleva Wolff, C.S.C., president of Saint Mary's College from 1934 to 1961. Sister Madeleva was a visionary, an educator, a medieval scholar, a poet, and a woman of deep spiritual conviction. In her 27 years as president, she put those gifts to good use leading Saint Mary's to national prominence as a premier Catholic liberal arts college for women.

Anyone with questions about the event should contact Kathy Guthrie in the Center for Spirituality at (574) 284-4636.
About Saint Mary's College: Saint Mary's College, Notre Dame, Ind., is a four-year, Catholic, residential, women's liberal arts college offering five bachelor's degrees and more than 30 major areas of study, such as business, nursing, art, chemistry, and social work. The College's single-gender environment has been proven, in study after study, to foster confidence, ethical leadership, and strong academic success. Saint Mary's College ranks 76 among the 248 "Best National Liberal Arts Colleges" for 2014 published by U.S. News and World Report. Founded in 1844 by the Sisters of the Holy Cross, Saint Mary's College's mission is to educate women and prepare them for postgraduate success whether it's a first job, graduate school, or postgraduate service.
Event date:
Thursday, April 24, 2014 - 04:00