"China Night" to Celebrate Chinese New Year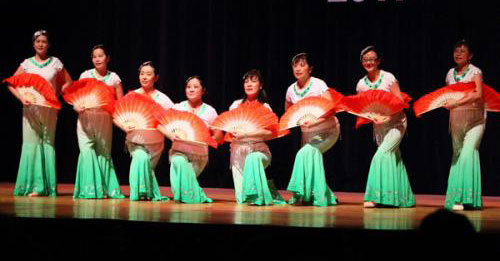 Contact:
Gwen O'Brien
Director of Media Relations
Saint Mary's College
Notre Dame, IN 46556
(574) 284-4579
January 23, 2014 (Notre Dame, Ind.)—Saint Mary's College will hold "China Night" from 3 to 5 p.m. on Sunday, February 16 in O'Laughlin Auditorium. A public reception will follow. The event celebrating the Chinese New Year will feature 15 acts and is free and open to the public. The Chinese New Year, also known as the Spring Festival, begins on January 31, and is the most significant traditional Chinese holiday. "China Night" is hosted by the College's Center for Women's Intercultural Leadership (CWIL) and the Chinese Cultural Club.
Alice Siqin Yang, CWIL's assistant director for global education, says the event is a cultural learning experience for Saint Mary's students and the South Bend community.
"It is becoming more and more important to learn the Chinese language and culture in the interdependent global society that we live in today," she said. "Saint Mary's strives to bring together women of different nations, cultures, and races so that students can have a richer educational experience. As part of the Sophia Program — the College's new general education program — Saint Mary's encourages students to understand the aspects of culturally diverse environments in order to communicate more effectively across cultures."
This year's event will feature folk dances, music using traditional Chinese musical instruments, songs, theatre, and games. Children and Saint Mary's students attending will receive a red envelope as a New Year's gift, a tradition of Chinese culture.
About Saint Mary's College: Saint Mary's College, Notre Dame, Ind., is a four-year, Catholic, residential, women's liberal arts college offering five bachelor's degrees and more than 30 major areas of study, such as business, nursing, art, chemistry, and social work. The College's single-gender environment has been proven, in study after study, to foster confidence, ethical leadership, and strong academic success. Saint Mary's College ranks 76 among the 248 "Best National Liberal Arts Colleges" for 2014 published by U.S. News and World Report. Founded in 1844 by the Sisters of the Holy Cross, Saint Mary's College's mission is to educate women and prepare them for postgraduate success whether it's a first job, graduate school, or postgraduate service.