Director of Center for Women's Intercultural Leadership Elected to National Board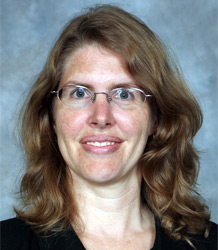 Elaine Meyer-Lee, director of the Center
for Women's Intercultural LeadershipContact:
Gwen O'Brien
Director of Media Relations
Saint Mary's College
(574) 284-4579

January 14, 2014 (Notre Dame, Ind.)—Saint Mary's College is pleased to announce that Elaine Meyer-Lee, director of the Center for Women's Intercultural Leadership (CWIL), was elected to a three-year term on the board of directors of NAFSA, the world's largest nonprofit association dedicated to international education and exchange. NAFSA originally stood for National Association of Foreign Student Advisers but the organization's purpose is now much broader and therefore is known as NAFSA: Association of International Educators. Meyer-Lee's term began this month.
Meyer-Lee has led Saint Mary's internationalization efforts for 11 years and during that time she has become more involved with NAFSA, as well as smaller national professional organizations in the field.
"It is a testament to Saint Mary's leadership and national recognition in the field of international education that Elaine was elected to the board of this well-respected organization, and her service there will undoubtedly open up yet more opportunities for the College from which our students will ultimately benefit," noted Provost and Senior Vice President of Academic Affairs Patricia Fleming.
Meyer-Lee added, "I know NAFSA shares my sense of the need for diversity of all kinds in all places, including gender, nationality, race, and in the context of NAFSA, institutional type where I can represent the perspective of liberal arts colleges. I enjoy contributing analytically and collaboratively to group processes, and look forward especially to working with the highly esteemed colleagues that serve on this board."
Before Meyer-Lee's arrival to Saint Mary's in 2002, the College had only seven study abroad programs and all but one were in Europe. CWIL has since expanded study abroad offerings, creating 19 new programs. The portfolio of programs is varied to meet individual students' needs, including geographical location, time frame, disciplinary focus, pedagogical model, and specific learning outcomes.
Under Meyer-Lee's leadership of internationalization efforts, the College has been recognized on numerous occasions for the growing percentage of students that study abroad. For four years, Saint Mary's College has been among the top 100 institutions in the U.S. News and World Report "Best Colleges: Most students studying abroad" listing. In the current ranking, Saint Mary's is listed as #44with 52% of seniors having studied abroad by graduation.
About Saint Mary's College: Saint Mary's College, Notre Dame, Ind., is a four-year, Catholic, residential, women's liberal arts college offering five bachelor's degrees and more than 30 major areas of study, such as business, nursing, art, chemistry, and social work. The College's single-gender environment has been proven, in study after study, to foster confidence, ethical leadership, and strong academic success. Saint Mary's College ranks 76 among the 248 "Best National Liberal Arts Colleges" for 2014 published by U.S. News and World Report. Founded in 1844 by the Sisters of the Holy Cross, Saint Mary's College's mission is to educate women and prepare them for postgraduate success whether it's a first job, graduate school, or postgraduate service.