Madeleva Lecture: Kathleen Hughes, RSCJ
Submitted by

gobrien

on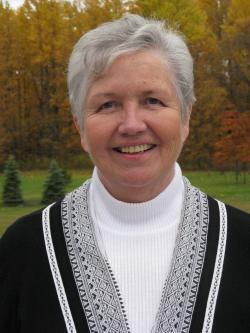 Kathleen Hughes, R.S.C.J., Ph.D. Contact:
Gwen O'Brien
Director of Media Relations
Saint Mary's College
Notre Dame, IN 46556
(574) 284-4579
March 6, 2012 (Notre Dame, Ind.)—The Saint Mary's College Center for Spirituality is proud to announce that the 27th Annual Madeleva Lecture speaker is Kathleen Hughes, R.S.C.J., Ph.D., liturgical theologian and former president of the North American Academy of Liturgy. Hughes' lecture is entitled "Becoming the Sign: Sacraments in a Post-Conciliar Church."
Kathleen Dolphin, P.B.V.M., Ph.D., director of the Center for Spirituality, is pleased Hughes accepted the invitation to speak at Saint Mary's College.
"Doctor Hughes surely will be a wonderful addition to the list of influential women scholars who have delivered the annual Madeleva Lecture," Dolphin said. "For over thirty years Doctor Hughes has been a key player in the development of a well-grounded understanding of sacraments in the Catholic Church. We look forward to hearing her insights on sacramental life, especially as it has evolved since the Second Vatican Council—a timely topic indeed."
Hughes is a sacramental theologian, teacher, speaker and writer. For 19 years, Hughes served as Professor of Word and Worship at Catholic Theological Union (CTU) in Chicago, where she also served a term as academic dean. Hughes left CTU when she was elected provincial of her religious order, the Society of the Sacred Heart in the United States, and led her order for six years. She is now occupied with issues of spirituality and prayer and the retrieval and reinterpretation of traditional wisdom and practice for contemporary life.
Hughes has written or edited eight books, served on nine editorial boards, and published several hundred articles and reviews demonstrating a broad range of interest in worship, sacraments, preaching, language, feminism, and spirituality. Hughes was the first woman to receive a Ph.D. in Liturgical Studies from the University of Notre Dame.
The Madeleva Lecture Series is named after the legendary Sister Madeleva Wolff, C.S.C., president of Saint Mary's College from 1934 to 1961. The 2012 Madeleva Lecture is Thursday, April 19 at 7:30 p.m. in Carroll Auditorium, Madeleva Hall. This event is free and open to the public. Anyone with questions should contact Kathy Guthrie in the Center for Spirituality at (574) 284-4636. Click for a campus map.
About Saint Mary's College: Saint Mary's College, Notre Dame, Ind., is a four-year, Catholic, women's institution offering five bachelor's degrees and more than 30 major areas of study. Saint Mary's College has six nationally accredited academic programs: social work, art, music, teacher education, chemistry and nursing. Saint Mary's College ranks among the top 100 "Best National Liberal Arts Colleges" for 2012 published by U.S.News and World Report. Founded in 1844, Saint Mary's is a pioneer in the education of women, and is sponsored by the Sisters of the Holy Cross.
Event date:
Thursday, April 19, 2012 - 04:00