"Math + Art" Exhibit + Installation = 2 Reasons to Visit Galleries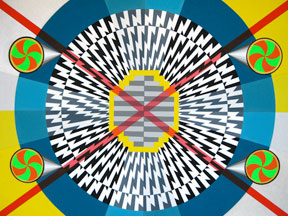 "Cross Traffic" by Jessica EastburnContact:
Gwen O'Brien
Director of Media Relations
Saint Mary's College
Notre Dame, IN 46556
(574) 284-4579
January 31, 2012 (Notre Dame, Ind.)—The Moreau Art Galleries and the Department of Art at Saint Mary's College announces the opening of two exhibitions running through March 2. To celebrate the opening of the exhibits, there will be an artist reception on Friday, February 3 from 5 to 7 p.m. in the Moreau Art Galleries. At 6 p.m., Department of Art Visiting Artist Bryan Hopkins, whose ceramics are included in one of the exhibitions, will offer a lecture in room 232, adjacent to where the reception will take place. The public is cordially invited to these free events.
One of the two exhibitions is called "Math + Art." Steven Broad, assistant professor of math, and Krista Hoefle, associate professor of art, worked collaboratively on this group exhibition on display in the Little Theatre and Sister Rosaire Galleries. "Math + Art" intermingles artists who use math and mathematicians who make art in a wide variety of medias, including drawing, painting, sound, video, generative animation, paper/glass sculpture, ceramics, and photography.  Featuring the works of: 
Ben Browne
Channel TWo (Jessica Westbrook and Adam Trowbridge) 
Diana Abells
Richard Gilles 
The second exhibition is a site-specific installation by the Impractical Labor in Service of the Speculative Arts (ILSSA).  Hundreds of ILSSA members—also known as "Local Shops"—were asked to save remnants from their studio work for an entire year.  Local Shops sent their remnants, along with one tool, for the ILSSA organizers to present in an installation made uniquely for Hammes Gallery.
About Saint Mary's College: Saint Mary's College, Notre Dame, Ind., is a four-year, Catholic, women's institution offering five bachelor's degrees and more than 30 major areas of study. Saint Mary's College has six nationally accredited academic programs: social work, art, music, teacher education, chemistry and nursing. Saint Mary's College ranks among the top 100 "Best National Liberal Arts Colleges" for 2012 published by U.S.News and World Report. Founded in 1844, Saint Mary's is a pioneer in the education of women, and is sponsored by the Sisters of the Holy Cross.