New Roommate Option for Seniors: Pets!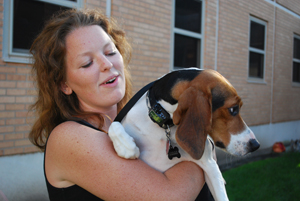 Meghan O'Rourke, a Saint Mary's senior, brought her
beagle Kelli to school with her this fall. She and Kelli will
be roommates at Regina Hall South. This is the first year
the College has allowed seniors to have pets on campus.Contact:
Gwen O'Brien 
Director of Media Relations
Saint Mary's College
Notre Dame, IN 46556
(574) 284-4579
August 17, 2012 (Notre Dame, Ind.)—Senior housing at Saint Mary's College has gone to the dogs...and cats.

This fall, Regina Hall South is for seniors only, and, if they choose, their pets. It's part of expanded residential options that have attracted more seniors to live on campus. Saint Mary's students are required to live in residence halls for three years and typically half choose to live off campus as seniors. But not in 2012-13. Approximately 75 percent of fourth year students will live on campus this year.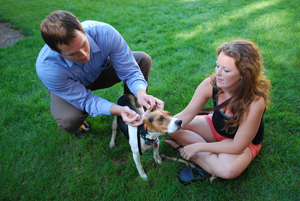 Veterinarian Dr. Rob Memmen of Morris Animal Hospital
met the pets and made sure their shots are up to date.
Here he gives Kelli the beagle a quick exam as Kelli's
owner and roommate Meghan O'Rourke looks on.Saint Mary's is the only regional college or university to allow pets in residence halls. So far eight seniors have registered with a pet, for a total of four dogs and four cats.
Janielle Tchakerian, assistant vice president of Student Affairs and director of Residence Life and Community Standards, says allowing pets is an extension of the residential experience at Saint Mary's. "Students will tell you that living here is like having a second home. Now seniors can bring their pet from their family home here to campus," Tchakerian said.
Pets should be happy with the accommodations. Though they must be in a kennel or cage when their owner is out of their room, they have a place to play outside. The grassy courtyard where the pool used to be is now a pet park. "We know they need to stretch their legs. They can't be cooped up in their rooms," Tchakerian said.
Meghan O'Rourke '13 said the "pets perk" was a draw for her to live on campus. "It was actually a big relief that I could bring a pet with me. It was a really big draw to stay in Regina," said O'Rourke. She brought her dog Kelli with her this fall.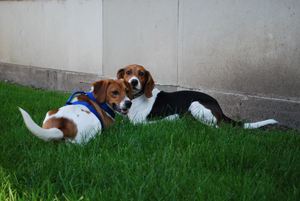 Beagles Daisy, left, and Kelli, right, get to know each
other in the pet park of Regina Hall South. The dogs
are roommates to Cassandra Jerkovic and Meghan
O'Rourke, Saint Mary's seniors.The pet benefit is not the only bonus for Regina South residents. The wing offers apartment-like living, a reduced meal plan option, and a more liberal visitation policy. Forty-two seniors will live in Regina South this fall.
"We took the least appealing single room on campus and made it into one of the most desirable options," Tchakerian said. "Students will get two rooms for the price of one because what had been doubles are now singles, and what had been quads, with three rooms, are 'super singles.'"
In all, there will be 36 single suites in Regina South, though roommates are allowed. Each floor also has a microwave and refrigerator.
Until now, Opus Hall was the only option for fourth years wanting to experience the freedom of apartment living while remaining on campus. There is such great demand for the 72 spots in Opus that a lottery is held each spring. Now there is more supply to meet demand, and that's good for the College's bottom line. Housing more students is efficient and helps the College stretch its dollars.
So how did the Regina South idea come about? "We thought outside the box," Tchakerian said.
Looking ahead to next academic year, the administration predicted that fewer fourth-year students would be living here since the Class of 2013 is smaller than the Class of 2012. Tchakerian and her boss, Karen Johnson, vice president for Student Affairs, got to work on a game-changing plan.
"Karen came up with the dogs and cats idea, but she was hesitant about it. She was worried about the size and types of the animals and about allergies and pet dander. She asked me to do some research, and I found it had been successful at other schools," said Tchakerian.
Johnson's concerns were addressed with an official pet policy for Regina South:
Each resident is allowed one small animal less than 30 lbs. (No snakes.)
All pets must be registered with Residence Life prior to arrival.
Pets must have proof of vaccines, be spayed/neutered, housebroken, etc.
Animal waste must be disposed of outside.
No animal can remain on campus during breaks.
Pets must be in kennel, playpen, cage, etc. when resident is not in the room.
Students recognize the expanded housing options for seniors as a smart business move for the College. "It's an innovative and modern tactic," said Katelyn Dapper '12. "It shows that (Residence Life) is listening to students and trying to make Saint Mary's a place where students want to stay on campus all four years."
And while the move is a fiscally sound one for the College, it also benefits students who would lose some financial aid if they moved off campus. Plus, these seniors won't have to worry about the unknown costs of heat, electricity, furnishing an apartment, and other incidentals. "It's really a win-win all the way around," said Tchakerian.
About Saint Mary's College: Saint Mary's College, Notre Dame, Ind., is a four-year, Catholic, women's institution offering five bachelor's degrees and more than 30 major areas of study. Saint Mary's College has six nationally accredited academic programs: social work, art, music, teacher education, chemistry and nursing. Saint Mary's College ranks among the top 100 "Best National Liberal Arts Colleges" for 2012 published by U.S.News and World Report. Founded in 1844, Saint Mary's is a pioneer in the education of women, and is sponsored by the Sisters of the Holy Cross.