Saint Mary's Mourns Loss of Sister Jean Klene
The following is a letter to alumnae sent by Vice President for Advancement Holly C. Johnson.
Dear Alumnae of Saint Mary's,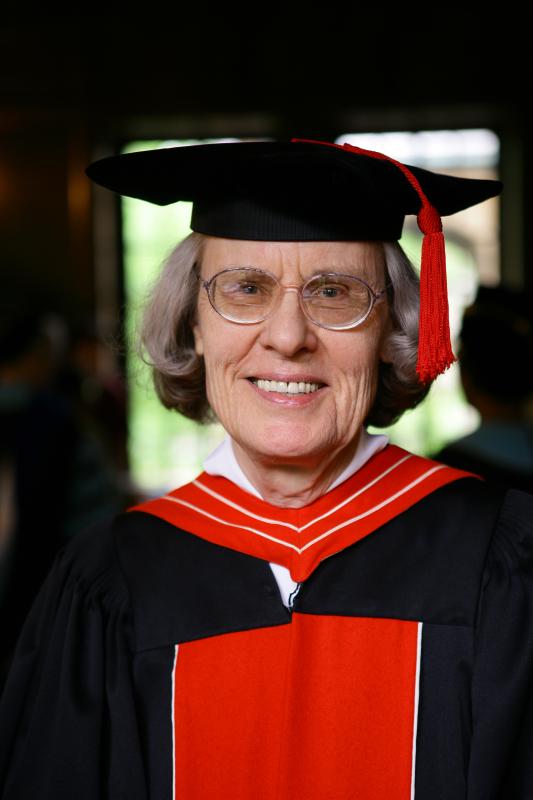 Today we honor a life beautifully lived. Please join us in prayer for Sister Mary Jean Klene '59, CSC, who entered her heavenly home at 10 p.m. on December 1, 2021. She was 91 years old.
Sister Jean was born in 1929 in Hannibal, Missouri, and was a renowned and cherished professor of English literature at Saint Mary's.
Sister Jean's passion for art began before she enrolled at Saint Mary's. From 1952 to 1965, she taught art in secondary schools. By 1959, she had entered the Sisters of the Holy Cross, taken on majors in both English and Art, and graduated cum laude from Saint Mary's. She received a master's degree in English from the University of Notre Dame in 1966 and a Ph.D. in English from the University of Toronto in 1970. Sister Jean taught in the English department at Saint Mary's from 1970- 2010, served as department chair for many years, and served on the College's Board of Regents from 1985-1991.
"Sister Jean's devotion to literature and the written word influenced her students to love learning and the intellectual life," said President Katie Conboy. "Her zest for life and care for students are legendary at Saint Mary's. The alumnae who remained in touch with her throughout her life are a testament to her enduring legacy. We mourn her passing and give thanks for her faith-filled service."
Art and literature were interwoven in Sister Jean's teaching, especially in her courses on Shakespeare. Through trips to the Stratford Festival in Canada and the Shakespeare Repertory Theater in Chicago, she brought Shakespeare's work to life for her students and inspired them to pursue their own interests with the same zeal. Her courses were appealing even to those who were not destined to become English majors, and declared majors recall that through the challenge and stimulation of her upper-division courses they rediscovered the things that initially made them fall in love with literature.
Indeed, Sister Jean's long list of professional accomplishments illustrate both her enthusiasm for her discipline and her desire to arm her students with a love of learning. She received a year-long National Endowment for the Humanities (NEH) Fellowship at Hofstra University to study comedy in Chaucer, an NEH Summer Seminar with the Royal Shakespeare Company in England, an NEH Summer Seminar at Princeton on Virgil and the Renaissance epic, and a Lilly Faculty Fellowship to prepare slides for classroom use.
In 1981, Sister Jean received the Spes Unica Award, which recognizes a faculty member's eminent service to the college in teaching, scholarship, creative activity and/or service. Nearly two decades later, in 2000, she received the Maria Pieta Award, which recognizes the quality of teaching in courses for first-year students and sophomores. In 2005, Sister Jean was honored again with the Saint Mary's President's Medal. These awards recognize the magnitude of her subject matter knowledge, her contagious enthusiasm, and her profound influence on her students.
Ann Struhs Roberts '82 and her husband, Duane, established the Sister M. Jean Klene, CSC Scholarship at Saint Mary's to honor Sister Jean's enormous influence on their lives. Roberts remembers: "I met Sister Jean in my first week at Saint Mary's. She endeared herself to me with the kindness she showed a homesick, introverted freshman. Later, as my enthusiastic, witty, and incisive guide, she challenged me in the many courses I took from her.
"After graduation I stayed in touch with Sister Jean and she eventually came to know my husband and two sons," Roberts continued. "We hoped for years to one day endow a scholarship at Saint Mary's, and when we were finally able to make that happen, naming it in honor of Sister Jean was the obvious choice."
Sister Jean was a beloved colleague to her fellow professors in the English department. Professor Ted Billy reflects, "Although her passing is sad news indeed, I know that Sister Jean would not want us to be downcast. I think we are entitled to not only celebrate the life of this marvelous woman but also to use her example as a model of what we all should strive for: great strength of character spiced with a zesty sense of humor."
On Thursday, December 9 at 10:30 a.m., a Mass of the Resurrection for Sister Jean will be held at the Church of Our Lady of Loretto, Saint Mary's. As the Sisters cannot currently welcome visitors to the church for funeral services, please view the live streamed Mass at by clicking this link. An obituary honoring Sister Jean, lovingly written by the Sisters of the Holy Cross, can be found there as well. 
Sincerely,

Holly C. Johnson
Vice President for Advancement
About Saint Mary's College: Celebrating over 175 years of empowering women to make a difference in the world, Saint Mary's College is recognized as a pioneer and continued force in the education of women. A Catholic, liberal arts institution in Notre Dame, Indiana, the College offers more than 50 undergraduate academic programs and also offers co-educational master's degrees.