Saint Mary's College brings community together in volleyball matchup fundraiser
February 15, 2018 (Notre Dame, Ind.) — The Saint Mary's College Board of Trustees will face the Sisters of the Holy Cross in their second epic volleyball matchup. The younger sisters, novices, have been practicing, and are ready for competition.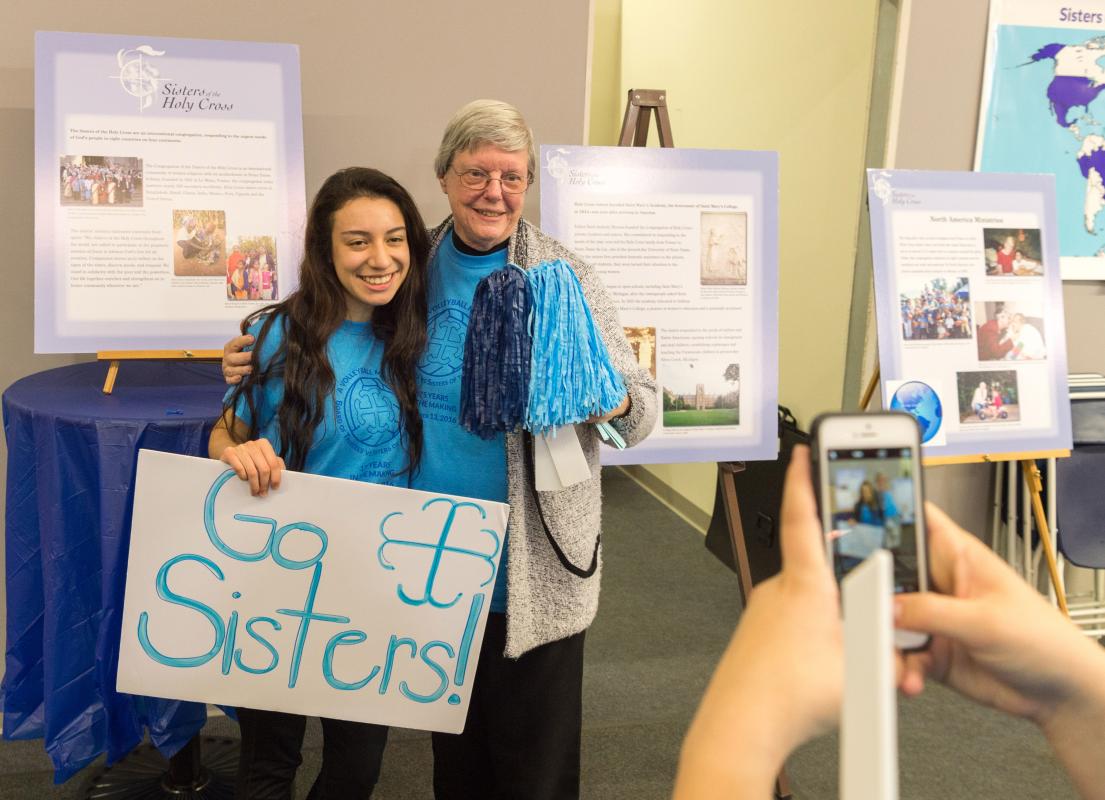 No matter the outcome of the match, set for 6:30 p.m. this evening in the newly renovated Angela Athletic & Wellness Complex, the sisters will win, because the event is a fundraiser by the Board for the sisters' missions, which operate in eight countries including the U.S., Ghana, Uganda, Mexico, and Peru.
The match offers another benefit — students will spend quality time with the sisters, sharing laughs, and maybe even sparking some friendships. Even though the College and the motherhouse are on the same campus, the students' lives and the sisters' do not always intersect. 
Sister Suzanne Brennan, CSC said the event is really special for the younger sisters from all over the world to meet Saint Mary's students.
"We hope that the students will come and see and learn about our countries. We are looking forward to having fun," Brennan said. "We are so grateful to the staff at Saint Mary's for their help and for teaching us to play volleyball and for inviting us to come and 'work-out' in their new facility."
Today, many students had never met a sister before coming to Saint Mary's, a school founded by the congregation in 1844 and still sponsored by it. It's a fact that there are fewer women religious in schools and hospitals than a generation or two ago.
Visit this photo gallery to see photos of last year's event. 
About Saint Mary's College: Saint Mary's College, Notre Dame, Ind., is a four-year, Catholic, residential, women's liberal arts college offering five bachelor's degrees and more than 30 major areas of study, such as business, nursing, art, chemistry, and social work. Saint Mary's College also offers two graduate degrees: a Master of Science and a Doctorate. All programs that fall under these degrees are co-educational and include a Master of Science in Data Science, a Master of Science in Speech Language Pathology, and a Doctorate of Nursing Practice. Founded in 1844 by the Sisters of the Holy Cross, Saint Mary's College seeks, according to its mission statement, to educate students, develop their talents, and prepare them to make a difference in the world. Follow Saint Mary's College on Twitter @saintmarys and @saintmarysnews.
Contact for News Media: Haleigh Ehmsen, Assistant Director of Integrated Communications, Saint Mary's College, hehmsen@saintmarys.edu (574) 284-5343