EMS Campus - Event Management System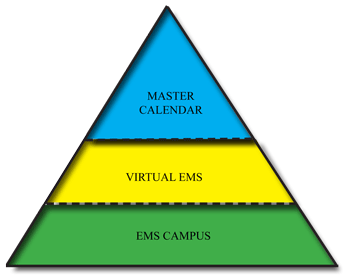 EMS Campus is the software program used by Saint Mary's College to manage campus events. Campus agencies, including the Registrar, Building Services, Maintenance, Media Services, Security, Sodexo, Special Events, and Athletics use this system to manage service orders, reserve rooms, and maintain class schedules. EMS Campus is the foundation upon which our events are planned and implemented.
---
Virtual EMS is the web view of EMS Campus. Access to Virtual EMS is gained through any web browser: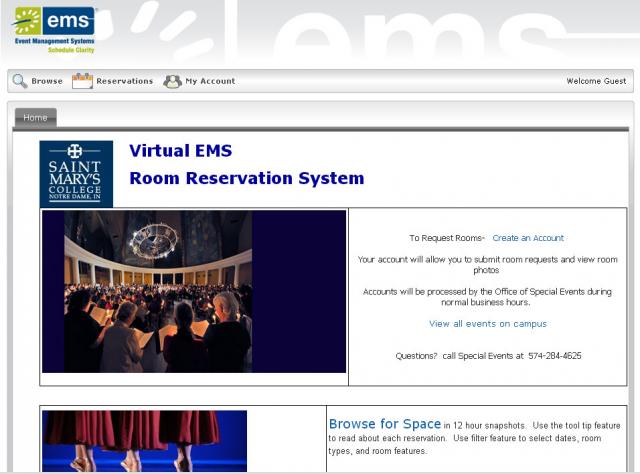 Browse for Space - to see the reservation book. This is a comprehensive view of campus activities. Sort by facility, room feature, room type, date, or select all to see everything. The search button activates this view.
Browse Facilities - to view the seating capacity for each room. Filter by facility or room type. This feature will allow the viewer to see various room capacities within different set-ups. Photos of our spaces may be viewed through this feature. The filter button activates this view.
Room Requests are made at the Virtual EMS site. Events that require room reservations, food service or special set up may be submitted for approval by using a web request feature. Users may create an account under the "my account" menu. Accounts are required for any web request. Account login and password entries do not necessarily have to match an existing SMC account. Once the account is created, the user may go directly to the room reservation tab and begin entering information.
Plan events at least two weeks prior to the event date to make certain that space is available and the event may be given adequate support. It is possible that late submissions may not be approved.
Event overload: At given times during the year, the number of campus events may be increased, usually when major College events are scheduled. During these times rooms and services may be limited. Try to avoid busy times, including: Honors Convocation week, Commencement week, Board of Trustee meetings, and Welcome week.
Once a request has been submitted, the Office of Special Events will analyze the request for approval. For information on how to use this system and for general information on planning events, please view our event planning guide.
---
College Calendar Access to the College Calendar is gained through any web browser. Eight calendars feature various events on campus: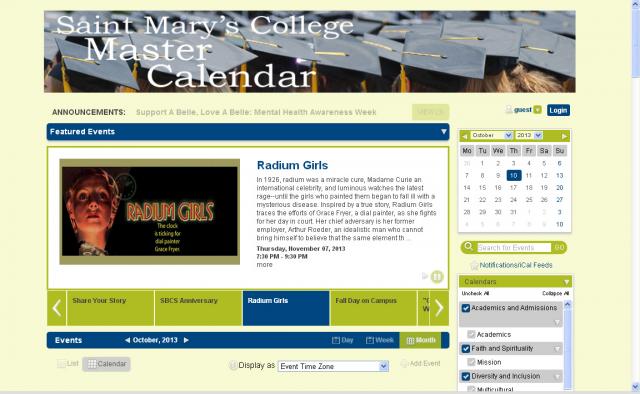 Academics and Admissions: Office of Admissions events, faculty meetings, seminars, lectures.
Mission: Mass Schedules, Campus Ministry activities and Center for Spirituality events.
Diversity and Inclusion: Events that celebrate our multicultural world.
Student Life: Student Events, student organizations, Career Crossings.
Athletics: Varsity sports, intramurals and club sports.
Cultural Arts: Lectures, performances, recitals, and concerts.
Alumnae/Visitors: Alumnae events, guests visiting campus, weddings.
Multicultural: Any event involving multicultural topics
Event colors
Events are color coded for easy navigation and the legend may be viewed on the calendar landing page. A "tool tip" feature allows the viewer to see a description of events. One or a combination of calendars may be selected. The keyword search will also help locate specific events. Holidays and special dates appear in red and may pertain to the specific calendars.