Physiology and Dance
Physiology and Dance: Bodies in motion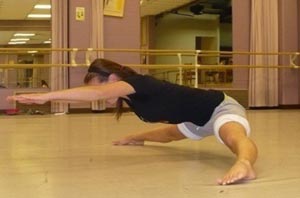 Tara Strong '10 rehearses in the dance studio.
This weekend Saint Mary's dance students will perform in the College's annual Dance Arts program. One body in motion will be aspiring marine biologist Tara Strong. The junior biology major is working toward minors in dance and chemistry. She says her three areas of study are more related than one might think.

"Right now I am in a human physiology class and learning all about the body," Strong explains. "This knowledge allows me to fully understand and appreciate the movement required for dancing in a technique class, all the way to the different bodily responses and signals when performing on stage."

This year's dance program, titled "Dancing Salmagundi," will showcase several genres of dance including ballet, jazz, modern, pointe, and dance theatre. Strong will be performing in four numbers. One piece, entitled "Eupnea," is a modern dance created by Strong's fellow biology major Jen La Vigne. Strong explains, "She incorporated her biology knowledge and created a piece about cellular respiration. It is a modern dance, and many of the formations we make are based on the Krebs cycle."

While Strong plans to dance throughout her life and maybe own a studio someday, she has scientific career aspirations too. "I would like to go on to graduate school for marine biology and go wherever that takes me," says Strong. This summer, she will conduct research for her senior comprehensive project on Little Corn Island, Nicaragua.

For more on senior research in Nicaragua, read about biology major Andrea Krebs.