Rome, Italy Study Abroad Program

             LAST YEAR!!
** 

ACADEMIC YEAR 2015-16



NEW HOME IN ROME EXPECTED SUMMER 2016
Announcement from Provost Fleming
Watch for more information after fall break
Introduction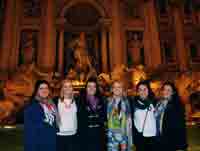 Since 1970, when Saint Mary's College opened a campus in the center of historic Rome, thousands of students of three generations have had the opportunity to experience another culture in this unique city, either for the academic year or for one semester. This memorable, life-changing experience makes a significant and lasting impact on students' intellectual, spiritual, and personal growth. Participants bring back not only a breadth of knowledge and an appreciation for other people and cultures, but also a greater sense of self-confidence, maturity, responsibility, and tolerance for others and other points of view.
With its 3,000 years of layered history and its 2,000 years as the center of Christendom, Rome provides a most special and stimulating educational environment. It holds unparalleled treasures of ancient, medieval, Renaissance, and Baroque art. The facets of Rome are endlessly varied: the Roman Forum set against the background of the Colosseum, Saint Peter's Square viewed from via della Conciliazione, the Sistine Chapel in the morning, Piazza Navona in the bright sunlight, and the domes and spires of four hundred churches spread below the terrace of the Pincio.
Tours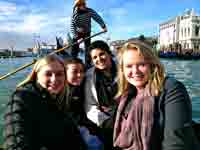 The Rome Program also offers a number of interdisciplinary trips and site-visits in order to reinforce what is learned in the classroom, across different courses and historical periods. These trips include a five-day trip to southern Italy (Pompei, Naples, Cuma, Paestum, Amalfi, and Capri) in the fall, and a five-day tour to northern Italy (Ferrara, Ravenna, Mantua, Padua, Vicenza, and Bologna) in the spring.
Facilities
The Rome Program residence is headquartered near Campo de' Fiori and Piazza Navona at the family owned and operated hotel Albergo del Sole al Biscione, a historically noteworthy edifice located in the heart of old Rome. Every room has its own bathroom, shower, and wi-fi and is equipped with limited storage space for clothing.
Classrooms, faculty offices, a chapel, and a twelve-thousand-volume library are located nearby, situated in via di Torre Argentina, within walking distance of the Pantheon, the Forum, Saint Peter's, Piazza Navona, the Spanish Steps, the Capitoline Hill, and the Colosseum.
Eligibility
The Rome Program is open to undergraduates from all accredited institutions. Eligibility is based on academic record, personal recommendations, and assurance of readiness for living and studying overseas.
It is strongly recommended that the student satisfactorily complete a year of college-level introductory Italian or its equivalent. In addition, the student must have a cumulative grade point average of a least 2.5 on the 4.0 system.
Students from other institutions are encouraged to apply even they have not taken Italian either because their institution does not offer it or because they were not aware of the requirement.
Curriculum and Calendar
Click here for Academic Calendar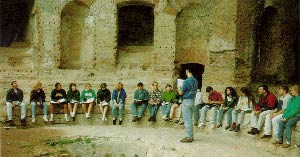 Designed primarily for sophomores, the Rome Program meets the traditional requirements for the humanities, the arts, and the social sciences. Juniors, and seniors who can adapt the program to their own academic sequence may also participate. Since, with some exceptions a major is not declared until the junior year, sophomores with a variety of academic interests enroll in the Rome Program. For some, the primary objective is a broad orientation in the humanities; for others, it is competency in Italian, a strengthened background in art history, or even a greater understanding of and appreciation for another culture.
The Rome Program offers courses in the core curriculum including Italian art history, classical archaeology, history of music, mythology, literature, history, international business, marketing, political science, philosophy, religious studies, and Italian language and literature. All students are required to take an Italian language course and are encouraged to take elective courses in Italian literature and the sociological and historical developments of modern Rome.
Expenses
Costs are kept to a minimum. Fees cover tuition, room, the main meal three days a week, breakfast and a light lunch at the local café five days a week, the long weekend tours to southern Italy in the fall and to northern Italy in the spring, as well as one-day bus tours, and museum entrance fees for on-site class lectures. It does not cover other travel, registration, passport fees, Italian immigration documentation and fees, round-trip airfare, textbooks, expenditures of a personal nature, or some meals. After acceptance, or upon request, students receive a fee-structure sheet listing the payment schedule.
Financial Aid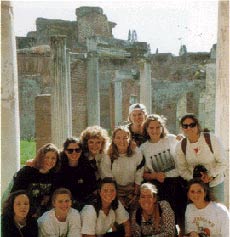 Participants from Saint Mary's College are eligible for financial assistance. The amount of financial aid received is determined by the usual methods and is applied for through the Office of Financial Aid on the home campus.
Insurance
SMC provides international insurance for all participants for the duration of the program. Health facilities in the city of Rome are very adequate, and a hospital with an English-speaking staff is available. The director of the Rome Program keeps a list of dentists, physicians, and specialists. Saint Mary's College exercises every possible care in the arrangements made for its students. The College, however, is not responsible for any loss, damage, or injury to person or property, nor does it accept responsibility in connection with the service of any means of transportation. It is wise to have insurance on personal baggage and possessions.
Alumnae
Share your story with future program participants! Use the Rome Program Alumnae Form.
Applications
Applications, should be completed no later than October 15 for the spring semester. Students from other institutions who wish to apply may contact the Rome Program Office. A nonrefundable fee of $50 must accompany the application. Four recommendations are required. Students wishing to apply credits toward graduation at institutions other than Saint Mary's College are urged to discuss their program with their academic dean before applying.

Rome Program Office:

Dr. Umberto Taccheri
110 Regina Hall
Saint Mary's College
Notre Dame, IN 46556
Phone: 574-284-5385
Fax: 574-284-4111
Email: taccheri@saintmarys.edu

via the Center for Women's Intercultural Leadership