Careers
---
"What Can I do with a Political Science Major?"
Kate Huffman, Class of 2006:

Kate Huffmann 2006, (left), with Newt Gingrich
 After graduating, I returned to Ohio to start an internship with the Ohio Legislature. Of the 25 recent graduates selected for the program, I was chosen to work in the office of Speaker Jon A. Husted in the Communications department of the Ohio House of Representatives' Republican caucus. Only 5 months into my year long tenure, I was offered a full-time position as senior legislative aide to Speaker Husted
I owe my successful rise to my Saint Mary's education. My ability to juggle an entire House district's worth of work: constituent concerns via phone, mail, and email, arranging district communications and meetings and taking care of any other issues that arise, is thanks to my strong liberal arts background acquired during my time at Saint Mary's. I enjoy my job, its fast paced nature and the educational opportunities it offers to develop my skills and aspirations as a political science major. All those special things that make a Saint Mary's education so unique—emphasis on class participation, close bonds with professors and classmates and a culture of success—have given me the confidence to excel. Each time someone asks where I went to school, I am more than proud to say, Saint Mary's College
Kate Reimann, Class of 2005:
During my four years at Saint Mary's College as a political science major, I participated in a number of different programs, including a study abroad program in Seville, Spain, a summer program in the Galapagos Islands, and a semester in Washington, D.C., where I studied Peace and Conflict Resolution and spent three weeks in Northern Ireland. Being a Political Science major gave me a deeper appreciation for each country I visited and furthered my desire to see more of the world. Another great feature of the Political Science major is that it allowed me to simultaneously pursue a second major in Spanish—a wonderful opportunity for me! After graduation I went to work in Veracruz, Mexico, for two years. It was here that I saw just how valuable my education at Saint Mary's really was by utilizing fully both components of my degree. I was able to fully integrate into Mexican society, and was even present for the presidential election in 2006. I can say without hesitation that choosing a Political Science major was one of the best decisions I made while at Saint Mary's. (Note: Kate is currently applying to Law School )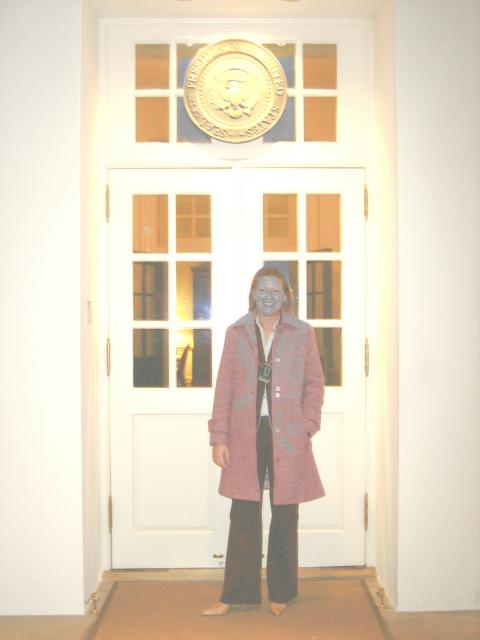 Lauren O'Brien, 2005, at the White House
Lauren O'Brien, Class of 2005
After graduating in 2005, I interned for Congressman Jim Sensenbrenner (R-WI) briefly, but quickly found a job as a staff assistant with Congressman Geoff Davis (R-KY).
I started out in the office with the typical entry-level duties - arranging Capitol tours, answering phones and managing interns. Through some hard work and a little luck, I was able to move up within nine months of being on the job to handle the House Financial Services Committee issues for my boss. I was recently promoted to Legislative Director. My job today involves handling a wide variety of issues including housing, insurance, financial services and health care. A typical day might include preparing the Congressman for a hearing, meeting with any number of associations and constituents on issues important to them, and researching the bills on the House floor for the day and making vote recommendations. While I didn't have an extensive understanding of the financial services industry at the time, I was quickly able to pick up the ins and outs of the issues thanks to the reading, writing and comprehension skills I learned at Saint Mary's More than anything, the class environment at Saint Mary's is what sticks with me the most to this day. The Political Science classes were always my favorite with lots of reading, writing and discussion, and the occasional heated debate.
Opportunities and Advice
 
Political Science Majors from Saint Mary's have worked in wide variety of fields in the public private sector. Our alum profiles will give you some idea of the range of career paths our students have taken. The Department of Political Science at Saint Mary's College has assembled a variety of materials and forums concerning career opportunities following successful completion of your degree with a major in Political Science. The most important of these is A Brief Guide to Careers. This guide is a comprehensive discussion of careers that may be pursued following graduation. The department also sponsors an annual Career Night, scheduled around Thanksgiving. Department faculty provide brief discussions of career opportunities and answer more specific questions. Obviously, department faculty are available regularly in their offices to answer questions. For those interested in returning (or going) to Washington D.C., we have a copy of Insider's Guide to Finding a Job in Washington in our storeroom which you may borrow. For those interested in graduate work in Urban and Regional Planning, we have a copy of a guide to undergraduate and graduate education in our storeroom which you may borrow. Additionally, we have posted a ranking of programs for the Masters in Public Administration and rankings of specialized programs within these programs. Many of our majors have pursued a career in the law. They have attended a wide range of law schools which you can review by clicking this link. The Counseling and Career Development Center also maintains a library of useful materials. Finally, alumnae from the department have generously provided brief descriptions of their career paths following graduation.
A BRIEF GUIDE TO CAREERS
for students interested in the study of politics
Department of Political Science
Saint Mary's College
Today the myth abounds that you have a major in business or engineering to find a worthwhile career after graduation. This brochure is designed to give straightforward advice on how to use a political science major and the study of the liberal arts to find a career in either the public or private sectors. The brochure is divided into seven sections:
1. CAREERS IN GOVERNMENT AND PUBLIC SERVICE (DOMESTIC)
A. GOVERNMENT POSITIONS WITH THE B.A.
Most public positions go to people with expertise and/or political connections. For a person with a B.A. degree and little job experience, any expertise is so limited that finding a job is nearly impossible in the federal civil service. Even at the state level the demand is for experts: social workers, psychologists, computer technicians, engineers, planners, lawyers, etc. The only exceptions are positions on legislators' personal staffs, in a few social service bureaus of states, and in a limited number of managerial training positions.
Thus, despite the existence of qualifying examinations like the former federal PACE test or similar state tests for civil service employment, the student with a B.A. is urged to do one of the following besides take a civil service examination. (Civil Service Examinations and related issues are discussed under #4, 5, and 6 below.)

To use political connections, including those developed through a Political Science Department or Washington Semester internship, to permit a friendly official to support your application for a job. Probably you will have to take a Civil Service test (except for some legislative staff positions), and start at the entry level despite support that "advances" your name on a list. That means in most instances you will start in a subordinate job, and you may have to repay your "debt" via various political services. Especially this is true of legislative staff or positions in municipal government.
To earn a graduate degree in one of the programs described on the following pages. These programs offer a great enhancement in marketability.
To choose a private sector career related to government, as described below.

Remember that thousands of people search each year for a government position in Washington. Because of the glut of job seekers in Washington and freezes on the hiring of federal employees you may only find a low-level position in Washington but it may permit you to enter the competition for better jobs. In most states and some cities, the competition for positions is less severe and the competition for advancement is less.
If you are seeking a federal position, you will need to prepare a form SF-171, rev. 12-77. These are available from the U.S. Civil Service Commission, at federal buildings and at most agency personnel offices. SF-171 should be filled out to stress jobSF-171 Workbook by Patricia Wood, 1987 (Career Counseling Library, LeMans Hall.) rather than academic experience, or academic experiences (internships, research, computer training) that can be couched in language that emphasizes its vocational applicability. For advice on drafting a SF-171 see the
Most states and local governments have forms similar to the SF-171, and you should prepare them accordingly.
Civil Service Tests normally must be taken. See Career Counseling for details in applying to take such a test. You may have to contact a state or local civil service commission or personnel bureau to make arrangements for testing in the jurisdiction. Often states offer varieties of tests to fill various positions, but the federal government has a simpler system.
B. GRADUATE PROGRAMS IN DOMESTIC POLITICS
Masters in Public Administration
Masters in Public Policy
Masters in Urban, Environmental, or Public Planning, Urban Management, etc.
There are a variety of graduate programs in "applied government" that may lead to supervisory or professional careers in public service. The titles of a few of these programs are listed above. Information on them is provided, in sketchy fashion, in the Guide to Graduate Education in Political Science available in the departmental office. The Department also posts detailed brochures received from many programs on the bulletin board beside room 335. These programs prepare students to manage state and local bureaus, serve as budget officers, planners, city managers, or supervisors of the delivery of the myriad of government services. Most demand some undergraduate education in politics and economics. Some, like the Eagleton Institute at Rutgers University, concentrate their programs on training persons already employed by government or have the contacts to place people without experience.
What are the best of these programs? Unfortunately, there is no single standard method of evaluating them. Ideally, the best programs should be recognized as having several features:

They have a fairly large faculty whose primary duty is teaching in the program, not teaching undergraduate politics courses. (See the Indiana University program as an example.)
They offer or require internships for all students in recognized public agencies. There also should be close supervision of the internship, and it should last for a minimum of three (3) months, full-time.
Quantitative training is emphasized. This includes the study of statistics through ordinary least squares techniques, the availability of ample computer time, and the application of public choice theory, applied econometrics, or statistics.
There should be a wide variety of courses in fiscal management, budgetary, personnel administration, and on specific policy topics (environment, health, social services, education, etc.).
The faculty should all have Ph.D.'s, government experience, and publications.
The placement record of graduates should be available in full for your scrutiny.
A list of the better schools is posted on the bulletin board next to room 335.

Preparation

Many programs require the GRE (Graduate Record Examination) for admission. Apply to take the test early in the senior year. Forms for application are available at Career Counseling. Normally you should take the morning aptitude section of the GRE, not the afternoon advanced political science examination.
For most public service careers, a solid grounding in political science and economics is essential. Especially important are public policy, public administration, and public finance courses. Courses in sociology, or social work, business, and most of the liberal arts can be valuable for most programs. Applied mathematics and computer science are a definite asset. A Political Science Department internship should be very seriously considered as a means of preparation.

Program Specialization Any good program should train you for supervision as well as give you skills like fiscal evaluation, urban planning, environmental planning, etc. Since programs vary greatly, you must make a concentrated effort to find a strong program that suits your career goals or interests in a specific policy subject (e.g. environment, transportation). Often the program must be cross-disciplinary so as to afford you this training.
Placement Most of these programs should be able to place people in state or local governments, despite civil service requirements. Remember that most government positions are in state capitols, municipal government near urban centers, and the regional offices of federal bureaus. Most Washington positions depend on "connections" or at least a few months of papering the city with your SF-171 form (the standard federal resume form). Remember that the pay in Washington is the same, roughly, as in Indianapolis, Lansing, Springfield, Columbus, or Frankfort, but in Washington an apartment can easily exceed $500 a month, in the "sticks" it is $250.
Some other advice Solid, interesting programs of this type are given both in Indiana (Bloomington) and Purdue (West Lafayette). They should be investigated. Most state land grant universities have quality programs of this type with excellent in-state placement records. Try to arrange some contact with people in policy analysis, planning, or public management (via internship, interview) before you choose this career. Also visit the school to which you apply or meet some representatives of these types of programs.
C. PRIVATE, GOVERNMENT-RELATED JOBS IN THE UNITED STATES
Most larger private firms employ persons to handle relations with government. Some of these positions are filled by lawyers and tax accountants, but others are filled by people with a variety of educational experience and often with a B.A. or M.B.A.
Public relations experience or training in composition, journalism, communications, or related subjects when coupled with an understanding of legislative, administrative or bureaucratic politics can lead to jobs in the Washington or state capitol offices of firms, interest groups and "trade associations." Although such positions involve lobbying, the lobbying is often more frequently by letter, phone call, newsletter, memo, and press release, than by wining and dining. Some organizations (AFL-CIO, for example) also employ people to research public records and documents in their capitol offices. There is an increasing number of positions available in the area of public opinion polling, survey research, and market research. These positions, formerly concentrated in the New York area are now available in diverse areas of the country. The employers range from private organizations like Gallup and Harris to market research firms to state and party polling organizations or consultants. Professor Pierce will assist students in making contacts with these organizations.
Finding such positions often entails some knowledge or contact with firms engaged in frequent interaction with government. Internships in Washington or a state capitol thus are a good way for many students to learn about the existence of these jobs, to get experience related to them, and to make the necessary personal connections. Probably a few of these positions are advertised, but again connections and experience can be crucial.
Many persons with brief experience in low-level government jobs also learn about these private positions, and they are a good "second job" for someone starting as a legislator's aide. Thus any special expertise you bring (computer skills, professional writing experience, accounting, statistics) can offset the practical political experience of capitol veterans and help you land a job.
---
2. INTERNATIONAL AFFAIRS CAREERS
A. GENERAL COMMENTS
Most international careers are in the private sector. The federal government has relatively few overseas positions, except in the military that do not require a graduate degree or other special experience or skills rarely possessed by the student with a B.A. in the liberal arts. Especially this is true of the U. S. Foreign Service, which accepts less than one of a thousand applicants.
So, if you want a career in international relations or an overseas position you have three realistic options:
Join the military via ROTC and request a specific international position. They might be able to accommodate you, especially if you have a master's degree in international relations or a language skill.
Combine the study of business and a language, and try to find employment through standard placement services channels with a multinational firm's overseas offices (Exxon in Kuwait, IBM in Paris, etc.) Or, to improve your chances, earn a master's in Business Administration (M.B.A.) or law degree and concentrate your efforts on pre-graduation jobs in the international sector of the business world. On graduation, again use placement channels and contacts to seek a job with an international firm and its foreign government relations unit. Businesses often are more eager to employ you if you have an esoteric language skill (Arabic, Russian, Japanese, Chinese.)
Earn a master's degree or Ph.D. in international relations, while developing additional language skills. Then try to find a federal position by barraging federal agencies (State, Agriculture, Commerce, CIA) running foreign offices with form SF-171, contacting non-governmental international bodies (the UN to the charities of religious bodies,) or trying the same tactic on private firms. Again, contacts help greatly as does "practical" knowledge in a subject like economics, agronomy, engineering, or the health sciences.
A few other positions rarely appear in business and non-profit organizations that have international functions. Keep your eyes open by reading the ads in the New York Times on Sunday and interviewing with firms for domestic jobs and then asking whether they have any international opportunities for which you might later qualify. Also, see John B. Moore, Directory of Opportunities in International Law.
B. GRADUATE PROGRAMS IN INTERNATIONAL RELATIONS
Most graduate programs in I.R. are of three types: Terminal Master's degree programs at smaller universities which fit you to teach high school or junior college; Ph.D programs at major high status and state universities that prepare people for college teaching, and after dozens of publications, a Kissinger-Brzezinski move to the top; and a few programs with more emphasis on "applied" international relations. Although the CIA, NSA, and Agriculture do recruit in all types of programs, many people who go into government service are tied in to or attended one of the applied programs. Of course, Harvard's, Yale's, or Princeton's degree is always worth a great deal if you can qualify for their selective programs.
Of the applied programs, those at Tufts University's Fletcher School in suburban Boston, and in Washington at Georgetown, American, and Johns Hopkins SAIS (not Baltimore, the graduate program in political science is there) are very much on the "inside." Georgetown had ties to the Reagan and Bush administrations, SAIS is strong in economics and European politics, and American is very much a prep school for the foreign service exam. The U. of Maryland also has some connections in the D.C. area and is a solid program. Good programs at GSIS in Denver, U. of Kentucky, U. of S. Carolina, and other schools can be too removed from the Washington scene.
Regardless of the program you select be certain your work on a degree involves improving language skills, learning more statistical and computer skills, and makes you more attractive to government or private enterprise.
You will probably need to take the GRE in the fall of the senior year to be able to apply to such programs.
---
3. THE BUSINESS WORLD
A. OVERVIEW
Traditionally many students of political science seek jobs with private firms in managerial capacities. Although firms used to employ more liberal arts graduates, it is still possible to land such a position with the B.A. The student interested in such a career should consider:
establishing a double major in business or economics, or
taking a selection of the more valuable business courses like accounting and courses in investments and finance, and
registering with Career Development for interviews by firms visiting Saint Mary's for recruitment purposes.
At least one-third of recent Saint Mary's political science alumnae are now employed in banks, insurance companies, investment consultants, and in corporate management because of actions like those recommended here. Also a student can specialize in business-government relations (see above, part I, C.)
B. GRADUATE PROGRAMS IN BUSINESS-THE M.B.A.
Political Science is the most common undergraduate major of students in the nation's better business schools. Although a surprising statistic, business schools like students who have a breadth of outlook on the world. They do not want people who can only account. Although a few business economics courses can be helpful, qualification for most business schools entails high grades and the GMAT aptitude test. Consult Prof. Ruhe in the Business Department for more details on M.B.A. programs.
---
4. THE LEGAL WORLD
A. OVERVIEW OF LAWYERING
Law has often been a career goal of many political science students. Several recent political science graduates have entered legal careers. The Saint Mary's Law Society in cooperation with Dr. Sean Savage makes available the LSDAS booklet on law school admissions procedures. Dr. Savage also has a multitude of law school bulletins and admission materials for your perusal. In addition, LSAT preparation software is available in the computer lab in the basement of LeMans.
The pre-law student should be concerned about taking a broad range of liberal arts courses (political science, economics, English, history, philosophy, psychology,) earning high grades, and, after her junior year, taking the LSAT exam. Law students spend three years to earn their degree after graduation from Saint Mary's.
B. LAW-RELATED CAREERS
Careers in paralegal services and judicial administration have become increasingly attractive. These positions in legal support services demand several months to two years of post-graduate work. Students should prepare for them through courses in American law and political science, English, accounting, finance, and computer science.
---
5. EDUCATIONAL CAREERS
A. SECONDARY SCHOOLS
The elaborate state requirements to teach politics (civics, P.O.D.) and history in high school demand that you consult with the Department of Education early in your college career so political science courses can be fit in with professional education courses. However, it is possible to enter some graduate programs in education (Master of Arts in Teaching, Master of Education) without undergraduate education courses and then earn teaching certification. Positions in social science secondary education are hard to locate and salaries are low, although the situation is changing for the better.
B. HIGHER EDUCATION
Teaching in colleges and universities demand the Ph.D. or about six years of post-graduate study. Because of the rigor of the course of study and the relative paucity of positions, this is a career path that should be followed only by students who have superior grades (3.6+), a specific research interest in a specific area of the discipline, GRE scores above the national mean, and who can qualify to enter one of the top thirty Ph.D. granting departments. Quantitative and/or language skills are a must. Entry into less prestigious Ph.D. programs often prevents placement at a later date.
---
6. SOCIAL AND COMMUNITY SERVICE CAREERS
A. VOCATIONS IN SOCIAL AND COMMUNITY SERVICE
The study of political science, when combined with an expertise in social services, can lead to careers in private social service institutions. Community centers, community service centers, consumer groups, religious and charitable organizations often employ "ombudsmen" or people who represent the organization's clientele to the government. They may help people with complaints and problems with government.
Usually you can locate these positions through Career Development, newspaper advertisements, or, most commonly, by direct contact with services of interest to you.
B. AVOCATIONAL USES OF THE STUDY OF POLITICS
Because government affects multiple aspects of modern life, the study of political science can benefit the person who has a career in a different profession but who is still interested in the welfare of their community. Often a knowledge of politics is especially valuable if you ever plan to serve on one of the part-time "advisory bodies" to government (the city of South Bend alone has 36 of these), on a public school board, a neighborhood organization, or in a campaign.
C. ELECTED OFFICE
The ultimate in community service, elected offices are more and more frequently filled by political scientists--and women!
---
7. FINAL NOTE
The discussion of careers for political science majors really does not end here. Besides recent majors finding careers as legislative aides, as planners and administrators after graduate work, with trade associations, with the international divisions of firms, as investment counselors, as brokers, as sales representatives, as managerial trainees, as lawyers, as paralegals, as teachers, and in community service, some graduates will enter journalism, the health sciences, and assorted esoteric careers.
Whatever your goals are, remember three things:
Study any subject because you enjoy it. If you aren't interested in politics, don't study political science. But if you enjoy politics, why distress yourself in a subject that you find boring, confounding, or unimportant just to be "marketable?"
Plan, don't walk in the second semester of your senior year and say, "What do I do?" The intelligent student explores first-hand various career options before her final semesters and consults with the department faculty. Our department does not assign advisors, but it maintains an open-door policy.
A strong academic record in a discipline can easily overcome the failure to take course A or course B. As an IBM representative told us, "We want the best people, and that means the best grades. Regardless of the subject, we will train them in our company." Excellence in performance is more important than having a marketable course list with B- grades.
---
BIBLIOGRAPHY
James E. Hawkins. The Uncle Sam Connection: An Insiders Guide to Federal Employment. (Career Counseling Library)
The Federal Job Directory. (Career Counseling Library)
Mary H. Curzan. Careers and the Study of Political Science: A Guide for Undergraduates. (Department Office)
College Placement Annual. (Career Counseling Library)
John W. Zehring. Careers in State and Local Government. (Career Counseling Library)
Pre-Law Advice. Saint Mary's College Law Society (Perhaps with Prof. Susan Vance)
Pre-Law Handbook. (Law School Admissions Services, Newtown, PA)
Trends in Federal Hiring. (U.S. Office of Personnel Management)
Graduate Studies in Management. (Graduate Business Admissions Council)
Guide to Graduate Study in Political Science. (Department Office)
Good Works: A Guide to Social Change Careers. (Center for Responsive Law, Washington, D.C.)
Stephen E. Frantzich, Storming Washington: An Intern's Guide to National Government. (Department Office)
---
Political Science Alumnae
Alumnae from our department have entered a variety of careers following graduation from Saint Mary's College. These careers have included positions in the public sector, with interest groups, in the law, in business, and many other areas. We could provide a statistical breakdown of alumnae careers, but individual biographies may be more satisfying and illustrative. To that end, a number of alunnae have been kind enough to send in the brief biographies displayed below.
We plan on rotating and updating these biographies over time. We would appreciate receiving updates and new biographies from alumnae. You can submit them via e-mail to Professor Marc Belanger or via regular mail to:
Professor Marc Belanger
Department of Political Science
Saint Mary's College
Notre Dame, IN 46556