Press Release
Former Acting President of Saint Mary's College Passes away
Sister M. Alma Peter, CSC, served College for 34 years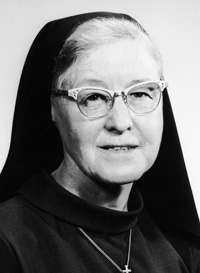 Contact:
Gwen O'Brien
Director of Media Relations
Saint Mary's College
gobrien@saintmarys.edu
(574) 284-4579
March 7, 2008 (Notre Dame, Ind.)— Sister M. Alma Peter, CSC, acting president at Saint Mary's College from 1970-1972, passed away this morning at 5 a.m. at Saint Mary's Convent. She was 98. Sister Alma's career at the College spanned 34 years, from 1950-1984.
Sister Alma entered the Congregation of the Sisters of the Holy Cross in 1928. Her Final Profession took place on August 15, 1933. She had a bachelor's degree in chemistry from Immaculate Heart College in Los Angeles. She received her master's degree in chemistry from Marquette University in Milwaukee. She also held two honorary degrees: a doctor of humanities degree from Saint Mary's College and a doctor of laws degree from the University of Notre Dame.
Her career at the College included several assignments. In 1955 she was appointed academic dean, a position she filled for 14 years during a time of expansion and evolution at the College. Sister Alma envisioned and secured new college programs such as foreign study development. In 1969 she spent six weeks in Rome to set up the College's study program there. From 1974-1976 she would serve as director of the College's Rome campus and was later the counselor of the Ireland program.
In 1970 Sister Alma became acting president of Saint Mary's, following the death of President Monsignor John McGrath on June 9. She served that role during the time when the College and the University of Notre Dame were determining whether or not to unify. In November 1971, Notre Dame and Saint Mary's jointly announced termination of unification plans. Notre Dame announced at the time that it would admit women beginning in September 1972. Saint Mary's remained an all-women's college.
President Carol Ann Mooney '72 expressed sadness at the loss and said Sister Alma left her mark on the school. "I have known Sister Alma since my days as a student at Saint Mary's College. In fact, she was the president my senior year. I am deeply saddened by her passing. Saint Mary's has lost not only a former president, but a woman who helped to shape our future during a pivotal time in our history. She and I enjoyed many visits over the past few years. I will miss her wisdom and friendship."
The visitation and funeral for Sister Alma will take place at the Church of Our Lady of Loretto at Saint Mary's on Tuesday, March 11. The reception of the body will be at 9:30 a.m., with the funeral Mass and Eulogy beginning at 1:30 p.m.