2010 Alumna Achievement Award Announced
Saint Mary's College Announces 2010 Alumna Achievement Award Recipient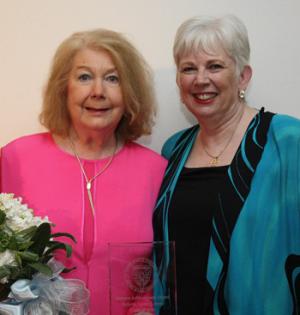 Juliette Noone Lester '55, left, poses with
Saint Mary's President Carol Ann Mooney
on June 5.
Contact:
Gwen O'Brien
Director of Media Relations
Saint Mary's College
(574) 284-4579

June 8, 2010 (Notre Dame, Ind.)—The Alumna Achievement Award, awarded annually by the Alumnae Association of Saint Mary's College (in Notre Dame, Indiana), honors an alumna who is outstanding in her personal and professional accomplishments and is a recognized leader in her field of endeavor. The honoree exemplifies the standards, ideals, and mission of the College in its commitment to the value of a Christian liberal arts education. This year's recipient is Juliette Noone Lester '55 of Washington, D.C., formerly of Upper Arlington, Ohio.

As a high ranking public official with the Department of Education, Lester, now retired, had a profound effect on national education and training standards for which she has received much national and international recognition. She has published and lectured extensively in the areas of education and training public policy development and implementation, and traveled the world to promote career development. Her international speaking engagements included presenting in European countries transitioning from Communism, including Russia. While her civil servant work benefited Americans as a whole, her leadership in venues traditionally dominated by men provided groundbreaking opportunities for women.

"Julie was one of those women who broke the 'glass ceiling' early on," says Sue Mitchell Crowley '55 in her nomination letter. "She is an excellent model for the young women of today." Crowley is originally of Upper Arlington and now resides in Columbia, Mo.

Lester began her career in 1955 as a teacher at Worthington High School in Worthington, Ohio teaching world and American history, government, economics, English and journalism; but her journey would take her to Washington, D.C. where she would ultimately retire as a Federal Senior Executive. One of her most noteworthy accomplishments was her appointment as the first Principal Deputy Assistant Secretary for Vocational and Adult Education for the U.S. Department of Education, its highest-ranking civil service position. Also of note, Lester was the second woman to be elected a Congressional Fellow by the American Political Science Association in 1968.

Lester's career included serving from 1978-1980 as Regional Commissioner of Education for the Six Midwestern States for the Office of Education, which was part of the Department of Health, Education and Welfare. In 1980, she was called back to Washington, D.C. to serve as the Director of Transition to establish the then-new U.S. Department of Education. A four-time recipient of the National Career Development Association President's Award, Lester helped implement legislation to establish Pell Grants for need-based student aid and uniform career job coding for career guidance programs.

Still shattering the glass ceiling, Lester is an active member of the Cosmos Club, a private and prestigious social club incorporated in 1878 by men distinguished in science, literature, and the arts. She is among its first women invited to join the club. She was elected in 2007 to its 14-seat Board of Management, a seat she held through June 2010.

Lester attended Saint Mary's College for two years, but transferred to The Ohio State University in her junior year to receive her teaching credentials in Ohio. She received a bachelor's degree in education and a master's degree in history from Ohio State and is a PhD candidate in higher education and administration at the University of Chicago.

Lester's many honors over the years include holding a graduate fellowship in management at Massachusetts Institute of Technology in the mid-seventies. In 1998, she received The Ohio State College of Education Alumni Award of Distinction. In 1990, Lester generously established the Juliette Noone Lester Political Science Award for a graduating senior at Saint Mary's College. On a personal note, Lester oversees the memorial scholarship named for her late husband, Urban, in the School of Law at Catholic University where he was a professor and Chair of the Academic Senate. Her husband passed away in 2006.

Juliette Noone Lester received the Alumnae Achievement Award at the Reunion Banquet on Saturday, June 5 as part of Reunion Weekend, June 3-6.

About Saint Mary's College: Saint Mary's College, Notre Dame, Ind., is a four-year, Catholic, women's institution offering five bachelor's degrees and more than 30 major areas of study. Saint Mary's College has six nationally accredited academic programs: social work, art, music, teacher education, chemistry and nursing. Saint Mary's College ranks among the nation's top 100 liberal arts colleges in U.S. News & World Report's 2010 annual survey. Founded in 1844, Saint Mary's is a pioneer in the education of women, and is sponsored by the Sisters of the Holy Cross.