Press Release
Mark Benishek Named Head Swimming Coach at Saint Mary's

Contact:
Sarah Miesle
Sports Information Director
Saint Mary's College
Notre Dame, Ind. 46556
(574)-284-5290
NOTRE DAME, Ind. – The Saint Mary's College Department of Athletics and Recreation has announced that Mark Benishek will join the College as the head coach of the varsity swimming program.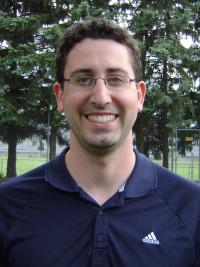 Mark BenishekA native of Wisconsin, Benishek has been a high school boys' swimming coach at Cedarburg (Wis.) High School, an age group coach at the Ozaukee Swim Club (Cedarburg, Wis.), and a coach at the La Crosse YMCA over the past eight years. As a college student, he was an intern for the recreation site director for the Milwaukee Public Schools Recreation Department from 2005-2006.
While completing his master's degree, Benishek served as the Aquatics Director at the La Crosse Area Family YMCA from 2006-2008. In that role, he managed comprehensive aquatic programs for people of all ages and abilities and implemented several special events such as an indoor Ironman challenge all while also serving as a coach at the facility.
Benishek is a member of the U.S. Triathlon, Swimming, and Masters Swimming Associations as well as the National Intramurals Sports and Recreation Association among other professional affiliations.
He earned his bachelor's degree in community education and education policy from the University of Wisconsin - Milwaukee in 2006. Benishek then went on to earn a Master of Science in recreation management from the University of Wisconsin - La Crosse.
Since that time, he has served as the Assistant Director of RecSports at the University of Notre Dame where he is charge of Aquatics. He oversees the day-to-day operations of both the Rolfs Aquatic Center and the Rockne Memorial Pool at Notre Dame. Benishek is also a personal swim instructor at the university. He will continue to serve those roles while also leading the swimming program at Saint Mary's.
"I consider it a great honor to work at Saint Mary's," Benishek said about his appointment. "Athletic Director Julie Schroeder-Biek has developed a great program and I am really looking forward to joining the staff. I look forward to getting to know the team and developing a cohesive group this season."
About Saint Mary's College: Saint Mary's College, Notre Dame, Ind., is a four-year, Catholic, women's institution offering five bachelor's degrees and more than 30 major areas of study. Saint Mary's College has six nationally accredited academic programs: social work, art, music, teacher education, chemistry and nursing. Saint Mary's College ranks among the nation's top 100 liberal arts colleges in U.S. News & World Report's 2010 annual survey. Founded in 1844, Saint Mary's is a pioneer in the education of women, and is sponsored by the Sisters of the Holy Cross.