Saint Mary's College Hosts Delegation from China
FOR IMMEDIATE RELEASE
Saint Mary's Hosts Delegation from People's Republic of China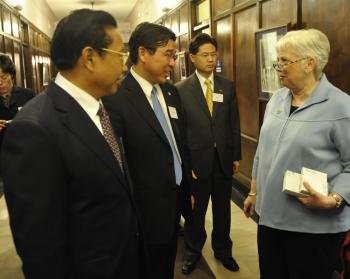 Saint Mary's College President Carol Ann Mooney greets a delegation
from the People's Republic of China (PRC) on May 10. Pictured on
the left, front to back, are Ji Peiding, vice president of the Soong
Ching Ling Foundation, Wu Cunyu, director general of the foundation's
international department, and Chu Maoming, deputy consul general
of the Consulate-General of the PRC in Chicago.
Contact:
Gwen O'Brien
Director of Media Relations
Saint Mary's College
Notre Dame, Ind.
(574) 284-4579

May 10, 2010 (Notre Dame, Ind.)—Saint Mary's College is pleased to welcome to campus today a delegation from the People's Republic of China (PRC), including two officials from the Consulate-General of the PRC in Chicago. Deputy Consul General Chu Maoming and Consul Yu Xueyong will accompany a five-person delegation from China's Soong Ching Ling Foundation in China. Two faculty members from Creighton University (Omaha, NE) will join the College in welcoming them all to campus. Saint Mary's and Creighton share a China Summer Program partnership with the Foundation. The summer program allows Creighton and Saint Mary's students to spend three weeks in China immersed in the 5,000- year-old culture. At Saint Mary's, the China Summer Program is run out of the Center for Women's Intercultural Leadership (CWIL).
"I am very excited about our relationship with a foundation established to honor Soong Ching Ling, who attended an all female college like Saint Mary's College," said Patricia Fleming, senior vice president/ dean of faculty and the College's chief academic officer.
"Soong Ching Ling (Madame Sun yat-sen) was the Honorary President of the People's Republic of China and a world-famous patriot, democrat, and internationalist, a distinguished international stateswoman and one of the outstanding state leaders of the People's Republic of China," Fleming explained. "The foundation is devoted to the education of women and children throughout China. It is such a natural fit for us."
The delegation's visit to campus is part of a growing relationship between the College and China fostering international exchanges of students and experiences. Last month, Saint Mary's hosted a contingent from the Nanjing Art Institute, a university in China, and students from both schools played instruments typical to their cultures at a spring concert.
"We are hoping the two women's choirs of Saint Mary's College and the Nanjing Art Institute will tour China together, showcasing the similarities and differences in women's voices. And, we looked forward to our development of exchanges with universities throughout China with the support of the Soong Ching Ling Foundation which creates a 'bridge' for us to cross over." Fleming said.


Ji Peiding, Vice Chairman of the Soong Ching Ling Foundation, will speak at a luncheon at the College today about China-U.S. relations. In addition, the members of the delegation will be honored guests at the President's Dinner this evening. The President's Dinner is an event honoring Saint Mary's College faculty where awards are given, promotions and tenures are announced, and retiring faculty are recognized. In addition, awards and grants secured by faculty members are announced.
About Saint Mary's College: Saint Mary's College, Notre Dame, Ind., is a four-year, Catholic, women's institution offering five bachelor's degrees and more than 30 major areas of study. Saint Mary's College has six nationally accredited academic programs: social work, art, music, teacher education, chemistry and nursing. Saint Mary's College ranks among the nation's top 100 liberal arts colleges in U.S. News & World Report's 2010 annual survey. Founded in 1844, Saint Mary's is a pioneer in the education of women, and is sponsored by the Sisters of the Holy Cross.