2010 Commencement Speaker Announced
2010 Commencement Speaker and Honorary Degree Recipients Announced



Contact:
Gwen O'Brien
Director of Media Relations
Saint Mary's College
(574) 284-4579 (desk)


March 1, 2010 (Notre Dame, Ind.)—Saint Mary's College is pleased to announce that marine biologist Sylvia Earle will deliver the 2010 Commencement address and receive an honorary doctor of humanities degree from the College. Saint Mary's will also recognize Lois Lowry, author of young adult fiction books, with an honorary doctor of humanities degree. As fate would have it, the honorary degree recipients reflect the majors of this year's co-valedictorians, Audrey Marrah '10, a biology major, and Carly O'Connor '10, an English literature major. Commencement will take place May 15, 2010 at noon on Le Mans Green.

"It will be an honor to welcome Sylvia Earle and Lois Lowry to our campus," said Carol Mooney, president of Saint Mary's College. "Doctor Earle is a passionate advocate for the survival of our planet. Her work to save our oceans is legendary and I know our graduates will be inspired by her dedication to this important cause. The majority of our graduates probably counted Lois Lowry's books among their favorites when they were growing up. We are delighted to be able to recognize her body of work."

Dubbed "Her Deepness" by the New York Times, Sylvia Earle has been an Explorer-in-Residence at National Geographic since 1998, the year TIME Magazine named her its first Hero for the Planet. She has logged more than 6,000 hours underwater with the completion of more than 60 expeditions. Her expeditions include leading the first team of women aquanauts during the Tektite Project in 1970 and setting a record for solo diving to a depth of 1,000 meters (3,300 feet). Earle was the first female chief scientist at the National Oceanic and Atmospheric Administration (NOAA). She has also played a key role in establishing marine protected areas globally, including the Northwestern Hawaiian Islands National Marine Monument- 140,000 square miles of ocean that is home to more than 7,000 kinds of marine life.

Earle is the author of more than 175 publications including her September 2009 book "The World Is Blue: How Our Fate and the Oceans Are One." The book portrays a global ecosystem on the brink of irreversible environmental crisis unless we act immediately. She warns that time is running out, and nowhere is this clearer than in the seas, which cover three-quarters of the planet's surface and upon which every living thing depends. Earle appeared on Stephen Colbert's program Colbert Nation in the fall to talk about the book.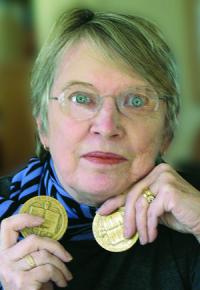 Lowry, an acclaimed author of young adult fiction books, will also be recognized with an honorary degree at Commencement. She is the author of the popular Anastasia Krupnik books and was the recipient of the Newbery Medal for the books "Number the Stars" and "The Giver." "Number the Stars," set in Copenhagen during World War II, tells the story of a teenage girl trying to save her best friend from the Nazi relocation. "The Giver" is part of a trilogy that "speaks to the vital need of people to be aware of their interdependence, not only with each other, but with the world and its environment," Lowry says on her Web site.

Lowry says that she tries, through writing, to convey her passionate awareness that we live intertwined on this planet and that our future depends upon our caring more, and doing more, for one another. One could say there is an intersection between Lowry's sentiments and that of Earle's.
About Saint Mary's College: Saint Mary's College, Notre Dame, Ind., is a four-year, Catholic, women's institution offering five bachelor's degrees and more than 30 major areas of study. Saint Mary's College has six nationally accredited academic programs: social work, art, music, teacher education, chemistry and nursing. Saint Mary's College ranks among the nation's top 100 liberal arts colleges in U.S. News & World Report's 2010 annual survey. Founded in 1844, Saint Mary's is a pioneer in the education of women, and is sponsored by the Sisters of the Holy Cross.