Press Release
Saint Mary's Students Set New Dance Marathon Record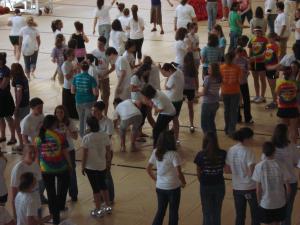 Contact:
Gwen O'Brien
Director of Media Relations
Saint Mary's College
(574) 284-4579
April 6, 2009 (Notre Dame, Ind.) –This year's annual Dance Marathon brought in $91,538 for Riley Hospital for Children in Indianapolis, a new record for the student-led event. "We are astonished that even in these rough economic times, people are willing to open their hearts and their wallets to help us raise that much money," said Sarah Voss '09, president of Dance Marathon. Last year students raised about $85,000. Since students began the event in 2006, they have raised approximately $245,000 for the Children's Miracle Network hospital.
The 12-hour Dance Marathon takes place in Angela Athletic Center. This year's event took place April 3-4 with more than 300 students from Saint Mary's College, Holy Cross College and the University of Notre Dame participating. While the hospital is located in Indianapolis, countless children from the South Bend-area receive treatment there.
"Students pledge to stand on their feet for 12 hours in honor of the kids who are stuck in a hospital bed at Riley and who would give anything to dance and play for a night.  We at Dance Marathon like to think that we dance because we can and we stand for those who can't," said Voss.
The Class of 2009 started Dance Marathon at the College four years ago, so it was the final year for seniors to put on the event. "It has been an honor to help raise awareness and funds for the kids at Riley Hospital these past four years," Voss said. Younger students are expected to carry on the fundraiser in years to come.
Saint Mary's is among the approximately 100 colleges and universities that hold Dance Marathons to benefit Children's Miracle Network hospitals. In July the Children's Miracle Network's Dance Marathon program honored Saint Mary's College and students with its highest recognition, the Incentive Award. The award recognizes exceptional Dance Marathons that have broken the mold.
About Saint Mary's College: Saint Mary's College, Notre Dame, Ind., is a four-year, Catholic, women's institution offering five bachelor's degrees and more than 30 major areas of study. Saint Mary's College has six nationally accredited academic programs: social work, art, music, teacher education, chemistry and nursing. Founded in 1844, Saint Mary's is a pioneer in the education of women, and is sponsored by the Sisters of the Holy Cross.