2010 Humanitas Award Recipient Announced
Saint Mary's Announces 2010 Humanitas Award Recipient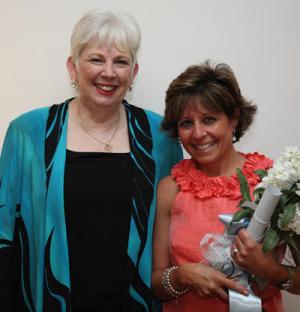 Florence "LuLu" Romano Daly '82, right,
poses with Saint Mary's President
Carol Ann Mooney on June 5.
Contact:
Gwen O'Brien
Director of Media Relations
Saint Mary's College
Notre Dame, Ind.
(574) 284-4579

June 8, 2010 (Notre Dame, Ind.)—The Humanitas Award, awarded annually by the Alumnae Association of Saint Mary's College, recognizes an alumna who is outstanding in her personal and volunteer accomplishments and is recognized for her concern for the interests and welfare of her fellow human beings. Her actions exemplify the qualities of personal dedication, compassion, selflessness and sacrifice through social action, education, and reform within the community, the church and the world. The 2010 recipient is Florence "LuLu" Romano Daly '82. The award recognizes Daly's selfless commitment to the healing of mankind through outstanding nursing leadership, which is grounded in her Catholic faith.

Daly, who earned her nursing degree at Saint Mary's in 1982, lives in St. Paul, Minnesota, where she volunteers as a hospice nurse in addition to her other volunteer work. Her unwavering commitment to healing others has led her to far-away places, including earthquake-stricken Haiti, where she and her husband, Dr. Peter Daly ND '82, an orthopedic surgeon, along with five other medical professionals, provided hope and critical medical care to Haitian earthquake victims earlier this year.

In 2003, Daly, her husband, and their four children, participated in what would become a life changing mission experience at Nuestros Pequeños Hermanos (NPH) in Honduras, an organization that provides holistic care for orphaned, abandoned and at-risk children. The Daly family had participated in missions to NPH since 1992, but in 2003, they met Angela, an eight-year-old Honduran girl with severely deformed legs. The girl needed a series of complex corrective surgeries that were not available in Honduras. The couple returned to the United States with Angela in tow, so she could receive the required treatments while being a part of their loving home. In St. Paul, Daly served as a mother figure to Angela as well as being her primary care nurse around the clock for a year.

Transformed by this experience, Daly and her husband dedicated themselves to establishing a desperately needed surgical facility, The Holy Family Surgery Center (HFSC), on the grounds of the NPH orphanage in Honduras. Dedicated in March 2009, HFSC serves as an outpatient medical facility for needy patients. To aid her humanitarian work in Honduras, Daly is taking classes in conversational Spanish, and she and her husband are committed to visiting the facility with a medical brigade six times each year. In March, she invited six Saint Mary's junior and senior nursing students, including her daughter, Tricia Daly '10, to be part of their contingent. Daly says that these student nurses not only provided impressive nursing expertise during their visit, "they also gave their heart and soul to the patients and the children. It became really personal for them and that showed in their work."

Daly says that her experience at Saint Mary's helped prepare her for her service in Honduras. She says, "Mother Teresa always said, 'I can't do what you do, you can't do what I do, but together we can make a difference.' I feel that this quote says it all. We all have talents to share, and by working together, we can change the world one person at a time. I know that Saint Mary's College gave me the confidence to believe in myself and to reach beyond my dreams."

Daly received the award at the Reunion Banquet on Saturday, June 5 as part of Reunion Weekend, June 3-6.

About Saint Mary's College: Saint Mary's College, Notre Dame, Ind., is a four-year, Catholic, women's institution offering five bachelor's degrees and more than 30 major areas of study. Saint Mary's College has six nationally accredited academic programs: social work, art, music, teacher education, chemistry and nursing. Saint Mary's College ranks among the nation's top 100 liberal arts colleges in U.S. News & World Report's 2010 annual survey. Founded in 1844, Saint Mary's is a pioneer in the education of women, and is sponsored by the Sisters of the Holy Cross.