Press Release
Michael Joyce Named Head Soccer Coach at Saint Mary's

Contact:
Sarah Miesle
Sports Information Director
Saint Mary's College
Notre Dame, Ind. 46556
(574)-284-5290
NOTRE DAME, Ind. – The Saint Mary's College Department of Athletics and Recreation has announced that Michael Joyce will join the College as the head coach of the varsity soccer program.
The California native has a wealth of collegiate coaching experience as he becomes the twelfth coach at the helm of the program at Saint Mary's. He most recently served as the head coach of the women's soccer team at Cornell College in Iowa from 2007-2009. At the Division III program, he guided the Rams to a third place conference finish and was named the Iowa Intercollegiate Athletic Conference (IIAC) Coach of the Year in 2007. Joyce also led the Rams to a pair of IIAC playoff appearances in 2007 and 2008.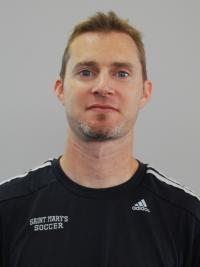 Head Coach Michael Joyce
Before being named the head coach at Cornell, Joyce served as the assistant men's coach at the college and the head boys' soccer coach at Clear Creek Amana High School. He was also the assistant coach of the men's team at Division II San Francisco State University for four years from 2002-2006. In 2003, the Gators received an Academic All-American Team Award while Joyce oversaw student-athlete academic progress of the members of the team.
He also has over a decade of coaching experience at the youth and high school levels in California and Iowa.
Joyce holds both a United States Soccer Federation "B" coaching license as well as a National Soccer Coaches Association of America goalkeeping diploma.
During his playing career, Joyce was a member of the U17 and U23 North California State Olympic Development Team. He was a team captain, team most valuable player, and the West Catholic Athletic League Offensive Player of the Year at Saint Francis (Calif.) High School, where he also helped his team win the Central Coast championship in 1993.
From there, Joyce went on to play at San Francisco State, where was also a team captain, team MVP, and led the Gators in scoring. Joyce was also an all-conference and All Far West Region honoree at San Francisco State.
He earned his degree in English with a concentration in creative writing from San Francisco State and holds a Master of Arts in sport management from the University of San Francisco.
"I'm excited to be at a school with exceptional academics, a gorgeous campus, and a welcoming student body," commented Joyce on his new position. "My goal is to make Saint Mary's soccer a consistently competitive program, and a team whose culture the players are proud to be associated with. This is a group that cares passionately about their school and the soccer program."

About Saint Mary's College: Saint Mary's College, Notre Dame, Ind., is a four-year, Catholic, women's institution offering five bachelor's degrees and more than 30 major areas of study. Saint Mary's College has six nationally accredited academic programs: social work, art, music, teacher education, chemistry and nursing. Saint Mary's College ranks among the nation's top 100 liberal arts colleges in U.S. News & World Report's 2010 annual survey. Founded in 1844, Saint Mary's is a pioneer in the education of women, and is sponsored by the Sisters of the Holy Cross.