Chair of English Department Receives Maria Pieta Award
Chair of English Department Honored with Maria Pieta Award

Contact:
Gwen O'Brien
Director of Media Relations
Saint Mary's College
(574) 284-4579

May 3, 2010 (Notre Dame, Ind.)—The Maria Pieta Award was established in 1976 in honor of Sister Maria Pieta, CSC, who was a teacher and an administrator at Saint Mary's College. The award recognizes the quality of teaching done in courses for freshmen and sophomores. The recipient of this year's award is Professor Theodore Billy, Chair of the Department of English.

Students refer to Professor Billy, who joined the faculty in 1987, as challenging, engaging, impeccably organized, and responsive to students' changing needs. They say he sensitively adapts his teaching strategies to students of different levels and diverse abilities. Professor Billy, students say, listens to each one of them respectfully, takes her ideas seriously and cultivates her potential rigorously. Students say they benefit from his scrupulous attention to what they say and how they say it, and because of this they are clearer thinkers and better writers for the rest of their lives.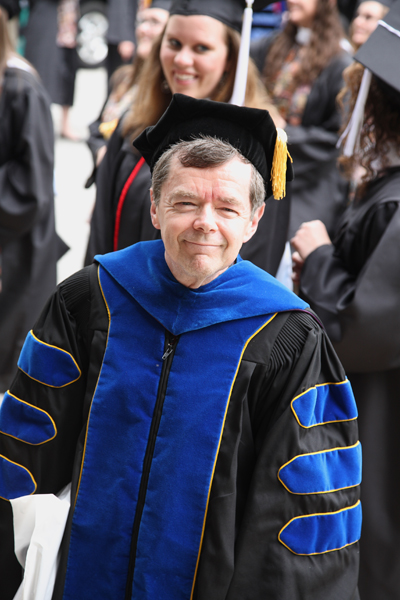 The prestige of Professor Billy's internationally recognized reputation for scholarship never removes or distances him from the beginning learner, nor does it diminish his respect, patience, empathy, and enthusiasm for her first steps towards learning in the fields where he is a master. He makes himself available for individual assistance and independent tutorials with exceptional generosity. One student writes: "He is a very accomplished writer himself, and is always willing to help students with their own work, whether for a class or just personal work. . . he is always accessible."

Outside of his teaching responsibilities, Professor Billy actively promotes students' extracurricular learning in clubs, performances, presentations, and publications. He is known for working closely with student journal editors and even accepting the leading role in a student-directed play.

Professor Billy received the Maria Pieta Award at Honors Convocation on Sunday, May 2. Students, faculty and staff nominate candidates for this award and the Academic Affairs Council makes the final selection. The name of the recipient is not revealed until the Convocation.
Pictured in Honors Convocation photo: Professor Theodore Billy, center, poses with Saint Mary's College President Carol Ann Mooney, left, and Senior Vice President/Dean of Faculty Patricia Fleming, right, at Honors Convocation on May 2. The honor came as a surprise to Billy.

About Saint Mary's College: Saint Mary's College, Notre Dame, Ind., is a four-year, Catholic, women's institution offering five bachelor's degrees and more than 30 major areas of study. Saint Mary's College has six nationally accredited academic programs: social work, art, music, teacher education, chemistry and nursing. Saint Mary's College ranks among the nation's top 100 liberal arts colleges in U.S. News & World Report's 2010 annual survey. Founded in 1844, Saint Mary's is a pioneer in the education of women, and is sponsored by the Sisters of the Holy Cross.