Director of College's Rome Program Knighted in Italy
Italy's President Confers Knighthood on Director of Saint Mary's Rome Program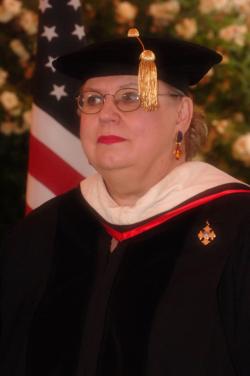 Portia Prebys, director of the College's
Rome Program, was knighted on May 24
in Rome, Italy. She is now referred to
as Cavalier Portia Prebys. (This photo is
not from the knighting. There were no
photos taken at that event.)

Contact:
Gwen O'Brien
Director of Media Relations
Saint Mary's College
(574) 284-4579

June 3, 2010 (Notre Dame, Ind.)—Saint Mary's College is pleased to announce that Italy's president conferred knighthood on Portia A. Prebys '66, director of the College's Rome Program. Giorgio Napolitano, president of the Republic of Italy, knighted her with the title of Cavalier of the Order of Merit of the Italian Republic at a May 24 ceremony in Rome. She is now referred to as Cavalier Portia Prebys. The civil knighthood is an unusual honor awarded for meritorious service to the nation of Italy. She received the honor for her long career in international education, which includes her devotion to the Saint Mary's College Rome Program. It is the first of the College's study abroad opportunities, of which there are now more than 25.

"Portia Prebys has been the backbone of the Saint Mary's Rome program since its inception 40 years ago," said Carol Ann Mooney, Saint Mary's College president. "To generations of Saint Mary's students she is a living legend. Her devotion to their experience in Rome is without equal. I am very pleased that the Italian government has honored her in this meaningful way."

"I am thrilled to have been chosen for Italian knighthood," said Cavalier Portia. "I am extremely proud to belong here in this very special way and hope to be able to contribute to the collective interests of Italy and the U.S. for many years to come."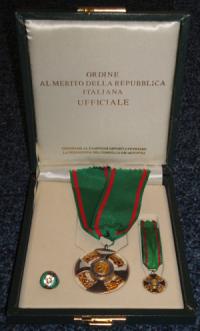 This is the insignia that Cavalier
Portia Prebys received when she
was knighted on May 24.

Since the Saint Mary's College Rome Program began, Cavalier Portia has worked with more than 3,000 students who have traveled to the Eternal City for what she calls an "education in paradise." For her contributions, Saint Mary's recognized her with the President's Medal at the College's Sesquicentennial Convocation, in 1994.

"Young students from Saint Mary's have a deep fascination for Italy that stimulates the imagination," Cavalier Portia said of their experiences. "In Italy, they can reach out and touch the richness of the civilization and the ancient arts and experience the customs and the cultural diversity that literature, cinema, music and television have continually thrust at them in their own culture."

Cavalier Portia, a native of South Bend, is the daughter of Stanley and Harriet Prebys, both deceased, and the sister of Scott J. Prebys, who currently resides in Bismarck, North Dakota. In South Bend, she attended Saint Joseph's Grade School, Saint Mary's Academy, Twyckenham, and graduated from Saint Mary's College, in 1966, with a double major in history and English literature.

She has lived in Italy since the fall of 1966 when she received a Fulbright Fellowship to study Renaissance history. She received an Italian dottorato from the University of Sassari, Sardinia, where she subsequently taught. She was awarded a doctorate in Letters honoris causa from John Cabot University in Rome in 2003. She received the President's Medal from the same institution in 2009 for her leadership with the Association of American College and University Programs in Italy (AACUPI), which encourages American education in Italy.

Cavalier Portia is president of AACUPI, representing 150 North American institutions of higher learning to the Italian, American and Canadian governments. In this role, she has been responsible for drawing up and passing legislation through the Italian Parliament peculiar to the particular nature of North American study abroad in Italy.

To foster and facilitate cultural exchange between the United States and Italy, Cavalier Portia served on the prestigious Italian Board of the Fulbright Commission for Educational and Cultural Exchange between Italy and the United States of America for more than a decade. In 2008, she was awarded a Certificate of Appreciation from the Embassy of the United States of America to the Republic of Italy, "for work promoting international educational exchange and commitment to strengthening the bonds of friendship between the United States and Italy."

Cavalier Portia has lectured widely in Italy and abroad, in English and in Italian, on international education and on the Italian literature of the Novecento. She has published many articles and books, in English and in Italian, the latest of which, entitled Educating in Paradise: Thirty Years of Realities and Experiences of North American Colleges and Universities in Italy, published by Centro Stampa 2P, came out in 2008, in Florence.

About Saint Mary's College: Saint Mary's College, Notre Dame, Ind., is a four-year, Catholic, women's institution offering five bachelor's degrees and more than 30 major areas of study. Saint Mary's College has six nationally accredited academic programs: social work, art, music, teacher education, chemistry and nursing. Saint Mary's College ranks among the nation's top 100 liberal arts colleges in U.S. News & World Report's 2010 annual survey. Founded in 1844, Saint Mary's is a pioneer in the education of women, and is sponsored by the Sisters of the Holy Cross.