Saint Catherine Medal Goes to Third Year Student
Saint Catherine Medal Awarded to Third Year Student

Contact:
Gwen O'Brien
Director of Media Relations
Saint Mary's College
(574) 284-4579

May 3, 2010 (Notre Dame, Ind.)—Each year, Saint Mary's College awards the Saint Catherine Medal to a sophomore or junior who has demonstrated high standards of personal excellence and scholarship and has contributed to the College community in the spirit of Christian leadership. This award commemorates Saint Catherine of Alexandria, the patron saint of scholars and especially of women scholars. Kappa Gamma Pi, the National Catholic Honor Society, sponsors the award.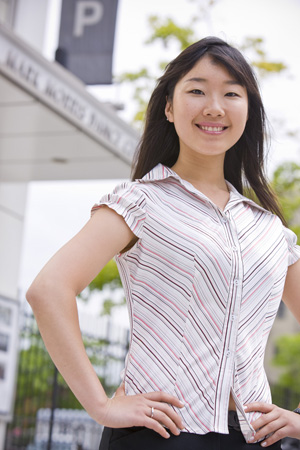 The 2010 Saint Catherine Medal recipient is Jingqiu Guan '11, an economics and French double major. Jingqiu, an international student from Chengdu, China, continually impresses her professors with her exceptional ability to absorb new areas of knowledge and her outstanding dedication to scholarship. Professors routinely describe her as the best student in the class. This achievement stems from her strong work ethic and seriousness of purpose.

Jingqiu is also active in extracurricular activities, serving as an officer of several clubs, a dynamic representative on the Student Academic Council, and a conscientious and responsible student worker. In addition to her intellectual talents, her leadership and service, this year's winner of the Saint Catherine Medal possesses impressive artistic talents: She plays piano and is an accomplished dancer in many traditions.

The Saint Catherine Medal is a tribute to Jingqui's academic and artistic talents and her considerable contributions to Saint Mary's College. She received the award at Honors Convocation on Sunday, May 2. Students, faculty and staff nominate candidates for this award and the Academic Affairs Council makes the final selection. The name of the recipient is not revealed until the Convocation.
Pictured in Honors Convocation photo: Jingqui Guan '11, right, poses with the Saint Catherine Medal award she was surprised to receive at Honors Convocation on May 2. Pictured to her left is Saint Mary's College President Carol Ann Mooney.

About Saint Mary's College: Saint Mary's College, Notre Dame, Ind., is a four-year, Catholic, women's institution offering five bachelor's degrees and more than 30 major areas of study. Saint Mary's College has six nationally accredited academic programs: social work, art, music, teacher education, chemistry and nursing. Saint Mary's College ranks among the nation's top 100 liberal arts colleges in U.S. News & World Report's 2010 annual survey. Founded in 1844, Saint Mary's is a pioneer in the education of women, and is sponsored by the Sisters of the Holy Cross.