Press Release
Saint Mary's College Names New Director of Athletics and Recreation
Contact:
Sarah Miesle
Director of Sports Information
Saint Mary's College
Notre Dame, Ind. 46556
(574)-284-5290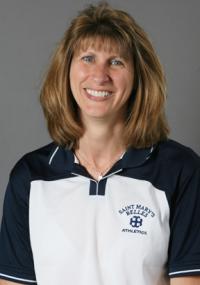 December 2, 2008 (Notre Dame, Ind.)–Saint Mary's College has a new director of athletics and recreation. Karen Johnson, Vice President for Student Affairs, announced today that Julie Schroeder-Biek '88, who has served as the acting director since September, accepted the position.
"Julie has a great depth of knowledge about athletics management and also about Saint Mary's in general," commented Johnson. "Her vision will lead the program forward and will provide leadership for our teams and our athletes."
As director, Schroeder-Biek will manage the daily operations of the department, which boasts eight NCAA Division III varsity sports and the intramural program. As a student Schroeder-Biek played volleyball and holds the school record for block assists in a season with 137. She just completed her 15th season as the varsity volleyball coach at the College. With her new appointment, she will be stepping down from her coaching position to focus solely on her duties as director of athletics.
"I am very excited to be taking the lead in the athletic department," Schroeder-Biek said about her new position. "I love this department. Athletics at Saint Mary's have been a part of my life for so many years. I am looking forward to the opportunity to continue moving this department in the right direction."
About Saint Mary's College: Saint Mary's College, Notre Dame, Ind., is a four-year, Catholic, women's institution offering five bachelor's degrees and more than 30 major areas of study. The College has six nationally accredited academic programs: social work, art, music, teacher education, chemistry and nursing. Saint Mary's College ranks among the nation's top liberal arts colleges in U.S. News & World Report's 2009 annual survey. Founded in 1844, Saint Mary's is a pioneer in the education of women, and is sponsored by the Sisters of the Holy Cross.