College to Dedicate New Academic Building, Spes Unica Hall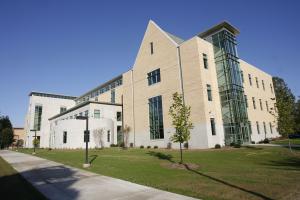 Contact:
Gwen O'Brien
Director of Media Relations
Saint Mary's College
Notre Dame, Ind. 46556
(574-284-4579
Oct. 17, 2008 (Notre Dame, Ind.)—Saint Mary's College invites the public to an open house and dedication for its new academic building, Spes Unica, on Thursday, Oct. 30. The 65,000 square foot building, which opened for classes this fall, boasts a clean design and modern classroom, laboratory, and office spaces along with well-appointed common areas where students and faculty can gather. The hall houses 13 departments, the Career Crossing Office and the three Centers of Distinction: the Center for Academic Innovation, the Center for Spirituality and the Center for Women's Intercultural Leadership.
"We are thrilled with our new academic building, Spes Unica Hall," said Saint Mary's College President Carol Ann Mooney. "Our generous donors have given us a state-of-the-art facility that enhances the learning environment at Saint Mary's. We are known for the relationships our faculty forge with our students. This building provides flexible space that encourages small group work and faculty student interaction. Spes Unica is already a hub of activity on our campus."
Vice President and Dean of Faculty Patricia Fleming often visits the building early in the morning and finds many students, staff and faculty already engaged in academic work. "I am amazed how many students are camped in the chairs and sofas. Staff lights are on before the sun rises. I see faculty pouring over their work at their desk. It's an environment that seems to draw our academic community to itself," Fleming said. "With our Centers of Distinction and the Career Crossing Office there, the building serves students both in and outside the classroom." One of her favorite features about the building is a cabinet where faculty's published academic works are displayed.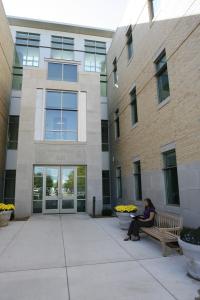 Other features of the building include several "green," environmentally friendly elements included in construction, like large areas of glass to maximize natural light, and operable windows for optimal air flow. Ballinger Architects of Philadelphia and Architecture Design Group of South Bend designed the building, and construction began in the fall of 2006. The building's name—"Spes Unica"—is Latin for "our only hope" and the motto of the College and the Congregations of the Holy Cross. The words refer to the cross, which is included along with an anchor in the seals of the Holy Cross Sisters, Priests, and Brothers and also on the College seal.
The College is deeply grateful to the many donors who made Spes Unica Hall a reality. The strong philanthropic leadership of Jennifer Mathile Prikkel '95, Board of Trustees member, her parents, Clayton and Mary Ann Mathile, The Lilly Endowment, and an anonymous donor inspired others to invest in Saint Mary's future. The building's construction and endowment was completely funded through gifts and pledges totaling $19.4 million from nearly 1,000 donors, including alumnae, current and past parents, faculty, staff, students, and friends.
The public and the media are invited to attend the open house and dedication for Spes Unica on Oct. 30. Tours will be going on between 1:30-3:30 p.m.; academic presentations will take place between 3:30-5:00 p.m.; and the building will be blessed and dedicated at 5 p.m., with a reception following. For a Campus map. For more information on the dedication.
About Saint Mary's College: Saint Mary's College, Notre Dame, Ind., is a four-year, Catholic, women's institution offering five bachelor's degrees and more than 30 major areas of study. The College has six nationally accredited academic programs: social work, art, music, teacher education, chemistry and nursing. Saint Mary's College ranks among the nation's top liberal arts colleges in U.S. News & World Report's 2009 annual survey. Founded in 1844, Saint Mary's is a pioneer in the education of women, and is sponsored by the Sisters of the Holy Cross.