Press Release
Fundraising Complete for New Academic Building
Spes Unica Hall to Open in the Fall
For Immediate Release
Contact:
Gwen O'Brien
Director of Media Relations
(574) 284-4579 or gobrien@saintmarys.edu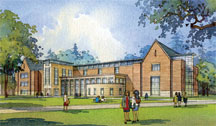 January 24, 2008 (Notre Dame, Ind.)—Saint Mary's College is pleased to announce that fundraising is complete for the new academic building, Spes Unica Hall. More than 600 donors—including faculty, staff, alumnae, students, parents and friends of the College—committed $19.2 million to construct the building and underwrite its operating endowment. The Spes Unica construction project is the largest in Saint Mary's history (in dollars) and was initiated and completed without placing a financial burden on students or the college.
"This building represents our future – a future that will see us ever more ambitious and ever more widely recognized for the excellent education of women. I am most grateful to our donors for their commitment to our mission and vision," said Saint Mary's College President Carol Ann Mooney, '72.
Ground was broken for Spes Unica Hall in the fall of 2006 and the 65,000-square-foot facility is scheduled to open this fall. The building will include state-of-the art classroom, laboratory, and office space, as well as common areas where students and faculty can gather (including a café, a reflection room, and a patio). Spes Unica Hall will house 13 departments and the three Centers of Distinction: the Center for Academic Innovation (CFAI), the Center for Spirituality (CFS), and the Center for Women's InterCultural Leadership (CWIL). The building was built using "green" or environmentally-friendly elements such as solar panels which will help heat the hot water system, furniture and carpet made of recycled materials (in some cases 75-100% recycled), large areas of glass to maximize natural light, and operable windows for optimal air flow. It was designed by Ballinger Architects of Philadelphia and Architecture Design Group of South Bend.
"One of the hallmarks of a Saint Mary's education is that students and faculty work and learn together. Collaborative work requires the kind of spaces that will be found in this new building. This first rate facility will match the quality of our faculty and reflect the value that we place on them and on the learning environment for our students," Mooney said.
The building's name—"Spes Unica"—is Latin for "our only hope" and the motto of the College and the Congregation of the Holy Cross. The words refer to the cross, which is included along with an anchor in the seals of the Holy Cross Sisters, Priests, and Brothers and also on the College seal.
About Saint Mary's College:
Saint Mary's College, Notre Dame, Ind., is a four-year, Catholic, women's institution offering five bachelor's degrees and more than 30 major areas of study. Saint Mary's College has six nationally accredited academic programs: social work, art, music, teacher education, chemistry and nursing. Founded in 1844, Saint Mary's is a pioneer in the education of women, and is sponsored by the Sisters of the Holy Cross.