Put a lot in, get a lot out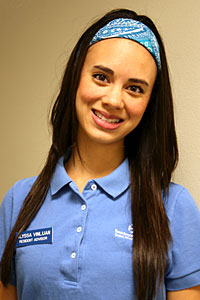 Alyssa Vinluan of Valparaiso, Indiana,
has made the dean's list every
semester at Saint Mary's. Alyssa Vinluan plans to become a teacher someday. And when she does, she'll be a shining example of how to make the most of educational opportunities. In short: Put a lot in, get a lot out.
Alyssa—who's majoring in Spanish with minors in secondary education and teaching English as a new language—has a 3.85 grade point average and has made the honor roll every semester at Saint Mary's. "I'm serious about studying because I'm driven by a desire to succeed and to learn," she says. "One of the reasons I chose Saint Mary's was because I wanted an academic challenge."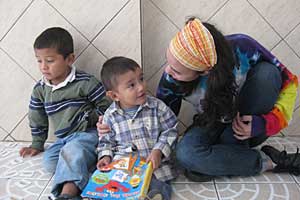 Alyssa worked at an orphanage in Guatemala in
the summer of 2010. In fact, two of her favorite classes have been her toughest. "I took Introduction to Religion with Professor Anita Houck the first semester of my freshman year. It was difficult but her feedback helped me become a stronger writer," Alyssa says. "Reading the Hebrew Bible with Professor Stacy Davis taught me to think critically and question everything."
She's also absorbed in her teacher training. "The methodology behind teaching and students' learning is just amazing to me," Alyssa says. "In one education class, I recently finished a unit plan that consisted of 12 individual lessons. Putting the unit together was tough, but very valuable."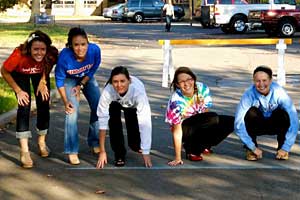 Alyssa, second from right, gets ready to run the High-
Heel-a-thon, part of the Dance Marathon fundraiser
for Riley Hospital for Children. She has participated each
year and currently serves as a Dance Marathon executive.Then there's the field experience. "I have spent 30 hours each semester since freshman year observing elementary, middle, and high school classrooms," Alyssa says. "I've had the opportunity to teach some of my own lessons. It's been an eye-opening experience, especially since I want to work with students from various racial and socioeconomic backgrounds."
Alyssa has traveled to a dozen different countries in the past few years, which has given her a wider view of the world that will undoubtedly benefit her career as a teacher. During a three-week trip to Guatemala in June 2010, she worked with children in an orphanage, helping them with their English vocabulary and Spanish homework.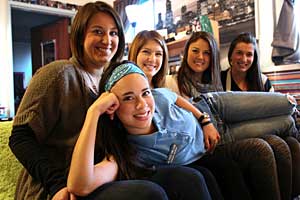 Alyssa is a resident assistant in Regina Hall. Holding
her are, from left, Karli Bucci, Michelle Jacobs,
Catalina Zalduendo, and Kendra Barwick. She traveled to Switzerland and Italy alone while studying abroad in Spain during her sophomore year, which helped her grow more independent than she ever expected. "I've become more fearless," she says. "And much of that fearlessness comes from being a part of such a supportive environment at Saint Mary's."
Experiencing this kind of support makes Alyssa even more enthusiastic to do the same for her own students someday. "I'm not sure where my career will lead me, but I know that my vocation is to inspire and empower all students."