Stall writer and friend of squirrels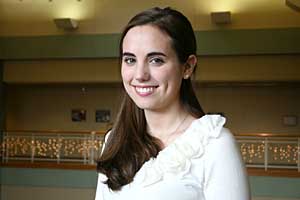 Brianna Lisenby of Dothan, Alabama, plans to be a dentist. Brianna Lisenby may be the most widely read writer on campus, and her publication is undoubtedly the most unique. She authors Stall News, a newsletter about college events that hangs in bathroom stalls across campus.
"We publish around 400 copies every month or so," says Brianna, who writes the newsletter as part of her job as public relations/print media commissioner for the Student Government Association. Lucky for her, she has volunteers who help distribute the publication.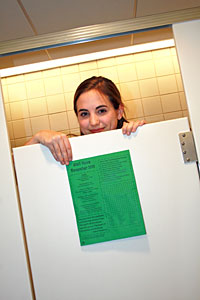 Brianna publishes Stall News, which
hangs in restrooms across campus.
Writing the restroom reader is a perfect fit for Brianna's sense of humor. She's the kind of person who seems to have a funny story for everything, even her future goal of working as a pediatric dentist. "When I entered Saint Mary's I had every intention of becoming a history professor," says Brianna, a history major. "But I changed my mind first semester. I was watching a Harry Potter movie, and Hermione mentioned that her parents were dentists. And something just clicked."
It makes sense. Brianna was the child who pulled her friends' teeth, never complained about a trip to the dentist, and even brushed her pet rabbit's teeth. "It's been challenging to fit all the dental prerequisites into my schedule," she says. "But I know dentistry is the right path for me."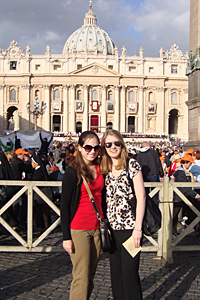 Brianna, left, and Saint Mary's junior
Margaret Brown visit the Vatican during
their study abroad in Rome.The path from her home in Alabama to Saint Mary's was somewhat unexpected. In high school, Brianna attended a summer program at the University of Notre Dame that included a visit to Saint Mary's. "When I was applying to colleges, I thought, 'Why not send an application to Saint Mary's?'"

She appreciated the application process that kept her informed of her potential for acceptance. Then there was the campus visit. "Of all the schools I visited, Saint Mary's made me feel the most at home. My decision was easy."
Like more than 90 percent of Saint Mary's College students, Brianna receives financial aid and is thankful for the generosity of scholarship donors. "If not for grants, awards, and scholarships, I would not be a student here," she says. "Someday, I hope to return the blessings."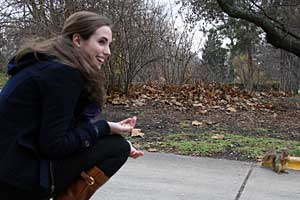 Brianna attempts to befriend a campus squirrel.But for the time being, Brianna is enjoying her time at Saint Mary's, even the wildlife that surprised her at first. "Walking out of my dorm and running into deer is still bizarre," she says. "And I'm determined to make one of the campus squirrels my dorm pet."
When she does, you can be certain that squirrel is in for a tooth brushing.