Future neonatal nurse shares love of Saint Mary's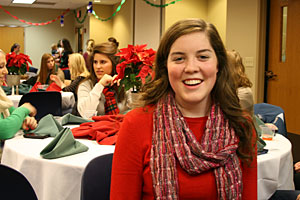 Bridget enjoys a Christmas party sponsored by the
Student Nursing Association. The students invited families
of medically fragile children they had cared for
during the semester.Before visiting the Saint Mary's campus, Bridget Byrne '14 never imagined that she would one day be a student here. But that attitude changed the minute she set foot on the college grounds.
"After one visit I knew this was the place for me," says Bridget, a nursing major. "I wanted a small school that would give me personal attention. I want to be a neonatal nurse someday, and I knew studying nursing was going to be a challenge. The small classes at Saint Mary's and close relationships with my professors are perfect for me."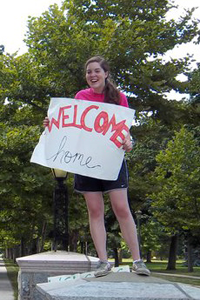 It's a college tradition for students
to hold welcome signs at the entrance
of Saint Mary's during Welcome Week
in August. Bridget is excelling in the nursing program and still finds time to get involved around campus. She is active in the Student Nurses Association, Friends with Sisters, and Friends of the Orphans. This year, Bridget was also a Welcome Week leader and assisted with Senior Preview Days.
"It's great to share my love of Saint Mary's with the incoming first-year students, so Welcome Week and Senior Preview Days were some of my favorite activities," she says.
She was also thrilled to be accepted into the Friends with Sisters club, which pairs students with individual Sisters of the Holy Cross, whose convent is adjacent to the college. "The club really appealed to me last year after one of my good friends took me to visit her Sister. I applied and was extremely excited when I found out I had been accepted."
Bridget is paired with Sister Mary Brooks, who is also a nurse: "She has the most amazing experiences and lessons to share with me," Bridget says.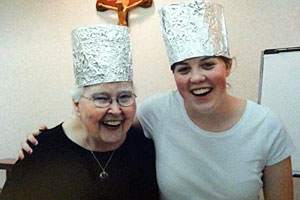 Bridget and Sister Mary Brooks dressed as salt and pepper
shakers for a costume party sponsored by
the Friends with Sisters Club.The two visit at least once a week, attend Mass together on Sundays, and then have brunch in the convent afterward. They also attend the club's themed events each month. "In October we had our costume party," Bridget says. "Sister Mary and I were salt and pepper shakers. It was so much fun.
"I really look forward to seeing my Sister each week and being connected to the Sisters who founded this college," she says.
Bridget identifies that sense of community and "homey atmosphere" as key factors she appreciates about her Saint Mary's experience. "I love that every single student and professor on campus is genuinely friendly and concerned about each other's well being," Bridget says. "Saint Mary's has been everything I hoped it would be and more."
—Alexandra Davin '12