An unexpected passion for Arabic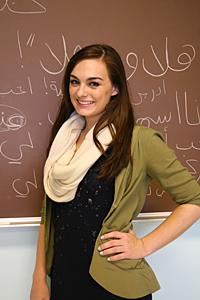 Senior Maggie Slavin of Morrison,
Illinois, tutors Arabic at Saint Mary's.Senior Maggie Slavin loves exploring the intricacies, beauty, and possibilities of language, whether it's her communication studies major, writing music, or, especially, delving into Arabic language, which she first began studying at Saint Mary's.
"I started Arabic because I thought it would be an intellectual challenge," she says. "And it is. There are sounds that don't exist in English that you have to train yourself to pronounce. Just memorizing the alphabet is difficult. But the language really speaks to me. And learning Arabic has opened so many doors—I've met and communicated with all sorts of people from different parts of the Middle East."
Her love of Arabic led Maggie to load up on classes in Arabic and Middle Eastern studies through Saint Mary's coeducational exchange with the University of Notre Dame. She also tutors for Arabic 101 at Saint Mary's, which she calls her most meaningful activity. "I love instilling passion and love for Arabic in other students."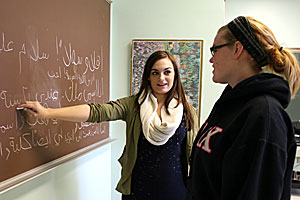 Maggie explains an Arabic character to
junior Kenzie Carpenter. She plans to turn her passion into a career. "After graduation, I'm planning to serve for a year with AmeriCorps," she says. "But my dream is to attend the University of Maryland's graduate program in Arabic language and eventually work for the U.S. government in translation and interpretation."
This is a shift from her original course of study. Maggie entered Saint Mary's as one of two first-year students who received the prestigious Moreau Music Scholarship.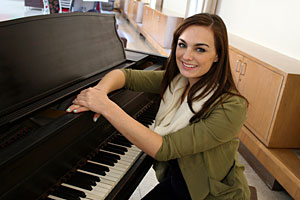 Maggie enjoys writing songs, singing, and
playing the piano.She eventually determined she didn't want to pursue a career in music, but she still makes time for it. "Writing music makes me come alive. On my toughest days, writing music helps me remember that I'm not made of glass. I'm strong and I can survive anything."
Similarly, attending Saint Mary's has helped her grow in ways even this accomplished linguist can hardly put into words. "I've grown to be a conscious, mature woman who's strong in faith and intellect and who has a lot to offer as a scholar, friend, and mentor," she says. "I hope to truly make a difference in the world using kindness and compassion as a model."