Serendipitous success at Saint Mary's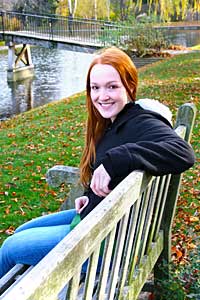 Michelle loves the beauty of Saint Mary's
campus.At Saint Mary's you can go far even if you start out on the wrong foot.
Many of Michelle Rozman's significant college experiences started with her getting out of her comfort zone and changing her attitude. Take her first visit to campus. "I wasn't sure about Saint Mary's," she says. "I only went on a campus tour to appease my dad.
"But I couldn't believe how much I loved it—especially after walking in with a bad attitude! I met with a student, an advisor, and a professor. They were kind and accommodating, despite the fact that I had not even applied for admission. I did not find this level of attention at other colleges."
So Michelle chose Saint Mary's. Now a senior majoring in business administration with a concentration in marketing, she sees how far she's come.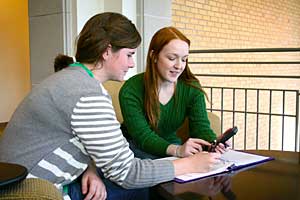 Michelle was surprised at how much she enjoys tutoring
other students in statistics. "Saint Mary's has helped me learn to try new things. I never would have imagined myself as a business major, for instance. My major requires a lot of group work and public speaking—two things I used to avoid. Working with groups has helped me find my voice and shown me that I can contribute."

Another big surprise was statistics classes: She liked them. "At first I was terrified," she says. "The classes were difficult, but I found myself understanding the material."
And applying it. A professor taught Michelle's class how to assess the effectiveness claims for beauty products. "Afterward, I was shopping with a friend, who was about to purchase skin cream. I grabbed it, started reading the fine print, and then told her it was not effective. She gave me a weird look but continues to ask me to look at products for her."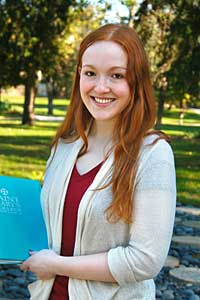 Statistics also gave her an opportunity to tutor. "Even though I was hesitant, I decided to try it. After one of my first sessions, a student told me that I explained things in a way that made her feel more confident about her upcoming test. That made me confident, too."
Michelle's college success helped her find an internship for a public relations firm in her home state of Pennsylvania. "I helped organize an event for an environmental technology firm that potentially could clean up Chesapeake Bay," she says. "Another time, I attended the House of Representatives Education Committee Hearing. It was incredible.

"The internship was hard work, and I enjoyed it. I was able to build upon the skills I gained at Saint Mary's. Now I feel like I'm ready for a career."
Published January 12, 2012