Real World Research
Research in the Real World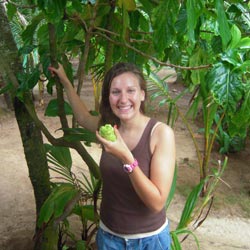 What kind of research involves traveling to distant locales and scuba diving around coral reefs? Biology alumna Andrea Krebs's research did. Her senior comprehensive project involved research she conducted through study abroad on Little Corn Island, Nicaragua. Andrea, fellow former biology major Jen La Vigne '09, and professor Nancy Nekvasil spent eight weeks on the island in the summer of 2008. During her stay, Andrea worked at an eco-tourist lodge, developed a passion for scuba diving, and conducted scientific research.
Andrea's senior comprehensive project was a study of the uses of the noni plant, which grows all over the island, and is used medicinally by the native people. Her research turned out to be more anthropological than biological in nature. Andrea interviewed the locals about how they used the plant and how they perceived its effects on the body. "My research consisted of making contacts throughout the island and interviewing as many people as I could to get information on noni…I asked other questions about how people view medicine in general and I also talked with the local doctor to get her opinions on the noni and whether or not it works," Andrea explains.
Andrea says the independent nature of her project has prepared well her for a future in medical or graduate school. "I learned new things about myself every day that I was on Little Corn. It was an independent project for which I planned how I was going to use my time," Andrea explains. "Doing interviews in Spanish and English, with a variety of people, was fascinating, and I learned a lot from the people about the culture and history of the island." Andrea went on to a service position "in a medical capacity" with the Sisters of the Incarnate Word in Monterrey, Mexico.