Reunion FAQ
General Information & Frequently Asked Questions
Below is information about staying on campus, alumnae with special needs, and frequently asked questions. Need more info? Click here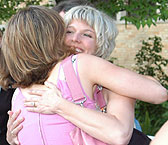 Staying on campus accounts for a lot of the fun at Reunion! While the residence halls are not five-star hotels, Saint Mary's will do everything possible to make your stay comfortable.
All rooms will be furnished with sheets, towels and a blanket. Fans are available at no extra charge. Alumnae and guests may wish to bring:
• an extra alarm clock
• extra hangers
• clothing steamer/iron
• a cell phone or telephone credit card for long distance calls
• comfortable walking shoes
• robe and slippers
• larg(er) bath towel
• caddy for shower supplies
Reunion classes 1979-2009 will housed in Le Mans Hall. The classes of 1969 and 1974 will stay at the Hilton Garden Inn, located very close to campus next to the Inn at Saint Mary's. The class of 1989 will be housed in Opus Hall Apartments. (See more details below.) Classes will be grouped together by floor and section. A limited number of charged and private baths are available and will be assigned on a seniority basis. Coffee will be available in Le Mans and Opus on Friday and Saturday mornings. Continental breakfast will be served on Sunday morning.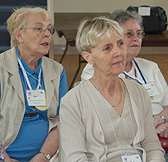 Attention Alumnae with Special Needs
If you have needs requiring the use of a wheelchair or golf cart, please indicate this on your registration form so that we can ensure that a staff member will be available to assist you if needed. Alumnae with dietary restrictions should also indicate their needs on the registration form. Vegetarian selections are available at all meals, with advance notice. If you have made a special request, please identify yourself to your server upon arrival at the meal.
---
Q. Can male guests stay in the dorm during Reunion?
A. Yes.
Q. Which time zone?
A. Saint Mary's is now on Eastern time year round.
Q. Is childcare available during Reunion?
A. There are no campus-based activities or recreational facilities for children who might be attending Reunion.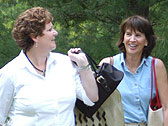 Q. What is the attire for Reunion events?
A. Casual and comfortable for daytime - shorts, slacks, walking shoes. Attire for Friday evening: dresses or pantsuits for women, sport coat and collared shirt for men. The Saturday Banquet is a bit dressier for women. Men should wear a coat and tie.
Q. Is there shuttle service from the South Bend airport?
A . Cab fare from the airport to campus is approximately $12.
Q. Is shuttle service available to Notre Dame?
A. Please check back later. Saint Mary's and the University of Notre Dame alumni offices are working on this.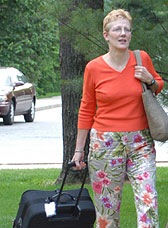 Q. Can I buy a ticket to the Notre Dame refreshment tent on Friday or Saturday?
A. If you are registered for Reunion at Saint Mary's, you may purchase a special ticket to the Notre Dame refreshment tent. Limit one ticket per registered guest, per day. Same day sales only. Tickets are non-refundable and will not be replaced if lost. These tickets are only available for purchase at the Saint Mary's Reunion registration desk. Your Saint Mary's Reunion name badge is required for purchase.
Q. I know the whereabouts of someone on our class lost list. What should I do?
A. Call or e-mail the Alumnae Relations Office with their current address. The office will send the Reunion registration materials...and more!
---