SAAC Uganda Check Presentation
FOR IMMEDIATE RELEASE
Saint Mary's Student-Athletes to Present Check to Sisters of the Holy Cross 

Contact:
Sarah Miesle
Sports Information Director
Saint Mary's College
Notre Dame, Ind.
(574) 284-5290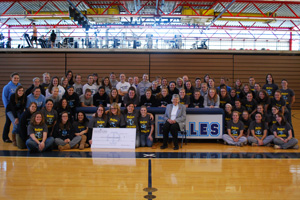 December 8, 2009 (Notre Dame, Ind.)-  The Saint Mary's College Student Athlete Advisory Committee (SAAC) and their "Belles for Africa" initiative will present a check for more than $5,400 to the Sisters of the Holy Cross on Friday, December 11 on behalf of the Sisters' group stationed in Uganda.
The initiative began after two Saint Mary's student athletes and four of their classmates spent part of the summer in the small, rural village of Kyarusozi, Uganda, assisting the Sisters of the Holy Cross with their school and health clinic five miles away in Kirinda.
After this life-changing experience, senior nursing majors Patty Duffy, a soccer player, and Megan McClowry, a cross country runner, wanted to do more. The two, with the help of the SAAC, started the "Belles for Africa" effort to raise money to aid the Sisters and their school and clinic.
The fund-raising initiative included several approaches. The six students who went on the trip made a presentation to students, faculty and staff and received donations after the event, students sold Belles for Africa T-shirts, students skipped meals in the dining hall and the money went to the cause and the cross country team had its own fund raising.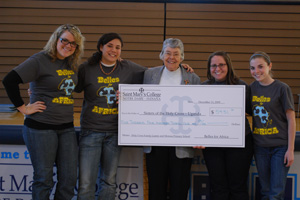 Duffy, McClowry, and several members of each of the College's eight varsity teams will present the check to Sister Madeline Therese Wilhoit, who is the coordinator of the International Services Office for the Sisters of the Holy Cross, on Friday at 1 p.m. in the Angela Athletic Facility.
"I am very excited to present the check to Sister Madeline because I know that the money we raised will help purchase medications and save lives for those at the clinic," said McClowry.  Duffy added, "It is a beautiful thing to see people helping out their neighbors, even if their neighbors are half a world away."
 
About Saint Mary's College: Saint Mary's College, Notre Dame, Ind., is a four-year, Catholic, women's institution offering five bachelor's degrees and more than 30 major areas of study. Saint Mary's College has six nationally accredited academic programs: social work, art, music, teacher education, chemistry and nursing. Saint Mary's College ranks among the nation's top 100 liberal arts colleges in U.S. News & World Report's 2010 annual survey. Founded in 1844, Saint Mary's is a pioneer in the education of women, and is sponsored by the Sisters of the Holy Cross.