2014-15 Team Service Projects
2013-14 Service Projects
2012-13 Service Projects
2011-12 Service Projects
2010-11 Service Projects
2009-10 Service Projects
2008-09 Service Projects 
Each of the eight varsity athletic teams annually performs an on-campus and off-campus service project.  Teams have chosen a variety of projects over the past several years. Reading for an elementary school class, serving dinner at the South Bend Center for the Homeless, and raising money for and participating in Light the Night events are just a few examples of projects that Saint Mary's teams have been a part of in the past.
Take a look at what Belles varsity athletes have done to help serve the College and local community!
Basketball - Cross Country - Golf - Lacrosse - Soccer - Softball -  Tennis - Volleyball
Basketball 
   Healthwin Bingo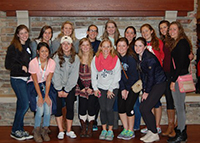 Our team went to Healthwin Specialized Care to visit the residents and play bingo with them for an hour and a half on November 2. We had a great time and plan on going back!
   Team IMPACT
On November 30, 2014 the basketball team planned a surprise birthday party for Bryanna Sikora – our Team Impact teammate. She absolutely loves Frozen; therefore we gave her a Frozen cup, a puzzle based off the movie, and bought her a plastic basketball hoop for her to practice her basketball skills. We also had some Root Beer (Bryanna's favorite drink).  After shooting on her new hoop for a while, we did arts and crafts. We all made Christmas ornaments and decorated them with glitter and stickers. It was a wonderful time that we got to spend with Bry for her birthday!
On January 5, 2015 the basketball team invited Bryanna to come over to Angela after a morning practice and have some fun with us! We all bowled with Bryanna, had a dance party, and at the end made her a fleece blanket. It was a lot of fun for everyone and we can't wait to hang out with our Team Impact player again soon! 
   St. Margaret's House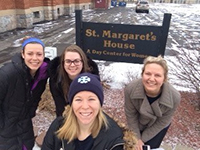 At the end of January, members from the basketball team went to St. Margaret's House to drop off donations. Over the course of the season we collected toiletries (soaps, shampoos, and lotion) from the hotel, when we went on tournaments. After collecting from the hotels, we went to St. Margaret's to personally deliver the items.
Cross Country  
   Hannah and Friends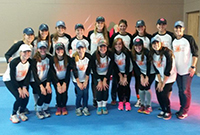 On October 25th, the cross country team had the awesome opportunity of working with Hannah and Friends for their Halloween party. We all had a lot of fun helping the event go smoothly. Some of us helped the residents perform a dance and song that they had learned in their music class and others cleared tables, greeted guests, and helped with parking and picture taking. As it was last year, the Hannah and Friends event was a very fun and rewarding experience!
   Adopt-A-Family Gift Wrapping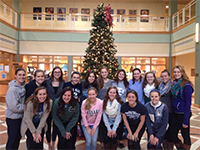 In December, the cross country team did gift wrapping for Adopt-a-Family. We all efficiently wrapped presents for different family members and made sure that each family had a substantial amount of gifts and they were wrapped properly. In all, we wrapped about 100 gifts total for three families. Some of the gifts included toothpaste, clothing, babydolls and tools. Overall, it was a rewarding and fun experience to help make a family's Christmas come true.
Golf
   Birdies for the Red Cross
During the fall season members of the golf team raised money for the American Red Cross.  Before the season began members of the team collected pledges from friends and family members to give a certain amount for each birdie the team had.  This initiative added an extra incentive for team members to sink their birdie putts for a great cause.  On the basketball game on January 31 the team presented a check for $1,549 to a local Red Cross representative.  
   St. Margaret's House Winter Walk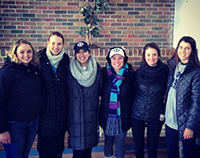 On February 15 the golf team participated in the St. Margaret's House Winter Walk.  The purpose of this event is to walk in solidarity with the women and children whose main mode of transportation to St. Margaret's are their feet.  Saint Margaret's House is a safe place where women and their children can get food, clothing and other resources to better their lives in the long term.  This year the golf team raised $300 to support this wonderful cause.
Lacrosse
   Domer Run
On Saturday, September 20 the Saint Mary's Lacrosse Belles participated in the 2014 Domer Run at Notre Dame University. The Domer Run is an annual fun run to benefit local cancer education and awareness programs. Since its inception, the Domer Run has raised over $65,000 to educate communities surrounding Notre Dame about the various forms of cancer. The Lacrosse team engaged in boosting camaraderie, sought off-season fitness development, and fiscally contributed to the Domer Run's efforts.
   Hannah and Friends Girls Night
On Wednesday, December 5th,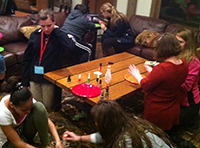 the Saint Mary's lacrosse Belles participated in a girls night at local Hannah & Friends community. The Belles assisted with dinner prep and helped pamper the guests with nail painting, arts and crafts, and sing-a-longs to Disney's hit, Frozen.
Soccer 
   Hannah and Friends Kickball Tournament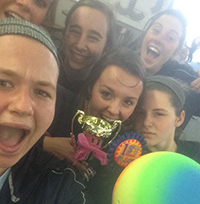 On November 23, 2014 the Saint Mary's soccer team participated in the Hannah and Friends Kickball Tournament in Angela Athletic Facility. This tournament cost 10 dollars per team and the money all went to benefit Hannah and Friends. The softball team overall raised over 300 dollars for the tournament so it was a great turnout. The SoccerBelles first faced off against the tennis team and we won by a few runs! We then had an hour long break and then played against one of the two SMC softball teams. After yet another win for the SoccerBelles, we made it to the finals. The finals were against the other softball team and after a heated match, the SoccerBelles ended up on top! The tournament was fun for all and even better for the soccer team because we were the overall champions!
   Homeward Bound 5k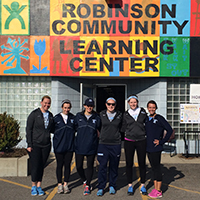 On Saturday, Aril 12, a few members of the soccer team participated in the Homeward Bound 5K in South Bend. In order to register, you were asked to make a $10 donation to a non-profit housing agency; some of the agencies that some of the SoccerBelles chose to donate to were Habitat for Humanity in South Bend, Hannah's House, and Hope Ministry. The 5K started at the Robison Community Learning Center, and was mapped around one of the neighborhoods in South Bend. The 5K was Superhero themed, so it was a lot of fun to see some of the costumes that people and their dogs showed up in! The run/walk was a lot of fun for all of us, and it was great to see how many people were supporting this cause!
Softball
   Hannah and Friends Kickball Tournament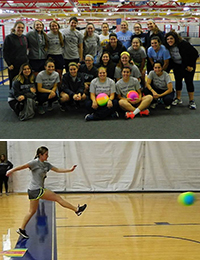 On Sunday November 23rd, the Saint Mary's Softball team held the Hannah and Friends Kickball Tournament. All proceeds of the tournament were given to the Hannah and Friends organization. The Belles opened up the tournament to the community and had 10 teams compete. Many of the teams competing were also Saint Mary's student-athletes. We raised money from the tournament as well as from t-shirt sales. The championship game was the Saint Mary's soccer team vs the softball team. The soccer team pulled out on top and went home with bragging rights and a trophy. Six Hannah and Friends members played on the softball team's squad, one of whom kicked a homerun. The Softbelles loved giving back in a fun and exciting way. The softball team plans on continuing with Hannah and Friends charity events in the future and plan on doing an annual event for them.
   St. Margaret's House Walk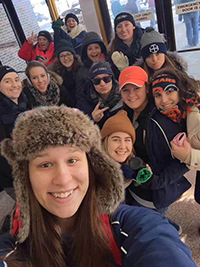 On February 15, the Softbelles walked the Saint Margaret's House Winter Walk in solidarity of all the women who have to bear the cold every night on their trek to the shelter. This year, we got a taste of some extreme cold weather and how it could possibly feel for these women. Of course, we only got a slight glimpse of this as we were all bundled up in our warmest hear while some of these women are not as fortunate to have warm clothing as we are. Due to extreme temperatures, the walk was cut down a block. The sun was still shining and we were all in good spirits. The Washington High School drummers played beats that we're sure to put the pep in everyone's step. The Softbelles lead the walk and we stopped into St. Margaret's House afterwords for some much needed hot chocolate.
Tennis 
    Hannah and Friends Kickball Tournament
For our service project, we participated in the kickball tournament that softball created. This was really fun for the team because we were able to grow closer together, and also bound while supporting a good cause. It also showed us that we are better at hitting a ball rather than kicking one. We also enjoyed it because we got to hangout and play against other teams that we don't normally interact with as much. Overall, it was a very successful event and we would most definitely participate again!
Volleyball
   Domestic Violence Awareness Match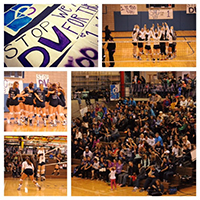 On October 3, 2014 the volleyball team hosted Alma College in their second annual Dig 4 the 1 match. This year, the match was to raise awareness for domestic violence. The night was themed "1 is too many" because 1 in 4 women are victims of domestic violence. They raised $993.93 and donated it to the YWCA. Pairing up with BAVO, SGA, SDB, SAAC, and SODEXO they sold t-shirts and had domestic violence statistics hanging in the gym to raise awareness. There were treats that were provided by Sodexo, as well as resources and educational information that were provided by BAVO. There was much support from the student body, friends, and family during this night.
   Ronald McDonald House Charities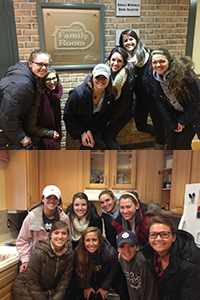 On Saturday, February 21 and Sunday, February 22, the Saint Mary's volleyball team volunteered to cook meals for the Ronald McDonald House Charities of Michiana. They delivered the meals to the Ronald McDonald Family Room inside Memorial Children's Hospital in South Bend and received a tour of their facilities. The Family Room is an oasis that provides the comforts of home for the immediate families of children undergoing medical treatment in the Michiana-area medical facilities. Since this was the first time the volleyball team had volunteered for Ronald McDonald House Charities, they learned about the various amenities that the Family Room offers and the great dependence on volunteers that the charity relies on to keep going.