Service Award
Making the Grade: Saint Mary's Wins President's Service Award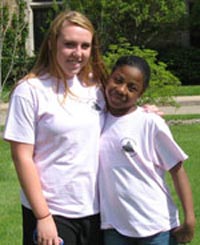 When it comes to volunteering, Saint Mary's students make the grade. They participate in a variety of academic programs and student clubs that require service hours – from social work and education field placements to the Read-to-a-Child and Pen Pals programs. As a result of their hard work, and the work of the Office of Civic and Social Engagement (OCSE), Saint Mary's has been honored with the President's Higher Education Community Service Honor Roll With Distinction award.
The OCSE helps students find the service placement according to their interests and abilities and the population they want to serve. Director Carrie Call says Saint Mary's received the President's award based on four programs through which Saint Mary's students offer services to local primary schools. Students tutor, act as Teacher Assistants, and participate in the Read-to-a-Child and Pen Pals programs.
Pen Pals
Junior Christina Klann is in her second year as a mentor in the Pen Pals program. "It is great to find out how many similarities you can find between yourself and somebody who is ten years your junior," she says. Klann, an elementary education major, is also working on a minor in biology. In spite of her busy schedule, she makes time to participate in the Pen Pals program through the OCSE, writing to a primary school student each week during the spring semester.
At the end of the semester, the primary students spend a fun spring day on campus. They meet their Saint Mary's pen pals in person, and stay for lunch at the dining hall and a campus tour. "I feel that if we plant in them the thought of going to college, and maybe even going to Saint Mary's, maybe they will fight harder against the many odds they have to overcome," says Klann. Ever in tune with the OCSE mission, and the mission of Saint Mary's, Klann and other students are fostering compassion and promoting justice.
Pictured: Sophomore Quinlan O'Grady and her pen pal.