Service in Honduras
Service in Honduras: A different take on Spring Break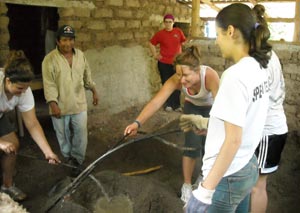 Saint Mary's students help build and renovate
at El Hogar Diamante, a boys home in Tegucigalpa.
What makes senior Carolyn Maltby's spring break trip stand out from the rest? For one thing, the Saint Mary's senior is heading to Tegucigalpa, Honduras, and not to Daytona Beach. For another, she is giving her time to kids from broken families.
This week, Maltby, a humanistic studies major, is traveling with a group of fellow Saint Mary's students, led by political science professor Dr. Marc Belanger, to El Hogar Diamante, a boys home in Tegucigalpa, the capital city of Honduras.
"I chose to participate in the Honduras study program because it's a unique opportunity that Saint Mary's has that combines service and traveling," says Maltby. "It seemed like a great program to take advantage of during my last semester at Saint Mary's."
At El Hogar Diamante, the students will help repair and renovate classrooms and living spaces. Most importantly, they will spend time with the boys who live here. "I couldn't think of a better way to spend my spring break," says Maltby.
The spring break trip to Honduras is an offshoot of the Honduras study abroad program that normally occurs in the summer. In this program students spend three weeks, from mid-May to early June, in Honduras in a three-credit seminar. They also spend time volunteering at El Hogar Diamante, travel to various volunteer sites through Heifer Project International, and tour the Mayan ruins in Copán.
For more on Saint Mary's in Honduras read about alumna Annie Cashore '04.