SMC vs. Otterbein
Belles Bow to #7 Cardinals
NOTRE DAME, Ind. - After 50 scoreless minutes, the #7 Otterbein College soccer team broke through for the game's first goal and went on to take a 2-0 win from the Belles soccer team on Friday.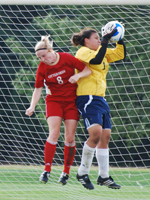 The Cardinals added a penalty kick in the 69th minute of play to take the 2-0 win.
In a hard-fought contest by the Belles, Patty Duffy helped key a strong defensive effort with several key saves.  The senior netminder stopped a pair of one-on-one situations by Otterbein while also punching away a couple of other offensive opportunities for the Cardinals.
Sam Smogor registered the Belles' lone shot of the contest, which was blocked from just inside the 18 yard box.
The Belles will face the Manchester College Spartans in the final match of the Saint Mary's Invitational on Sunday afternoon at approximately 2:00 p.m.