SMC vs. Illinois Tech
Belles Break Through For Win Against Scarlet Hawks
NOTRE DAME, Ind. - Jordan Diffenderfer's goal in the 38th minute proved to be enough for the Saint Mary's soccer team to notch their first win under Michael Joyce.  The freshman's game-winner was the difference in a 1-0 victory over visiting Illinois Tech on Friday night.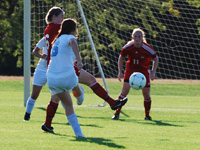 Jordan Diffenderfer connects for her
first collegiate goal.Keely Noonan got the play started that would have the Belles break a tightly-played 0-0 tie.  The junior fed a pass to a wide-open Ellie Jacques, who then fired a shot from inside the box that was deflected away by the Scarlet Hawks' goalkeeper on a diving save.  Diffenderfer, who was trailing the play and was also unmarked, found the ball fall directly to her feet, and the freshman capitalized on the opportunity by notching the first goal of her collegiate career.

The Belles had a pair of other scoring opportunities, but those were either pushed away by Illinois Tech's goalkeeper or were just wide of the mark.

The Scarlet Hawks put the pressure on late in the second half, looking for the equalizer.  In the last 20 minutes of play, Illinois Tech out-shot Saint Mary's 6-1, but the Belles showed strong team defending and Cailtlin Walsh came through with a pair of saves to clinch her first shut out of her collegiate career.  Walsh ended the game with six saves in the win.

Saint Mary's (1-7) will next travel to Manchester on Tuesday, September 21 for a 4:30 p.m. contest against the Spartans.