SMC vs. Illinois Wesleyan
Belles Tangled Up by #15 Titans
NOTRE DAME, Ind. - The Saint Mary's soccer team was tripped up by some tough competition as they lost 6-0 to #15 nationally ranked Illinois Wesleyan on Wednesday evening.

The Belles were right with the visiting Titans as both teams had a pair of good looks at the goal in the first 10 minutes of the game. Saint Mary's had a tough break in the 19th minute as the ball got away from goalkeeper Kristen Nelson and Illinois Wesleyan's Tillie Bill came through the defense and scored her first goal of the game. A few minutes later, the ball took another bounce against the Belles as a shot by Kristina Dolak deflected off of a defender away from Nelson and into the goal for a 2-0 Titan lead.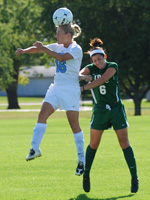 Katelyn Tondo-SteeleThe Titans scored their third goal with the wind at their backs as Bill used the breeze to loft a shot over Nelson from outside of the 18 yard box to take the 3-0 advantage into the half.

Bill would complete the hat trick in the second half as the Titans added goals in the 75th, 78th, and 79th minutes for the 6-0 win.

Mollie Valenica, Kaitlin Teichman, and Keely Noonan each had a pair of shots for the Belles. Valenica, Teichman, Ashley Morfin, and Kari McClowry also had a shot on goal. Valenica, meanwhile, was a diving save away from her second goal of the season on a bending shot in the second half.

Kristen Nelson had eight saves in goal while the defensive back line for the Belles contributed three team saves by clearing the ball off of the goal line on three occasions in the first half.

The Belles (0-4) will not have a break from strong competition as they travel to Otterbein University for a tournament this Friday and Saturday. Saint Mary's faces off against the host and #7 ranked Cardinals on Friday and Ohio Northern University on Saturday.