SMC vs. Olivet
Belles Fall Just Short of Comets
NOTRE DAME, Ind. - The Saint Mary's soccer team came up just short of pulling of an upset of sorts, losing 2-1 to visiting Olivet on Tuesday night.

The Comets entered the game with a 12-3-2 record, but the Belles would not be intimidated in the least by Olivet's record.  Saint Mary's maintained control of the ball throughout the majority of the first half and set the tempo early on. 

Despite the Belles keeping control of the ball from the on-set of the game, the Comets were able to capitalize on a bit of a miscue in the opening minutes.  Olivet's Lizzy Julian found herself in the right place at the right time when a misplayed clearance attempt stayed inside the box, and Julian put the ball away for the game's first goal.

The Comets were able to score their second goal on a transition.  The Belles were pushed up in their offensive half, but a quick pass to an open Olivet player on the left side of the field resulted in a shot that sailed over Caitlin Walsh and in for the 2-0 Comet lead.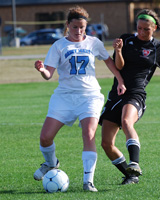 Keely NoonanThe Belles' offensive pressure finally broke through later in the first half.  After one of the four corner kicks of the first half for the Belles, Bernadette DuBois played the ball back to Keely Noonan.  The junior then fired a strong, low shot from well outside the 18 that was able to sneak inside the right post for the Belles' first goal of the game.  It was Noonan's second career goal and second goal of the season, while DuBois tallied the first point of her career with the assist.

The Comets looked as though they were going to add an insurance goal in the second half, but Walsh came up with a big diving save to her left.  Minutes later, Saint Mary's also had a strong scoring opportunity just miss the mark.  Jordan Diffenderfer maneuvered herself through the defense and sent a shot toward goal from just outside the six-yard box, but the freshman's shot trickled just wide of the goal.

Walsh finished the game with four saves while the Belles out-shot Olivet by a 19-10 margin.

Saint Mary's will host their final home game of the season on Saturday, October 23, when they take on Adrian for a noon contest.