Coaching Staff
Head Coach
Jesse Urquhart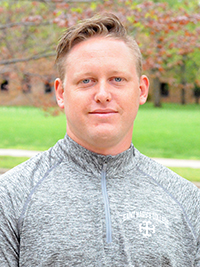 email
Jesse Urquhart has been named as the new head coach of the varsity soccer program beginning with the 2016 season. Urquhart comes to Saint Mary's with coaching experience at the club, men's collegiate, and women's collegiate levels.
After finishing his collegiate playing career, Urquhart first began coaching at Neumann University in Pennsylvania as an assistant men's coach for the Knights. He developed and ran training sessions, was in charge of managing the team's fundraising, budgeting, and equipment needs, and served as a recruiting coordinator for the program from 2008 to 2014. During that time, Urquhart gained additional experience while also coaching at Camden County College in New Jersey as well as at the New Jersey Rush and Highland Youth Soccer Club. Two of the New Jersey Rush girls club teams he worked with were state champions in the 2014 season.
In the fall of 2014, he started a two-year stint as the graduate assistant women's soccer coach at Defiance College in Ohio. In that capacity, he coordinated the recruiting efforts, monitored academic study sessions, organized fundraisers, arranged the team's travel plans, and advanced the program through film breakdown and analysis. While at Defiance, Urquhart coached U15 boys, U16 boys, and U18 girls at Valentis Athletica Soccer Club out of Bowling Green, Ohio.
As a collegiate athlete, Urquhart competed at Camden County College and Neumann University. In his final two years of eligibility at Neumann, he set school records in goals in a season, points in a season, game-winning goals in a season, and assists in a season.
Urquhart earned a bachelor's degree in sports management from Neumann University in 2009 and just recently completed a master's degree in education with a concentration in sports coaching from Defiance College. He holds both a United States Soccer Federation National "C" license and a National Soccer Coaches Association of America Goalkeeper Level 1 diploma.
"I would like to thank Athletic Director Julie Schroeder-Biek and the search committee for this fantastic opportunity. It's an exciting time to be part of the Saint Mary's family, new facilities and new fields, and I am honored to be the selected as the new head coach. The Belles soccer program has a tradition of excelling in the classroom and my goal is to maintain that standard while matching that success on the pitch. I would like to thank my family for their unwavering support as well as my mentors, Kevin Sloan, formerly of Neumann University, Tom Freeman, formerly of Camden County College, and Jeff Zoyac of NJ Rush and Wilmington University." 
Assistant Coaches
Randy Rompola
Randy Rompola is serving in his eighth season as an assistant to the Saint Mary's soccer program in 2015. He has coached youth travel soccer teams for the last 12 years with teams enjoying success in regional and state-wide leagues in Michigan and Indiana. He has had several former travel players continue their soccer careers in college with a few now coaching soccer themselves.  Rompola has also served on the Board of Directors and as President of the Board of Michiana Echo Soccer, a local travel soccer club. He is also a member of the Board of Directors of the Indiana Soccer Foundation. Rompola has received the NSCAA Advanced Regional Diploma and the US Soccer National Youth License. After serving in the Air Force as an intelligence officer, he moved to the area to attend Notre Dame Law School and is currently a partner with the law firm of Faegre Baker Daniels LLP.
Faculty Advisor 
Pat Pierce
Team Chaplain 
Sister Louisita "Lou" Welsh, CSC