Softball Coaching Staff
Head Coach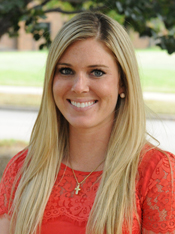 Kelli Zache
Kelli Zache starts her first season as the head softball coach at Saint Mary's in the 2013-14 academic year.
A native of Niles, Michigan, Zache was a two-time first team all-state selection at Brandywine High School. She went on to play three seasons at Western Michigan University before finishing her career at Bethel College. While at Western Michigan, she threw a one-hit shutout win against Virginia.
In her final season at Bethel, she was a three-time Mid-Central Conference Pitcher of the Week and was a first team all-conference selection. She posted a 22-5 record in the circle with a 1.77 ERA in 166.1 innings pitched. A first team all-region pitcher, she was named to the NCCAA All-Tournament Team at Nationals while also earning NCCAA All-American honors.
Zache has gained coaching experience at the University of Notre Dame's summer camps and served as an assistant coach at both Bethel College and St. Joseph High School. She was also an ASA certified umpire from 2008 to 2012.
Zache is a 2011 graduate of Bethel College where she earned bachelor's degree in psychology.
Assistant Coaches
TBA