2010 Sheila Wallace Kovalchik Award Winner
Peterson Named MIAA Sheila Wallace Kovalchik Award Winner
Contact:
Sarah Miesle
Sports Information Director
Saint Mary's College
(574) 284-5290
June 10, 2010 (Royal Oak, Mich.)—Awards by the Michigan Intercollegiate Athletic Association to the outstanding senior athletes from its member schools during the 2009-10 academic year have been announced by Commissioner David Neilson.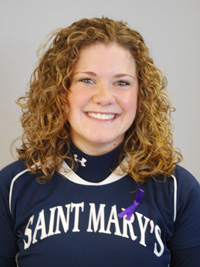 Brandon Luczak of Kalamazoo College has received the Albert H. Deal Scholar-Athlete Award, while Ashley Peterson of Saint Mary's College has been presented the Sheila Wallace Kovalchik Scholar-Athlete Award.

"Brandon and Ashley have had marvelous careers these last four years in the classroom, on the field, and as role models in our conference. They will be missed, but their selection for these awards from such an exceptional group of nominees is an achievement for which they should take great pride," Commissioner Neilson said.

The awards recognize senior class athletes who have excelled in academics and athletics, as well as displayed outstanding leadership qualities. The awards honor two former MIAA commissioners, Albert Deal (1971-91) and Sheila Wallace Kovalchik (1991-2002).

A resident of Lansing, Ill. and graduate of Marian Catholic High School, Peterson played four years of softball for Saint Mary's, earning All-MIAA First Team honors the last three years and earning the league's Most Valuable Position Player award this past spring. She was also named Saint Mary's most outstanding senior athlete.

Peterson set numerous school and MIAA records during her career. This past spring, she led the MIAA in all three "triple crown" categories, setting single-season conference records for home runs with eight and runs batted in with 31. She also hit .549 at the plate and had a slugging percentage of 1.215. Peterson also won the MIAA batting title her sophomore year in 2008 with a .580 average, tying the conference record for most hits in a season with 29. She ended her career as the MIAA's all-time leader in extra-base hits (44), doubles (26), RBIs (68) and total bases (171), and finished second on the career list in batting average (.482), hits (94) and home runs (15). She graduated as Saint Mary's all-time career leader in batting average, hits, doubles, home runs and RBIs. She was named to the Louisville Slugger/National Fastpitch Coaches Association All-America team twice – in 2008 (second team) and 2010 (third team).

A nursing major, Peterson graduated from Saint Mary's in May with a 3.641 grade point average, earning recognition to the MIAA Academic Honor Roll all four years of her career. She was recently named to the 2010 College Division ESPN The Magazine Academic All-America® Softball second-team by the College Sports Information Directors Association and ESPN The Magazine, becoming the first ESPN The Magazine Academic All-America honoree at Saint Mary's.
 
Peterson volunteered for numerous school and community projects during her career. A four-year member of Saint Mary's Student Athlete Advisory Council, she organized group activities and crafts for children with cancer, children with special needs and children of the Saint Mary's college community. She helped raise funds and food for local churches, soup kitchens and Operation Rice Bowl through the Yes We Can! Walk. She also participated in Belles for Africa, a Saint Mary's program that raised more than $5,400 for the Sisters of Holy Cross in Uganda and collected more than 1,000 pairs of shoes for children in Africa. In addition, she worked for the past three years at a local hospital, providing nursing care for patients with cancer, chronic health conditions, as well as patients who were in urology, trauma and intensive care. She also was a respite care provider for five South Bend-area families with special needs or chronic illnesses.

Ashley Peterson is the daughter of Bruce and Chris Peterson.

She becomes just the second Saint Mary's student-athlete to be awarded with the conference's highest distinction (Julia Adams, 2005).  By earning the honor, she will be the MIAA's nomination for the NCAA Woman of the Year. The NCAA Woman of the Year Award honors graduating student-athletes who have distinguished themselves throughout their collegiate careers in the areas of academic achievement, athletics excellence, community service and leadership.

Other Kovalchik nominees were Lindsay Chitwood of Adrian, Emily Magyar of Albion, Kelley Walsh of Alma, Emily Ottenhof of Calvin, Philana Greene of Hope, Megan Rimmel of Olivet, Jillian McLaughlin of Kalamazoo and Sarah Howe of Trine.