Peterson Has Jersey Retired
Peterson Honored By Having Jersey Retired
NOTRE DAME, Ind. - Last week, 2010 Saint Mary's College graduate and former softball player Ashley Peterson was recognized for her academic and athletic achievements while at the College.

She was formally presented with the 2010 Sheila Wallace Kovalchik Award, which is annually awarded to the Michigan Intercollegiate Athletic Association's scholar senior female athlete.  It is awarded to a senior woman from an MIAA member college who has excelled in academics and athletics and displayed outstanding leadership qualities. The award is named in honor of Sheila Wallace Kovalchik who served as MIAA Commissioner from 1991-2002. It is the highest distinction the MIAA bestows on any single student-athlete.

Peterson excelled both in the classroom and on the softball field during her four years at Saint Mary's. As a nursing major, she graduated magna cum laude, was inducted into the Sigma Theta Tau International Honor Society of Nursing, and was on the Dean's List on seven occasions. Peterson was named to the MIAA Honor Roll each of her four years, was a four-time National Fastpitch Coaches Association Scholar Athlete, and became the College's first CoSIDA/ESPN the Magazine Academic All-America honoree.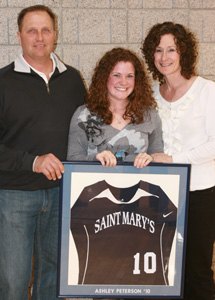 Ashley Peterson with parents Bruce and
Chris after having her jersey retired.Not to be outdone by her academic achievements, Peterson graduated as one of the most distinguished softball players in College and MIAA history. A four-time NFCA All-Region honoree, she led her team in batting average and total hits in each of her four seasons of play. At the time of her graduation, she had established 20 school and conference single season and career records. She is the Saint Mary's record holder for both single season and career categories for hits, doubles, home runs, and runs batted in and is the College's career batting average record holder. Her career batting average ranks 14thall time in NCAA Division III softball history.

A two-time MIAA batting champion and a two-time All-American, Ashley was the first MIAA softball player in at least 14 years to achieve softball and baseball equivalent of the triple crown by leading the conference in batting average, home runs, and runs batted in at the conclusion of her senior year while being named the MIAA Most Valuable Player in 2010.

At the conclusion of the formal presentation of the Sheila Wallace Kovalchik Award, Peterson became the first softball player in College history to have her jersey retired.